printer friendly version
Bladder accumulator recertification by HFT
Second Quarter 2020
Hydraulic systems & components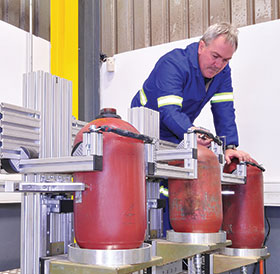 As part of its accumulator service package, Hytec Fluid Technology (HFT) conducts legal parameter conformance testing on bladder accumulators. The offering proves accumulator conformance to PER and SANS 347 standards. HFT tests and recertifies 1 – 50 litre-capacity Bosch Rexroth, Olaer and Hydac bladder accumulators. Other bladder accumulator brands, if accompanied by design drawings and parameter specifications, are also tested at the company's accumulation certification centre in Spartan, Johannesburg.
To test accumulator vessel expansion, vessels are subjected to a hydrostatic pressure test to 1,25 times the vessel's working pressure – overseen by the Authorised Inspection Authority. Certified accumulators conform to the OHS Act (PER and SANS 347) with accumulators classified 'Industrial & Factory' certified for 36 months and those classified 'Mine Health & Safety' certified for 24 months.
"Testing accuracy on all parameters of reference is done to six decimal points," says HFT workshop foreman, Tony Greef. "This allows for extremely accurate parameters to reflect, and the most on-point certificate to be issued." Vessel wall thickness is verified using a five-point ultrasonic thickness test. In addition to recertification, the accumulator service includes accumulator stripping; double cleaning; and reassembly with a new bladder, seal kit and anti-extrusion ring. Protective paint forms part of vessel refurbishment and recertification.
Three accumulator units can be bench-mounted, harnessed and tested simultaneously, facilitating an approximately 60 minute testing turnaround per vessel. All test work is carried out on the HFT on-site accumulator test bench, an R800 000 investment developed by Tectra Automation.
Credit(s)
Further reading:
Destructive cavitation in hydraulic systems
Hydrasales Hydraulic systems & components
Cavitation results from excessive vacuum conditions at the inlet to a pump. High vacuum creates vapour bubbles within the oil, which are carried to the discharge (pressure) side. These bubbles then 
...
Read more...
---
Optimising hydraulic controls
Parker Hannifin - Sales Company South Africa Hydraulic systems & components
Parker Hannifin has launched two components − the Parker Automation Controller PAC120 and the electro-hydraulic controller module PACHC − that together offer an innovative solution for the automation 
...
Read more...
---
Concept to solution the short way
Axiom Hydraulics Editor's Choice Hydraulic systems & components
QuickDesign streamlines your custom design process, delivering complete designs in as little as ten minutes.
Read more...
---
3D printing for hydraulics
Hydraulic systems & components
Hydraulic components are traditionally manufactured through machining or casting. Now hydraulic equipment manufacturers are producing manifolds, servo valves and hydraulic adapter blocks using 3D printing. 
...
Read more...
---
Position sensor detection for hydraulic cylinders: a world first
Instrotech Hydraulic systems & components
Instrotech has on offer SIKO's SGH wire-actuated encoders that measure the cylinder stroke as well as its speed in the hydraulic cylinder with impressive efficiency, flexibility and robustness.
...
Read more...
---
Do not neglect to monitor your lube oil system's filtration
Hydrasales Hydraulic systems & components
The viscosity of oil in a lube system can adversely affect the bearings within the system. This is especially so if the maintenance of the hydraulic system is neglected. Failure to filter the oil and 
...
Read more...
---
Safety blocks for hydraulic accumulators
Parker Hannifin - Sales Company South Africa Hydraulic systems & components
Parker Hannifin's new safety block (SB) series for hydraulic accumulators simplifies the selection, installation and maintenance process of these important system components. Safety blocks enable hydraulic 
...
Read more...
---
Regeneration valve assemblies
Axiom Hydraulics Hydraulic systems & components
Sun regeneration valve assemblies are standard products that are easy to order. Regenerative circuits divert the oil from the rod end of a cylinder back to the bore end, instead of channeling the fluid 
...
Read more...
---
HFT appointed distributor of Femco oil drain equipment
Hytec Fluid Technology Other technologies
Hytec Fluid Technology (HFT) has been appointed a distributor of Femco oil drainage equipment in South Africa. Femco oil drain plugs deliver spill-free, toolless oil changes. They are ideal for use across 
...
Read more...
---
Testing flow and system pressure
Hydrasales Hydraulic systems & components
A Business Day headline recently cried: 'Oil prices rise as energy markets tighten'. The price of Brent Crude has soared from $20 a barrel in April 2020 to $85 a barrel currently − an increase of 325% 
...
Read more...
---