printer friendly version
Wind turbines brakes
Third Quarter 2021
Electrical switching & drive systems & components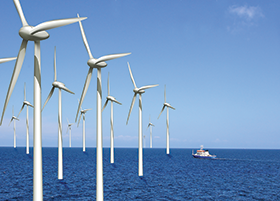 A global demand for clean energy has caused the offshore wind sector to grow exponentially. Climate policy is pushing OEMs to build larger wind turbines to deliver increased power output to meet green energy targets. This means new turbine designs that require innovative power transmission systems to meet increased duty requirements. Many of the most powerful wind turbines in operation today boast outputs of up to 12 MW. A larger turbine that can provide an increased power output is more viable as an energy source. Increased power output means improved return on investment for operators, as more electricity is provided to the wider grid.
The responsibility to deliver this technological improvement falls on wind turbine OEMs. To match the requirements of ever larger offshore wind farm projects, OEMs are constantly releasing new designs to maximise power output. Typically, this means larger turbines with increased rotor size. A larger rotor can harness the wind more effectively to generate electricity. Meeting these new design criteria presents a challenge to an OEM's supply chain however, as critical assemblies will require redevelopment to meet the increased duty requirements.
Rotor brakes are a good example, as a wind turbine rotor of increased size and more advanced design will need an improved braking system. OEM's must therefore work with highly capable Tier 1 suppliers to ensure such brakes – and other critical assemblies − are accommodated in the initial design phase, so that they can be easily integrated and meet challenging application requirements.
Stromag, a leading designer and manufacturer of rotor and yaw brakes for wind turbines, was approached by a leading turbine OEM to meet the rotor braking requirements of a new 10 MW turbine design. Stromag is a brand of Altra Renewable Energy, a leading provider of power transmission solutions to the green energy sector. The massive turbine featured a rotor diameter of over 160 m, offering the capability to power around 6000 average homes.
Rotor brakes carry out a number of vital roles in an offshore wind turbine. Foremost, they limit the rotor from entering overspeed during high winds via dynamic braking. Overspeed can adversely affect critical components in the wind turbine if it exceeds its design parameters, so a reliable rotor brake system is paramount in ensuring efficient long-term turbine operation. Rotor brakes also aid in maintenance or repair work, so reliable parking brake functionality is also important.
Providing a rotor brake system to suit a 160 m diameter rotor requires a collaborative approach in the early design process. Luckily, Altra Renewable Energy engineers and the turbine OEM had a strong relationship based on years of working together on smaller turbine designs. Working together to develop the technical specifications of the new turbine, the braking system could be incorporated in early models and prototypes. This ensured a brake system that exactly met application requirements.
At its brake test centre, Altra Renewable Energy carried out extensive assessment of potential rotor brake configurations. Ultimately Stromag Model CB90R hydraulically-applied rotor brakes were selected as they could meet both dynamic and parking brake requirements. Testing also determined a preferable braking system configuration. Instead of a single large brake calliper, a combination of three smaller CB90Rs was found to be optimal in terms of performance. Together, the brakes could exert a braking force up to 190 kN.
The brake system was fitted as part of the generator assembly to the initial wind turbine prototypes for testing by the OEM. After a successful trial, the array of three CB90Rs was specified as the braking system on all future 10 MW turbine models. The CB90R also allows for quick and easy pad replacement, reducing repair time. Another beneficial feature was a unique friction lining material that can maintain desired performance characteristics, even with some oil contamination.
The market pressure to deliver larger wind turbines that provide increased power output shows no signs of relenting. As wind turbines are required to meet higher duty requirements, turbine OEMs need to partner with innovative Tier 1 suppliers to overcome the engineering challenges larger turbines present. Stromag offers global engineering support to turbine OEMs, collaborating early in the design process to deliver flexible, robust and reliable brake solutions. With this support, new wind turbine designs need not leave OEMs in a spin.
For more information contact Patricia Ullrich, Stromag, +49 230 310 2239, patricia.ullrich@stromag.com, www.stromag.com
Further reading:
Light, invisible e-bike drive
Third Quarter 2021, DNH Tradeserve , Electrical switching & drive systems & components
E-bikes are conquering cities, rural areas and mountains. Many existing systems provide powerful support but are heavy and sluggish to handle. With the Bikedrive Air, maxon presents an invisible e-bike 
...
Read more...
---
PC-based control runs the stage machinery for Rigoletto
Third Quarter 2021, Beckhoff Automation , Editor's Choice, Electrical switching & drive systems & components
In the production, the court jester Rigoletto becomes a clown. Only the head, encircled by a wide collar, and the hands of the gigantic clown protrude from the lake. Eventually the clown becomes the victim 
...
Read more...
---
Festo gets to the heart of the matter with the Process and Electric Automation campaign
Third Quarter 2021, Festo South Africa , Electrical switching & drive systems & components
The company supplies customers with a comprehensive range of complete solutions from components all the way to commissioning that aid in sustaining their business. For the first time, they are offering 
...
Read more...
---
Electric motors without magnets
Third Quarter 2021 , Editor's Choice, Electrical switching & drive systems & components
Permanent magnets, though, come with their own baggage. 97% of the world's rare earth metal supply comes out of China and state control over such a crucial resource across a number of high-tech industries 
...
Read more...
---
Customised technologies to boost industrial performance
Third Quarter 2021 , Electrical switching & drive systems & components
The Maxolutionò solutions from SEW-EURODRIVE are fully integrated and customised technologies that automate, integrate, upgrade and streamline your existing production processes while still allowing for 
...
Read more...
---
Solving turbo problems
Third Quarter 2021 , Electrical switching & drive systems & components
Many vehicle owners and workshops have little knowledge of turbochargers and the correct procedure in troubleshooting and identifying the problems and true causes of turbo failures, so it is advisable 
...
Read more...
---
If it doesn't exist, create it
Third Quarter 2021 , Electrical switching & drive systems & components
Hawk Pumps is dedicated to innovation, growth and problem solving. Troy Mokawem, national operations manager at Hawk Pumps, believes that innovation begins with a bit of inspiration and talks about two 
...
Read more...
---
Another efficiency boost for motor users
Third Quarter 2021, Zest WEG Group Africa , Electrical switching & drive systems & components
In the face of rapidly rising electricity costs in South Africa, Zest WEG is phasing in IE4 super premium efficiency motors in its WEG W22 range from April 2021. This will save on customers' bottom lines 
...
Read more...
---
Festo perfectly integrated Electric Automation solutions for a complete drive system
Third Quarter 2021, Festo , Electrical switching & drive systems & components
The servo drive CMMT-AS/ST and servo motor EMMT-AS are some of the products that Festo recently featured in their 'heart of absolute automation' campaign. Their campaign aims to enhance machine performance. 
...
Read more...
---
Sugar masterplan is sweet news
Third Quarter 2021 , Electrical switching & drive systems & components
The sugar masterplan being implemented by the government has seen a commitment from large users to procure at least 80% of their requirements from local growers. The result has been a significant boost 
...
Read more...
---