printer friendly version
Electric motors without magnets
Third Quarter 2021 Editor's Choice Electrical switching & drive systems & components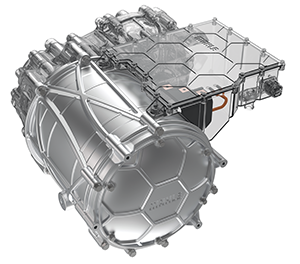 Magnets, typically using rare earth metals like neodymium, are found at the heart of most electric vehicle motors. It's nice to have a permanent source of powerful rare earth magnetism in your rotor. The alternative is powered coils where electricity is transferred from the battery through to the coils in a spinning rotor. That means you'll need a sliding point of contact and sliding points of contact develop wear and tear over time.
Permanent magnets, though, come with their own baggage. 97% of the world's rare earth metal supply comes out of China and state control over such a crucial resource across a number of high-tech industries has been an issue in the past. China decided to restrict rare earth exports and the result was a 750% leap in neodymium prices and a 2000% leap in dysprosium prices.
Could these metals be produced elsewhere? Yes. They're not as rare as the name might suggest. But wherever they're mined, the only way to economically turn them into magnets is to send them to China for processing – nowhere else in the world is set up for the task and nobody can compete against China's labour costs and environmental regulations.
Meanwhile several companies, including BMW, Audi, Renault and others, are already making at least some of their electric motors without magnets; everyone has their eye on new technology in this area. And now the German company Mahle has just announced a new electric motor that sounds like it solves a lot of problems in a very tidy manner.
Mahle is currently developing a new kind of magnet-free electric motor that does not require rare earth elements. This not only makes production more environmentally compatible, but also brings advantages in terms of costs and resource security. The central feature of the new motor is the inductive and thus contactless power transmission. This allows the motor to operate wear free and efficiently at high speeds.
Mahle says the ability to tune and change the parameters of the rotor's magnetism instead of being stuck with what a permanent magnet offers has allowed its engineers to achieve efficiencies above 95% right through the range of operating speeds – "a level that has only been achieved by Formula E racing cars." The company has thus succeeded in combining the strengths of various electric motor concepts in one product. This new development is easily scalable, so it can be used in anything from subcompacts through to commercial vehicles.
"With our new electric motor, we're living up to our responsibility as a sustainably operating company," says Michael Frick, chairman and CFO of Mahle. "Dispensing with magnets and therefore the use of rare earth elements offers great potential, not only from a geopolitical perspective but also with regard to the responsible use of nature and resources."
"Our magnet-free motor can certainly be described as a breakthrough because it provides several advantages that have not yet been combined in a product of this type," says Dr Martin Berger, vice president of corporate research and advanced engineering. "As a result, we can offer our customers a product with outstanding efficiency at a comparatively low cost as the lack of expensive metals should make it cheaper to manufacture than typical permanent-magnet motors. The new traction motor from Mahle is highly efficient at almost all operating points and really demonstrates these advantages in segments where vehicles are mostly operated in real road traffic."
The new electric motor is also characterised by a high degree of durability because the necessary transmission of electrical currents between the rotating and stationary parts inside the motor takes place without contact and is therefore wear free. This makes the engine maintenance free and suitable for a wide range of applications.
During its development, Mahle uses an innovative simulation process in which various motor designs are adjusted along different parameters until an optimum is found. This approach is significantly faster and cheaper than conventional processes. In this way, Mahle is helping to quickly create the necessary technical conditions in order to advance e-mobility in a sustainable manner worldwide.
For more information contact Ruben Danisch, Mahle, +49 7115 011 2199, ruben.danisch@mahle.com, www.mahle.com
Further reading:
The top three reasons cylinders fail
Parker Hannifin - Sales Company South Africa Editor's Choice
Cylinder operation requires precise fluid pressure on both sides of the piston. If a seal breaks down and allows fluid to leak from one side of the piston to the other or out of the cylinder altogether, 
...
Read more...
---
Rugged, reliable electro-hydraulics
Axiom Hydraulics Editor's Choice
From simple switching valves to sophisticated closed-loop control, Sun's line of E-H products powers your most demanding applications.
Read more...
---
What you should know about air preparation
Editor's Choice
Compressed air quality has three potential problem areas to consider: particles, water and oil.   
• Dust and other airborne particles: The compressed air leaving the compressor room, which has already 
...
Read more...
---
Superconductivity for aircraft
Editor's Choice Other technologies
In 1911, Dutch physicist Heike Kamerlingh Onnes found himself preoccupied with one question: what happens to the electrical conductivity of pure metals at very low temperatures? During an experiment, 
...
Read more...
---
Yaskawa steps into the future
Editor's Choice Robotics & Mechatronics
Crackett says that Yaskawa Southern Africa has installed more than 2500 Motoman robots. The company's main target market is automotive, having cut its teeth here when Terry Rosenberg first started up 
...
Read more...
---
Cool move for rotor hubs
Editor's Choice Electrical switching & drive systems & components
At the company's new Mechatronic Competence centre, machine houses and rotor hubs are produced for the entire Enercon range of products. After painting, the large volume cast bodies of the rotor 
...
Read more...
---
How to embrace the benefits of smart pneumatics
Emerson Automation Solutions Editor's Choice Pneumatic systems & components
Understand how this challenge creates opportunities
It is important to consider how insights from data can help end-users react to real-time events or even predict the future. For example, the Emerson 
...
Read more...
---
PC-based control runs the stage machinery for Rigoletto
Beckhoff Automation Editor's Choice Electrical switching & drive systems & components
In the production, the court jester Rigoletto becomes a clown. Only the head, encircled by a wide collar, and the hands of the gigantic clown protrude from the lake. Eventually the clown becomes the victim 
...
Read more...
---
Robotics and the potential for the lights-out factory
Omron Electronics Editor's Choice Other technologies
However the 100% automated, fully lights-out factory is not a realistic goal for a large proportion of manufacturing businesses currently operating. A key reason is that manufacturing needs people. Human 
...
Read more...
---
Energy from the power of the moon
SKF South Africa Editor's Choice Shaft power components
It is intended to help reduce climate-damaging CO
2
emissions, slow down global warming and thus build a more sustainable future for generations to come. With the help of modern technology from SKF, 
...
Read more...
---