printer friendly version
Common gear problems to look out for
Third Quarter 2021
Shaft power components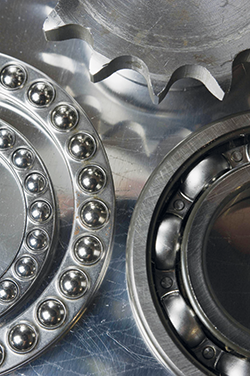 Like any mechanical element, gears are subject to wear and if this is not addressed, even failure. Callum Ford, national marketing manager at Lubrication Engineers (LE) South Africa, says that during the first inspection of a set of gears that are properly installed and lubricated, the combined action of rolling and sliding will smooth the working surfaces of the teeth and give them a highly polished look. However under continued operation trouble may occur and this will show up as a breakdown of the tooth surface.
"The type of failure will often indicate the reason and proper remedy," he adds. "While normal wear will see the loss of metal from both surfaces due to unavoidable abrasion, this does not prevent the gear from performing satisfactorily during its expected life."
On the other hand, initial pitting may occur when gears start working. It may continue only to the stage where local high spots have been reduced, so that there is sufficient contact area to carry the load without further surface damage. Occasionally this type of pitting will heal over, but when pitting continues and becomes progressively worse, the unpitted areas are insufficient to carry the load and rapid destruction may occur. In some cases, load reduction will prevent further destruction. "The lubricant should not be expected to eliminate pitting, although in some cases very mild pitting may be improved by using a heavier oil," he continues.
Abrasion is another common problem. This is characterised by many fine scratches on a tooth surface. "Abrasion is damage caused by gritty material introduced into the gear case. Wear takes place uniformly across the teeth. The wear may be rapid and destroy not only the surface but the shape of the tooth," says Ford. "Abrasion can be prevented by more frequent changing of the oil to remove foreign abrasives, or better protection of the gear case from contamination."
Galling, also referred to as scoring, removes metal from tooth surfaces, due to the failure of the oil film to carry the load. This is normally because operating conditions are abnormally severe or because the incorrect oil was used. Metal-to-metal contact occurs and tooth surfaces are worn or torn. Excessive wear results in very rough surfaces. Occasionally metal is even dragged over the tooth edges, creating a feathery appearance. "Because of the metal wiping action, a ridge may develop at the pitch line of the driven gear and a groove at the pitch line of the driving gear," explains Ford.
Spalling, on the other hand, is the abnormal loading of tooth surfaces. This over-stresses the subsurface metal until large chips or flakes break away from the teeth. This condition starts at the base of the tooth. Small flat flakes of metal may be visible in the oil.
"Gear longevity and bearing life are always improved by the use of the correct lubricant containing the proper additives," says Ford. "But it's important to understand the root causes of the issues too and what the limitations of your lubricant are. We suggest people speak to a specialist lubricant advisor to help diagnose gear failure issues and to recommend the best product for their specific application."
For more information contact Callum Ford, Lubrication Engineers, +27 11 464 1735, callum@lubricationengineers.co.za, www.lubricationengineers.co.za
Further reading:
Ball screws with nut cooling
Editor's Choice Shaft power components
The machine tool industry uses ball screws to convert the rotary motion of an electric motor into linear motion. Very often, the positioning accuracy, as well as the travel speed and acceleration, have 
...
Read more...
---
Match and Tag for high accuracy in paired chain
Bearing Man Group T/A BMG Shaft power components
Modern machinery often requires chains of precisely the same length to be used in pairs or other multiples. For these applications, BMG specialists recommend Tsubaki Match & Tag chains, which guarantee 
...
Read more...
---
Draw-wire mechanisms for encoders
ifm - South Africa Shaft power components
Draw-wire mechanisms for encoders are the ideal choice when positions must be accurately determined over straight lines. Examples of their use range from short distances, for example with scissor lifts 
...
Read more...
---
New series of metric roller bearings
Bearing Man Group T/A BMG Shaft power components
BMG's bearings portfolio extends from precision miniature bearings used in machine tools and electronics applications to giant-size bearings that meet high demands in steel and mining. This range has 
...
Read more...
---
Coupling considerations for designers
Shaft power components
For designers, spending time selecting the perfect coupling may be low on the priority list. However, ensuring an efficient and reliable connection between two shafts is paramount for system reliability 
...
Read more...
---
Bearings drive cost-saving in food plants
Shaft power components
NSK's Life-Lube bearing units are proving increasingly popular in the food and beverage industry and with good reason. These advanced bearings combine the corrosion-resistant properties of Silver-Lube 
...
Read more...
---
High strength friction transmission belts
Bearing Man Group T/A BMG Shaft power components
BMG supplies a wide range of power transmission components designed to enhance efficiency and safety in the food and beverage sector. Included in this portfolio are Fenner high strength friction transmission 
...
Read more...
---
Power transmission solutions for the sugar sector
Bearing Man Group T/A BMG Shaft power components
BMG plays a critical role in the sugar sector, not only during the operational period of sugar production, but also in off-crop seasons, when maintenance and refurbishment on sugar farms and at mills 
...
Read more...
---
New optimised quick coupling series
Parker Hannifin - Sales Company South Africa Shaft power components
Parker Hannifin has launched the new optimised FEM Quick Coupling Series which offers an increased working pressure up to 350 bar and a decreased pressure drop for better flow properties. The revised 
...
Read more...
---
Spherical roller bearings for tough environments
Shaft power components
Unforeseen bearing failures in production-critical machines and equipment can prove extremely costly in replacement parts, labour and downtime. This problem becomes worse in contaminated environments 
...
Read more...
---