printer friendly version
Blockbuster effects, automated for any theatrical production
4th Quarter 2018 Editor's Choice Electrical switching & drive systems & components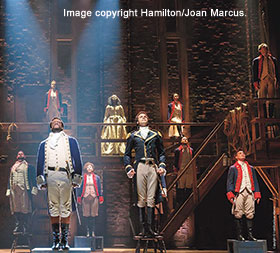 In William Shakespeare's celebrated play, 'As You Like It', the legendary playwright famously wrote that "all the world's a stage, and all the men and women players". Making the storytelling and action seem effortless and enabling the viewer to step into the lives of the characters on stage takes a herculean effort behind the scenes. This is where New York-based Hudson Scenic Studio comes into play, providing scene fabrication and automation services to the entertainment industry.
Hudson serves some of the largest and most successful Broadway shows to ever hit the stage and provides the means for creative directors and their crews to bring their boldest ideas to life. The company builds intricate scenery and stage props, and then makes that scenery dynamically move, shift and change to enhance the visual direction of the show. Every individual action, or effect, such as opening a trap door in the stage floor, lifting a section of scenery or helping an actor fly across the stage, requires complex control technology. There are virtually no limits to the imagination but the prerequisite for staging such blockbuster effects is that the mechanical systems, the software and the automation work smoothly.
Controlling all the complex moving parts in a large-scale theatrical production requires a robust control system in the background, and Hudson uses Beckhoff's PC-based control technology, comprising CX2030 Embedded PCs with 1,5 GHz Intel Core i7 dual-core CPU, as well as CX5100 Embedded PCs with Intel Atom processors. Director, Chuck Adomanis explains the need for a variety of controllers: "Each of these devices acts as a primary system controller, running PLC, NC and HMI software as the main control devices in our automation system. The highly scalable range of controllers allows us to choose the right performance level for the job, and helps mitigate costs for the shows."
TwinCAT 3 automation software provides the core underlying architecture for the control systems. Adomanis continues: "We use a variety of TwinCAT 3 packages for PLC and motion control, given the varied nature of our projects, and we utilise the full range of available TwinCAT modules: TwinCAT PLC and NC for axis control, TwinCAT ADS, TwinCAT TCP/IP Server or TwinCAT OPC UA for horizontal and vertical communication." Remote access enables Hudson to diagnose equipment issues anywhere in the world without engineering teams having to physically travel to the venues, providing significant cost-savings which can be passed on to the customer.
Safety is paramount for stage and show applications. Hudson relies heavily on the TwinSAFE system from Beckhoff to integrate the wide range of necessary safety functions into the automation system, such as guard doors and e-stops. Communication of the real-time relevant signals in the field takes place via EtherCAT. EtherCAT Terminals and EtherCAT Box Modules offer best-in-class speed, as well as a minimal footprint – essential in the space-constrained applications Hudson takes on.
For motion tasks, Hudson relies on AX5000 series EtherCAT servo drives and AM8000 series synchronous servomotors from Beckhoff, a change from the three-phase induction motor systems used in the past. Beckhoff servo drive technology is now the standard motion system. "As the technical demands of our projects continue to grow and change, One Cable Technology for the motors and drives, when coupled with absolute encoder technology, provides excellent value in our projects and will be our standard on new equipment," Adomanis says.
Beyond added flexibility in system design and maintenance, Hudson achieved impressive performance increases. Adomanis explains: "With our previous PLC and motion system, we were living in a world with scan times higher than 20 milliseconds for PLC commands and motion control. Now, our scan times are around 1 or 2 milliseconds." In addition, engineering costs have been greatly decreased while efficiency has increased. Code written for one project is easily scaled from one effect to another. Adomanis also notes that margins have dramatically improved on projects and Hudson can go after applications large and small and maintain high profitability.
As these projects grow in scope and technological complexity, the Hudson team is ready to meet any entertainment engineering challenge that comes their way. With Beckhoff providing the controls foundation, these talented engineers have the necessary tools to keep bringing the artistic visions and dreams of stage and show professionals into reality.
For more information contact Michelle Murphy, Beckhoff Automation, +27 11 795 2898,  michellem@beckhoff.com,  www.beckhoff.co.za
Credit(s)
Further reading:
Maximised precision and speed
First Quarter 2020, Beckhoff Automation , Electrical switching & drive systems & components
Due to the outstanding quality characteristics of its beam, the fibre laser has become the technology of choice in the fine cutting of metal sheets. It delivers highly precise cuts with very narrow kerfs 
...
Read more...
---
Addressing evolving hydraulics challenges
Fourth Quarter 2019 , Editor's Choice, Hydraulic systems & components
Using materials science and design technologies, Gates' engineers come up with innovative hydraulic hose solutions for ever-changing needs and challenges.
Read more...
---
Control for additive manufacturing
Fourth Quarter 2019, Beckhoff Automation , Editor's Choice, Electrical switching & drive systems & components
Colossus plans to manufacture large functional or decorative objects such as outdoor furniture and ornaments with a new 3D printer that processes recycled plastics, and this creates further special 
...
Read more...
---
Varispeed VSDs now available from Bearings International
Fourth Quarter 2019 , Electrical switching & drive systems & components
Being part of the broader Hudaco Group allows BI to leverage synergies across a broad range of companies, meaning it can offer a complete product basket at its extensive branch network countrywide. One 
...
Read more...
---
On the way towards fully electrified mining machines
Fourth Quarter 2019, Parker Hannifin - Sales Company South Africa , Editor's Choice, Electrical switching & drive systems & components
The more time humans spend working in mining conditions, and near mining vehicles, the more likely they are to be injured, contract illnesses or die in accidents. According to the UN's International 
...
Read more...
---
The Bloodhound
Fourth Quarter 2019, Bloodhound Technologies , Editor's Choice, News & events
The Bloodhound project is back on track. The British team developing a car capable of reaching 1600 kmph is in South Africa for several weeks of high-speed testing on the dry desert track at Hakskeenpan 
...
Read more...
---
Robot with air-water actuators has fluid motion
Fourth Quarter 2019 , Editor's Choice, Robotics & Mechatronics
Hydraulics and pneumatics are widely used for power transmission: hydraulics for moving heavy loads with highly controlled motion, and pneumatics for lighter loads and rapid, repetitive motions. Many 
...
Read more...
---
Future-proof chair lift system
Fourth Quarter 2019, Siemens Digital Industries , Editor's Choice, Electrical switching & drive systems & components
At Snow Space, a winter sports resort near Salzburg, Bergbahnen Wagrain operates the Sonntagskogelbahn 2, a chair lift for taking skiing enthusiasts to the piste. New innovative drive technology guarantees 
...
Read more...
---
Rescue from the sky
Fourth Quarter 2019, Siemens Digital Industries , Editor's Choice, Other technologies
Zipline International designs and builds autonomous flying drones that transport medical supplies in hard to reach regions. The company uses design solutions from Siemens PLM Software. This enables the 
...
Read more...
---
Does edge computing have the edge?
Third Quarter 2019, Omron Electronics , Editor's Choice, Other technologies
Implementing artificial intelligence in industrial manufacturing.
Read more...
---