printer friendly version
Siemens launches digital mining incubator at Wits
1st Quarter 2019
News & events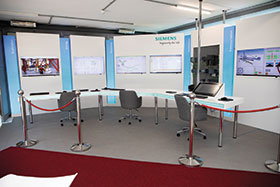 Mining remains a critical player in the macro-economic landscape of South Africa and yet there is still enough potential for the sector to further make a positive impact on GDP and skills development. Government, business, labour and civil society need to ask how they can align a 'here-and-now' emphasis on job creation while focusing on digitalisation. This will enable South Africa to become more competitive globally and ensure that we increase digital skills in the industrial sector whilst promoting mining as a viable job enabler in the future.
Digitalisation in the mining industry goes well beyond the automation of production. It allows for new approaches to business processes and creates real opportunities to merge the digital and physical worlds. The value of data coupled with machine learning, artificial intelligence and additive manufacturing offers South Africa a remarkable opportunity to create smart mines of the future. For example, imagine intelligent machines able to adjust operating parameters based on information received from other machines. These advanced capabilities will boost production, predictability and scalability while translating to profits.
Digitalisation will contribute to the entire value chain with a shorter time-to market, increased flexibility in volatile global markets, optimised productivity and safer operations for everyone on site. What must be addressed is how investors and technology leaders can also become educators and skills developers.
The Digital Mining Incubator is a co-creation space focused on developing mining engineering competence. The incubator is integrated into the Wits Tshimologong Digital Innovation Precinct and is aimed at upskilling young individuals who have an interest in the mining sector, as well as disadvantaged individuals interested in actively participating in the future of mining. Together with mentors from Wits, Tshimologong and Siemens, students will be enabled with the necessary tools and skills to effectively transform and develop the South African mining sector.
Sabine Dall'Omo, Siemens CEO for Southern and Eastern Africa says, "Our partnership with Wits and Tshimologong is about advancing the digital opportunities that mining offers our youth. Failing to position the mining sector in South Africa within discussions about the fourth industrial revolution means remaining stagnant on the path towards industrialisation."
Professor Barry Dwolatzky, director of Wits University's Joburg Centre for Software Engineering (JCSE) and founder of the Tshimologong Precinct, says, "Having Siemens open a digital incubator dedicated to promoting innovation in mining is a very significant landmark in bringing the benefits of 21st century digitalisation to one of the most critical sectors in the South African economy. The DMI will provide a dedicated platform for developing innovative solutions to some of our mining industry's greatest challenges, including health and safety, environmental protection and improved productivity."
"At Siemens we believe that there needs to be genuine investment towards the localisation of technology and the development of digital talent to enable a strong, future-oriented workforce. The integration of digitally adept youth into the world of work will not only inspire new ideas, it will also transform and advance industries," concludes Sabine.
For more information contact Keshin Govender, Siemens South Africa, +27 11 652 2412, keshin.govender@siemens.com, www.siemens.co.za
Credit(s)
Further reading:
From the editor's desk: The reality of augmented reality
Third Quarter 2019, Technews Publishing , News & events
Augmented reality (AR) in various forms has been around for a while, think Pokemon, but its application on the factory floor is only now starting to take off. At the Electra Mining Expo I had a chance 
...
Read more...
---
A Digital Enterprise journey
Third Quarter 2019, Siemens Digital Industries , News & events
Siemens recently demonstrated its Digital Enterprise portfolio at the Africa Automation Fair (AAF), showcasing its current and future digital automation technologies.
Read more...
---
South Africa wins international student cluster competition
Third Quarter 2019 , News & events
A team of six South African undergraduate students recently took first prize against 13 teams at the International Supercomputing Conference (ISC) in Germany. This spectacular success followed four days 
...
Read more...
---
SKF's Meet The World initiative
Third Quarter 2019, SKF South Africa , News & events
Gothia Cup is the world's largest youth football tournament. Each year, around 1700 teams from 80 nations travel to Gothenburg to take part and play 4500 games on 110 fields. Wiith its headquarters in 
...
Read more...
---
Bosch Rexroth hosts customers at the Bosch Rexroth HUBB
Third Quarter 2019 , News & events
The Bosch Rexroth South Africa Group of Companies recently held its first customer day at the Rexroth HUBB in Kempton Park. In a celebration of the Group's relationships with its customers and business 
...
Read more...
---
Engineering is shaping the future
Third Quarter 2019, ESTEQ, Siemens Digital Industries , News & events
This year's highly successful Engineering Community Conference hosted by technology specialist, ESTEQ at the CSIR International Conference Centre focused on how to future-proof your businesses, ideas, 
...
Read more...
---
Festo inspires with smart digital solutions
Third Quarter 2019, Festo , News & events
Festo recently hosted its second highly successful series of Automation Expo seminars and exhibitions that focused on higher productivity through digitalisation in automation. They were held at venues 
...
Read more...
---
A pioneer and role model
Third Quarter 2019 , News & events
There is a serious shortage of women in engineering. Globally it is a male dominated field. According to ECSA, only 11% of the total number of engineers registered are female and only 4% of these are 
...
Read more...
---
Celebrating 100 years of the spherical roller bearing
Third Quarter 2019, SKF South Africa , News & events
The spherical roller bearing (SRB), that helps engineers accommodate heavy radial and axial loads in applications prone to misalignment or shaft deflections, celebrates its 100th birthday this year thanks 
...
Read more...
---
Double win for Schneider Electric
Third Quarter 2019, Schneider Electric South Africa , News & events
Schneider Electric has once again gained recognition for its efforts in sustainable development, being awarded both first and second place at the annual Steel and Engineering Industry Federation of South 
...
Read more...
---