printer friendly version
Music festival is a flying success
1st Quarter 2019 Editor's Choice Electrical switching & drive systems & components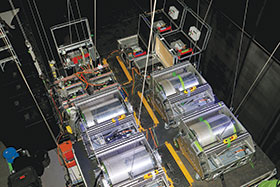 One of the most spectacular stunts ever achieved at a live music event in South Africa involved flying a replica helicopter across the stage at the Afrikaans is Groot festival at the Sun Arena in Menlyn, Pretoria. This was achieved using state-of-the-art automation and mechatronics technology from SEW-Eurodrive.
The stunt for this yearly music festival was devised, set up and executed by specialist rigging company Film Riggers. "We are primarily a rigging company focusing on the film industry, particularly in-camera rope-based stunts," explains partner Graham Terrell, who founded the company together with Alard Hüfner in 2012. From commercials to documentaries and television reality shows, Film Riggers has established a world-class reputation in the industry. "I do not think the organisers expected this level of rigging automation, especially from a South African company," says Terrell. "Nobody is able to automate a live show like we can, and no local rigging company has a similar level of experience and expertise. The alternative was to turn to an international company, which would have been prohibitively expensive."
Key to the success of Film Riggers has been its longstanding relationship with SEW-Eurodrive. The winches it devised use the Movidrive drive inverter, including the IPOSplus integrated positioning and sequence control system as standard. The drive inverters have a wide power range, large overload capacity, and a modular design. According to Maxolution engineer Dylan Enslin, they facilitate unrestricted application of AC drives, with a power range of 0,55 to 315 kW, featuring the most modern digital inverter technology,.
Terrell says that as a rigger he has been using SEW-Eurodrive products for over a decade. The Afrikaans is Groot event required four Movidrive drive inverters with CMP motors. These consisted of two 11 kW units and two 30 kW units, in conjunction with four 2,2 kW Moviaxis multi-axis servo inverters with CMP motors. Film Riggers also made use of three standard 2,2 kW AC motors driven by Movitrac Inverters. Synchronisation and coordination was achieved by means of a MOVIPLC motion controller. SEW-Eurodrive also supplied off-the-application modules for the operational controllers for the coordinated drives. This software provides for a range of functionality, from accurate speed control to precision positioning and torque control.
A major advantage for Film Riggers is that it has been able to take advantage of the latest developments from SEW-Eurodrive in automation and mechatronics. The basic winch it devised from the outset simply comprised an AC motor with a brake, running off a Movitrac MCO7 variable speed drive, which is an open-loop system with no encoder. This is the most manual or basic form of an electric winch.
Movidrive represents next-generation technology, incorporating servo motors with encoders where the positioning and control are very specific. This is far more accurate and safer than having a person with a remote control driving the winch. Instead, Movidrive allows for the winches to be preprogrammed, which means that all actions are repeatable, with no possibility of error or mishap.
Film Riggers was tasked by the Afrikaans is Groot production team to coordinate the moving and lifting of setpieces that were required to be airborne, in addition to moving performers around the stage. "The beauty of the Movidrive is that it is modular, which means we can use one to four, and have them all interlinked," Terrell continues.
The replica helicopter flown across the stage consisted of a metal frame with a moulded fibreglass skin, weighing 300 kg, with an extra 100 kg added for an occupant. The initial idea was simply for a basic take-off and landing, but by using four Movidrive units, Film Riggers was able to achieve the spectacular effect of simulated flight on the stage. This meant moving from right to left, in conjunction with moving up and down. Not only was the angle of flight adjustable, but the nose section could be moved up and down as well.
Enslin emphasises that Moviaxis is an even more advanced evolution of the entire system, allowing for extremely refined resolution and feedback, and lightning fast reaction time to any changes in the drive speed. "Our brief from Afrikaans is Groot was to deliver a live stage show that superseded anything done before. This would not have been possible without the technology and support from SEW-Eurodrive," Terrell concludes.
For more information contact Jana Klut, SEW-Eurodrive, +27 11 248 7000, jklut@sew.co.za, www.sew-eurodrive.co.za
Credit(s)
Further reading:
Addressing evolving hydraulics challenges
Fourth Quarter 2019 , Editor's Choice, Hydraulic systems & components
Using materials science and design technologies, Gates' engineers come up with innovative hydraulic hose solutions for ever-changing needs and challenges.
Read more...
---
Control for additive manufacturing
Fourth Quarter 2019, Beckhoff Automation , Editor's Choice, Electrical switching & drive systems & components
Colossus plans to manufacture large functional or decorative objects such as outdoor furniture and ornaments with a new 3D printer that processes recycled plastics, and this creates further special 
...
Read more...
---
Varispeed VSDs now available from Bearings International
Fourth Quarter 2019 , Electrical switching & drive systems & components
Being part of the broader Hudaco Group allows BI to leverage synergies across a broad range of companies, meaning it can offer a complete product basket at its extensive branch network countrywide. One 
...
Read more...
---
On the way towards fully electrified mining machines
Fourth Quarter 2019, Parker Hannifin - Sales Company South Africa , Editor's Choice, Electrical switching & drive systems & components
The more time humans spend working in mining conditions, and near mining vehicles, the more likely they are to be injured, contract illnesses or die in accidents. According to the UN's International 
...
Read more...
---
The Bloodhound
Fourth Quarter 2019 , Editor's Choice, News & events
The Bloodhound project is back on track. The British team developing a car capable of reaching 1600 kmph is in South Africa for several weeks of high-speed testing on the dry desert track at Hakskeenpan 
...
Read more...
---
Robot with air-water actuators has fluid motion
Fourth Quarter 2019 , Editor's Choice, Robotics & Mechatronics
Hydraulics and pneumatics are widely used for power transmission: hydraulics for moving heavy loads with highly controlled motion, and pneumatics for lighter loads and rapid, repetitive motions. Many 
...
Read more...
---
Future-proof chair lift system
Fourth Quarter 2019, Siemens Digital Industries , Editor's Choice, Electrical switching & drive systems & components
At Snow Space, a winter sports resort near Salzburg, Bergbahnen Wagrain operates the Sonntagskogelbahn 2, a chair lift for taking skiing enthusiasts to the piste. New innovative drive technology guarantees 
...
Read more...
---
Rescue from the sky
Fourth Quarter 2019, Siemens Digital Industries , Editor's Choice, Other technologies
Zipline International designs and builds autonomous flying drones that transport medical supplies in hard to reach regions. The company uses design solutions from Siemens PLM Software. This enables the 
...
Read more...
---
New series of industrial gear units
Fourth Quarter 2019, SEW-Eurodrive , Electrical switching & drive systems & components
The latest technology unveiled by German drive engineering specialist SEW-Eurodrive at Hannover Messe 2019 has finally made its way to South African shores. Raymond Obermeyer, MD of SEW-Eurodrive, personally 
...
Read more...
---
Mechatronic drive system for improved bakery industry efficiency
Fourth Quarter 2019, SEW-Eurodrive , Electrical switching & drive systems & components
SEW-Eurodrive is assisting the bakery industry in improving efficiencies and reducing its energy consumption by means of the introduction of its Movigear mechatronic drive system. The drive specialist 
...
Read more...
---