The past and the future
1st Quarter 2012, News & events

All the best for the new year, may it be a good one for all our readers.
A crystal ball
It is always fun at the start of a new year to see what predictions have been made for the future but I often wonder about the accuracy of these forecasts. So it was with great interest that I came across some predictions published in 1900 by an American engineer called John Elfreth Watkins about what the world would be like in 2000. He began the article with the words: "These prophecies will seem strange, almost impossible," and 10 of his predictions were startlingly accurate. They included the advent of digital colour photography (photographs will be telegraphed from any distance); mobile phones (wireless telegraph circuits will span the world); television (man will see around the world); and tanks (huge forts on wheels will dash across open spaces at the speed of express trains).
Inspired by Watkins, the BBC recently came up with its vision for 2112. Futurists give a 100% chance to the following 'strange, almost impossible' ideas: we will be able to communicate through thought transmission; we will be wired to computers to make our brains faster; nanorobots will flow around our bodies fixing cells and recording our memories; we will have nuclear fusion; and we will be able to control the weather.
I am not sure I want to be around for some of these, but there are some new technologies which are going to be a reality in the very short term. One of these is 3D printing, or additive manufacturing, which is set to revolutionise the world of manufacturing, which we cover in our story on 'How to print a control valve'.
Nothing but the best
BMG Hydraulics chooses only the best when it decides whom to represent. Our 'Cover Story' is about BMG's latest range of hoses and fittings from the world class RYCO Hydraulics.
A rich harvest
Agriculture is our industry feature in this issue and we have a story about the winning entry in the Pneudrive Challenge, which is sponsored by Festo and SEW-Eurodrive. The top team from Stellenbosch University delivered an impressive design for a high speed, accurate and selective apple packing machine designed to improve the marketability of boxed apples. The students noted that Festo's fin gripper, which we also feature, would be ideal for this application. There is another one about how Sauer-Danfoss upgraded an entire range of combine harvesters to a propel system based on its H1 pumps.
Virtual flying
We have plenty of features on drives, including one on new torque motors from Siemens and another on inverted tooth conveyor chains from Tectra. A complete eye opener to me was Simulflight's flight simulator, which uses a PC-based controller from Beckhoff Automation to manage the challenging I/O requirements. Having tried it out myself I can vouch that the flying experience is completely realistic.
Pneumatic conveyors and valves
At a SAFPA technical evening last year Dr Stephen Meijers from ELB Engineering gave a fascinating talk on pneumatic conveyors and we cover this for those who did not make the talk. On the subject of pneumatics we also cover valves from Axiom Hydraulics and Pneumatic Electric Control Systems (PECS).
Miniature hydraulics
On the hydraulics side we have an advanced electrohydraulic cylinder from Parker Hannifin. We also describe a new research area called mesofluidics, or miniaturised hydraulics. This is the application of millimetre to centimetre sized hydraulics to problems that require substantial amounts of power to be generated and applied in a limited space, and researchers at Oak Ridge National Laboratory in the USA have shrunk the technology down by orders of magnitude.
A new electronic newsletter
We are introducing a new guest column called Fluid Power Tips by international columnist Josh Cosford from The Fluid Power House in Canada. The first one is printed in this issue and will be followed up in our electronic newsletter, Newsbrief. This now has a new format which we hope will be more readable and easily accessible. In future our online Newsbrief will go out monthly and will contain the features and news published in the most recent hard copy of Motion Control, which is also now available in e-book form, complete with electronic page turning. Having also recently been dragged into the world of tablets, I would like to mention that both these can be accessed on Blackberry, Android, Kindle or iPad. To subscribe to Newsbrief at no cost please send an e-mail to brianj@technews.co.za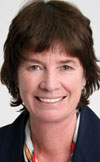 Kim Roberts, Editor