printer friendly version
AGVs for automated production
1 April 2020 Robotics & Mechatronics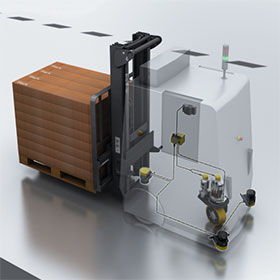 Automated and flexible production processes are the answer to increasing quantities, smaller batch sizes, and high production speeds. Automated guided vehicle (AGVs) systems and their smaller relatives, automated guided carts (AGCs), were once mainly the preserve of production logistics in the automotive industry. SICK Automation's portfolio ranges from sensor solutions for small AGVs or automated guided carts (AGCs) right through to specialised AGVs.
Now, they are poised to conquer the world of intralogistics processes in the field of factory automation. These masters of logistics on wheels offer considerable potential within the electronics industry for tackling large production volumes, lots of small production stages, variable processes, and production environments with a high degree of protection.
The automotive industry is showing how it is done
Automakers are abandoning inflexible conveyor belt systems in favour of production islands. By using islands, companies are able to respond efficiently to a variety of production specifications. For example they can accommodate the kinds of custom-made products that are increasingly becoming the norm. As a result, further processing can be individually tailored to workpieces and hold-ups at individual stations can be avoided (because, as an example, the order of production steps can be varied). Automated transport systems are responsible for transferring the body parts between assembly islands.
Flexible production without a conveyor belt
Regardless of the industry in which it operates, any company that wishes to remain internationally competitive must increase its degree of production automation. The technologies on which sensors and systems are based are key technologies for many future markets with a strong focus on automation.
Wherever there are lots of small production stages with lots of variety, AGV systems release companies from their dependence on conveyor belt throughput capacity and station processing rates. Automated production systems constantly record where the products are and what state they are in when they leave the individual production islands. Seamless quality control can be ensured between the production islands thanks to the operational profile of the AGV systems.
In situations where deploying workers would be difficult or harmful to their health, there are even more application possibilities for AGV systems. For instance, they are already being used as rugged transport vehicles in cleanrooms or solar cell/display production, as well as for transporting heavy battery packs in the battery making industry.
AGVs are often too large for the electronics industry, where there tends to be lots of small production stages that are geared toward economic and spatial efficiency. AGCs are a smaller and more cost-efficient form of transport but are still customisable. As a result, they are the main contender when it comes to finding a flexible method of automating production.
Sensor solutions for precise navigation
SICK has spent years helping its customers to develop production and logistics processes that are more flexible and more highly automated. The result has been comprehensive solutions based on intelligent sensor technology and consulting capabilities that bring together mechanical engineering know-how with expertise in electronics. The company has successfully implemented a number of AGV systems. These are already showing how an extensive range of sensor functions can be combined for the purpose of transporting products safely in all kinds of processes.
SICK offers solutions for all navigation, safety and detection tasks with its perfectly co-ordinated sensor products, which are all available from a single source. Code readers and RFID technology automatically detect what an AGC is carrying, laser scanners guide the vehicle, and encoders monitor the speed and direction of travel. The sensors are also not limited to the vehicle itself. They also represent the link between the automated guided carts and the production control system.
AGCs usually still rely on a ready-made route network to travel between the production islands, which typically involves using magnetic or optical lane guidance. Free navigation based on reflectors or contour detection is gaining ground – among AGVs and their smaller relatives, AGCs. The ability to create travel routes with absolute flexibility using Simultaneous Localisation and Mapping (SLAM) methods is already becoming a reality. This means specific requirements or a particular system can be accommodated flexibly by making the necessary changes to them.
It is not only the customisable functions of the AGCs that are worth noting but also the energy efficiency of these little racers. The onboard electronics only consume as much energy as is actually required so that these agile navigators do not spend most of their time at the charging station.
For more information contact Grant Joyce, SICK Automation Southern Africa, +27 10 060 0550, grant.joyce@sickautomation.co.za, www.sickautomation.co.za
Credit(s)
Further reading:
Efficient pneumatic performance with multifunctional sensor
Fourth Quarter 2020, SICK Automation Southern Africa , Pneumatic systems & components
SICK Automation's recently introduced multifunctional FTMg (flow thermal meter for gases) flow sensor detects pneumatic system leakages well before pressure loss causes machine failure. It is engineered 
...
Read more...
---
The role of pick and place robots
Fourth Quarter 2020 , Robotics & Mechatronics
As automation became widely accepted and implemented throughout various industries, robotics took it one step further with robots designed for specific applications, such as handling, packaging and 
...
Read more...
---
Mobile robot with 1500 kg payload capacity
Fourth Quarter 2020, Omron Electronics , Robotics & Mechatronics
The 1500 kg payload capacity enables transportation of large automotive components such as car chassis and voluminous pallet size payloads − items that would have traditionally been moved using forklifts. 
...
Read more...
---
Reducing business downtime with robots
Third Quarter 2020 , Robotics & Mechatronics
In a world that is always connected and moving at a blistering speed, businesses cannot afford to have extensive periods of downtime. As efficiency becomes a primary driver of business, industries are 
...
Read more...
---
The new mobility: how sensors control the cobots of the future
Third Quarter 2020, SICK Automation Southern Africa , Editor's Choice
The ongoing development of small, powerful and flexibly positionable robots that can collaborate with humans is progressing in leaps and bounds. Sensors from SICK Automation are an important component. 
...
Read more...
---
Gimatic builds on its mechatronics expertise
Third Quarter 2020, Gimatic , Robotics & Mechatronics
Gimatic is a leading global manufacturer of pneumatic and electric grippers for End Of Arm Tooling used in industrial automation. The company specialises in the production of vacuum cups (flat and bellow), 
...
Read more...
---
The future of collaborative robots
Third Quarter 2020, Omron Electronics , Editor's Choice, Robotics & Mechatronics
Collaborative robots (cobots) that can work safely in the same environment as people have an important role in enabling flexible manufacturing and creating a competitive advantage for companies. A new 
...
Read more...
---
Thousands of robots swarm together
Second Quarter 2020 , Editor's Choice, Robotics & Mechatronics
Harvard engineers have created a robotic system consisting of a swarm of 1024 small robots called Kilobots that can collaborate and organise themselves into complex shapes.
Read more...
---
Robots in the time of COVID-19
Second Quarter 2020 , Robotics & Mechatronics
COVID-19 has swept through the lives of people across the globe, disrupted all industries and brought the world's economy to a grinding halt. As the world moves towards a different tomorrow, future-orientated 
...
Read more...
---
Eighteen synchronous NC axes
Second Quarter 2020, Beckhoff Automation , Editor's Choice, Robotics & Mechatronics
Swedish equipment manufacturer, Ecmec, has developed a high-tech machine for a supplier to the automobile industry that can complete several process steps simultaneously without having to remount the 
...
Read more...
---