printer friendly version
Successful elevator chain solution
1 April 2020 Shaft power components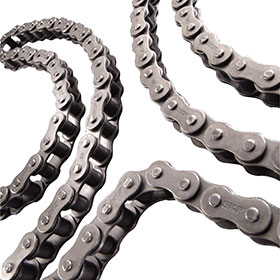 Machines and equipment utilised in the cement industry operate in highly corrosive environments. When a leading cement producer faced constant downtime due to frequent unforeseen failures of its elevator chain last year, the company turned to SKF for its expertise. SKF provided an efficient elevator chain solution that reduced operational and maintenance costs and delivered a vast improvement in reliability, subsequently improving uptime and productivity for the cement producer.
"This is a rather unique and challenging application for our elevator chain as the product being transported is a combination of high-wear, high-density materials such as slag, limestone and gypsum," explains product manager, Frans Odendaal. Manufactured from superior quality components, SKF's elevator chain is more than up for the task, delivering optimum and reliable performance even in the toughest of environments.
SKF provided an installation manual and supervised the installation process. The company conducted an inspection on the elevator chain after it had been running with product and Odendaal confirms that they will continue to inspect the chain and other components at regular intervals to monitor wear and elongation.
According to Odendaal, although the cement producer is not a direct account, SKF has been involved with the company for many years through distribution partners. "Our current territory manager has been paying regular visits to the plant over the past ten years. There is no doubt that the exceptional performance of our elevator chain has served to strengthen our relationship with the cement producer," he concludes.
For more information contact Samantha Joubert, SKF South Africa, +27 11 821 3500, samantha.joubert@skf.com, www.skf.com
Credit(s)
Further reading:
Solutions for shipping
Fourth Quarter 2020, SKF South Africa , Shaft power components
When a ship is out at sea, outside support is a long way off and rough seas present extreme working conditions. Equipment reliability and flexibility is therefore paramount. SKF's marine solutions encompass 
...
Read more...
---
Spherical roller bearings take the guesswork out of mounting
Fourth Quarter 2020 , Shaft power components
The Dodge ISN Safety Mount spherical roller bearings from ABB, distributed by Bearings International (BI), feature a patented integral adaptor mounting and removal system that makes it easy to install 
...
Read more...
---
New-generation soft seated butterfly valves
Fourth Quarter 2020 , Shaft power components
Valve specialist GEMÜ has redesigned its tried and tested butterfly valves and now offers the GEMÜ R480 Victoria in wafer version. Thanks to its flow-optimised and sleek disc design, the redesigned butterfly 
...
Read more...
---
BI is a critical supplier to sugar mill
Third Quarter 2020 , Shaft power components
From the growing of sugar cane on the agricultural side to sugar refineries on the production side, Bearings International (BI) plays a key role in this important economic sector. Typical solutions provided 
...
Read more...
---
High quality, price-competitive bearings
Third Quarter 2020 , Shaft power components
Various market segments have responded positively to the launch of products from Craft Bearings by Bearings International (BI). "The first stock consignment was not affected by the Covid-19 crisis. All 
...
Read more...
---
How to avoid bearing failures with proper lubrication
Third Quarter 2020 , Shaft power components
Bearings are a fundamental component of mechanical equipment and centre on the idea of reducing rolling friction to allow parts to move without being destroyed. Reducing friction can contribute to higher 
...
Read more...
---
Cummins ReCon parts a cost-effective alternative
Third Quarter 2020 , Shaft power components
Cummins ReCon parts are not just repaired or rebuilt, but are remanufactured to meet or exceed your engine's original specifications for performance, reliability and durability. These parts also include 
...
Read more...
---
Hydraulic bolt tensioners remove uncertainty from couplings
Third Quarter 2020, SKF South Africa , Hydraulic systems & components
Hydrocam hydraulically operated bolt tensioners offer far greater accuracy compared to other fixing methods. With their superior control and safety, damage to bolts and associated structures is avoided, 
...
Read more...
---
Quick, easy leak detection
Third Quarter 2020, SKF South Africa , Pneumatic systems & components
Compressed air production is an integral part of manufacturing plants but it is also one of the largest energy consumers. Air leaks amplify the load on a compressor, leading to higher electricity consumption 
...
Read more...
---
The smart connection
Second Quarter 2020 , Shaft power components
Powermite's Molex GWConnect heavy duty connector portfolio includes industrial connectors (including multipole), inserts, aluminium enclosures and more than 6000 complementary products. All components 
...
Read more...
---