printer friendly version
Power and finesse
1 April 2020 Electrical switching & drive systems & components
High-quality mechanical watches are pieces of fine jewellery with a complex inner life. To produce these marvels of craftsmanship, countless individual steps must work together in a refined way. Today, watches are often put together at assembly stations, which support the highly qualified watchmakers with semi-automated processes. During transport of the valuable watch movements, motors from Faulhaber ensure delicate and smooth handling sequences.
Mechanical watches are actually an anachronism, as they are no longer really needed for measuring time. Nevertheless, demand remains high. Many purchasers are looking not only for a prestigious piece of arm jewellery but also feel a deep appreciation for the extraordinary refinement of the precision mechanics of their timepieces. These are based on the highly developed craftsmanship that has been passed down over the centuries from generation to generation, primarily in Switzerland. Most of the industry's big-name manufacturers are located there.
Cluster for cutting-edge technology
Today, these manufacturers produce their products in quantities that a pure craft workshop could not handle. Although the most important work steps are still performed largely by hand, the work is shared and broken down into various processes. The skilled workers are supported in many of the steps by machines, which automate the process to a certain degree.
One such machine is the assembly machine from Precitrame Machines. The Swiss company is based in Tramelan, a cluster of hidden champions for precision mechanics, mechatronics and machine construction. It is characterised by products of the highest quality and technology that are among the best in the world.
Precitrame produces machines for rotary-indexing transfer and finishing for precision mechanical production of every type. When the housing of this machine is closed, one sees a work surface that contains a small, round opening at the front centre. There, the watchmaker receives the movement to perform the next assembly step. Once completed, the watchmaker returns it to the same location. The workpiece is then transported onwards under the cover while the next one arrives for processing.
Mini-factory under the housing
Located under the cover is something that has the appearance of a miniature version of an assembly plant. Numerous conveyor belts run next to one another there. These move the workpieces back and forwards, passing through a series of switches, and can thereby direct them on different paths depending on what work step is currently being performed on the batch.
All movements, however, enter a loading device in the rear part of the station that lifts them from the conveyor belt and directs them to an automated process. This may involve applying a microscopically fine drop of oil to a specific location. This unit is, however, primarily responsible for quality assurance. Sophisticated systems re-measure here to ensure that the assembly processes were performed with the desired precision.
Optical and acoustic measuring instruments are used to measure the rate and amplitude of the regulating element or to check the completeness of the components. The measurement data is recorded automatically and transferred using the CANopen bus system. A small QR code on the workpiece carrier allows it to be associated with a specific watch. It is thereby possible to fully document all assembly steps performed at this station for each individual movement.
Gentle acceleration
Lift up from the conveyor belt and guide to a process step – that sounds easy. But this process poses a number of technical challenges. The delicate movements lie loose in their flat carriers. A sudden movement could cause them to fall out, be damaged and disrupt the process flow. At the same time, the distances that are travelled here are, with respect to the small dimensions, considerable. The vertical stroke of the loader, for example, is over 20  centimetres. Its work should of course not delay the cycle time of the entire machine. It is not enough to perform the individual processes slowly to stay in the safe range.
Furthermore, three processes must be precisely synchronised. The transport pallet with the workpiece carrier is moved to the gripper on a horizontal axis.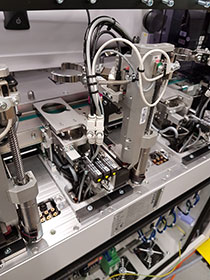 Copyright: Precitrame
Faulhaber developed a custom solution to drive the three axes. At its heart is a brushless DC servomotor with 4-pole technology of the 2250 BX4 series. An integrated encoder with Hall sensor sends a precise position signal to the control, thereby providing the basis for reproducible processes. The motor for the vertical axis is also equipped with a brake for precisely regulating the deceleration following the acceleration. In the event of a process malfunction, for example a power failure, the brake also holds the specified position and prevents the gripper from falling down.
Three million test cycles
A lead screw with especially steep pitch transfers the force of the motor over the entire length. The optimum material for the nut that moves back and forwards on the lead screw was determined through complex endurance tests. The highly stable PEEK polymer, which is also used as a material for medical implants, was found to be most suitable over the course of three million cycles.
A profile generator is responsible for performing the individual movements using software that is integrated in the servo drive of the motors. It was developed, tested and implemented by Faulhaber specifically for this application. The 2250 BX4 servomotor is the smallest on the market capable of performing this task. It also satisfies the other requirements that the assembly station places on the technology.
The entire machine corresponds to the dimensions with which work is performed in this industry and is appropriately compact and filigree in design. Because up to three loaders must be integrated, space is even tighter. The gripper unit, which moves on the three axes, weighs over 600 grams, however. The drive must therefore deliver peak performance in the smallest of volumes. Precitrame and its end customer are pleased with the good cooperation with the drive supplier. The experts from Faulhaber worked with great commitment on the development of this solution. In addition to the outstanding product, they also received optimum technical support. This contributed to making the assembly station a model of success.
For more information contact David Horne, Horne Technologies, +27 76 563 2084, sales@hornet.cc, www.hornet.cc
Credit(s)
Further reading:
Energy efficient drives for the mining industry
Third Quarter 2020, Danfoss , Electrical switching & drive systems & components
The mining and minerals industry presents some of the most challenging environments for production. Mine sites, mineral processing facilities, associated stockyards, and port facilities are large in scale 
...
Read more...
---
Evolved drive systems
Third Quarter 2020, Horne Technologies , Electrical switching & drive systems & components
Drive specialist Faulhaber has once again demonstrated its competence as a system provider and has extended its BXT flat motor series by adding corresponding gearheads and integrated encoders as well 
...
Read more...
---
Same day VSD solution
Third Quarter 2020 , Electrical switching & drive systems & components
When a manufacturing facility on the East Rand urgently required a replacement variable speed drive (VSD) for an extraction fan in its welding facility after the existing drive broke down and halted production, 
...
Read more...
---
Remote commissioning for sugar mills
Third Quarter 2020, ABB South Africa, Industrial Automation , Electrical switching & drive systems & components
Virtual commissioning can be used in a number of different ways without working with physical assets and has several benefits for customers. This technology has the potential to improve operations in 
...
Read more...
---
Additive manufacturing for mass production of customised helmets
Third Quarter 2020, Siemens Digital Industries , Electrical switching & drive systems & components
Bicycle helmets made to measure and in an affordable framework for everyone − what was unthinkable a few years ago is now becoming reality thanks to digitalisation and additive manufacturing. The 
...
Read more...
---
Powerful general-purpose drives
Third Quarter 2020, Nidec Industrial Automation Southern Africa , Electrical switching & drive systems & components
The Commander series of simple and compact AC motor speed controllers meets advanced requirements in a wide range of applications. Their small footprint makes them ideal for machine builders and OEMs, 
...
Read more...
---
Nine drives for copper mining project
Third Quarter 2020, SEW-Eurodrive , Electrical switching & drive systems & components
SEW-Eurodrive has supplied a comprehensive drive package to a major Greenfield copper mining project in the Democratic Republic of Congo. The package comprised nine drives in total, of which the five 
...
Read more...
---
New IE5+ motor generation
Third Quarter 2020, Bearing Man Group T/A BMG , Electrical switching & drive systems & components
BMG and German precision engineers, Getriebebau Nord, entered a partnership agreement in 1996 to assemble, distribute and support Nord Drivesystems throughout southern Africa. BMG has made a substantial 
...
Read more...
---
Milling machines for the aircraft industry
Third Quarter 2020, Beckhoff Automation , Editor's Choice, Electrical switching & drive systems & components
In aircraft construction, exceptional component quality and precision are crucial. However sheet-metal aircraft parts are often very large, making machining and handling problematic. Harmuth CNC-Frästechnik 
...
Read more...
---
E-Motion on the bike
Second Quarter 2020, Horne Technologies , Editor's Choice
The bicycle is a part of locomotion culture in Germany. Over 97% of people in Germany can ride a bike. They use bicycles not only for bike tours in their free time but also on a daily basis for shopping 
...
Read more...
---