printer friendly version
Rolling roads with advanced bearing technology
1 May 2020 Shaft power components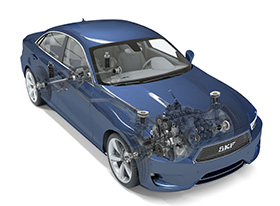 Bearings, although buried deep within the vehicle, are on the front line in contributing to drivetrain efficiencies and delivering reliability for automotive manufacturers. SKF application engineering master, Thomas Wolf explains how electric vehicle (EV) drivetrains are placing new demands on components such as bearings, and how these can be overcome.
Breakthroughs in technologies such as batteries, power management electronics and electric motors have paved the way for the dramatic emergence of electric mobility, but every aspect of the EV drivetrain is being advanced in the push for efficiency and reliability.
In particular, EV drivetrains are placing new demands on components such as bearings. The push for efficiency throughout the drivetrain is prompting original equipment manufacturers to explore new low-friction approaches rather than the conventional tapered roller bearings that are found in gearboxes and differentials.
Another challenge is the high speed of the electric motors in EVs. Up to 30 000 rpm speeds are needed to ensure the drivetrain works efficiently, far higher than those found in most industrial applications, The acceleration and temperatures generated by these machines place enormous strain on bearings and their components such as cages and rolling elements.
Bearings running at such high speeds also need effective lubrication and cooling. Without this, there is a high risk of rapid degradation of the bearing components. Both races and rollers may overheat, causing premature failure and the need for early replacement.
In addition to high rotational speeds, electric motors can also present further challenges for bearings through electrical discharges. High-frequency voltage switching of the motor inverter can result in current leakage. This current can be conducted through the bearings, causing arcs in the rolling contacts, and may result in surface fatigue and erosion.
Manufacturers are also developing special lubricants with lower viscosity and special additives in order to reduce power losses from friction and support operations at far higher speeds. However, lower-viscosity lubrication can also have an impact on the wear and fatigue characteristics of bearings. Accelerated wear can result in catastrophic failure, having an obvious impact on reliability.
Solving the challenge of EV bearings
In response to these new demands, manufacturers such as SKF are investing in new technological developments and adapting or redesigning conventional bearings. By redesigning elements such as the polymer cage, rolling components and using special lubricating grease, for example, customised and hybrid bearings are already solving some of the fundamental issues that can affect reliability in electric vehicles.
In terms of electrical discharge, ceramic ball bearings are currently the most attractive solution given that ceramics are typically electrically insulating materials.
While using ceramic rolling elements to create a so-called hybrid bearing resolves this issue, there are other associated benefits too. For instance, having roughly half the density of their steel equivalents, ceramics are lighter and therefore tend to run at lower temperatures. In addition, ceramic bearings are much harder than steel so last up to ten times longer, typically requiring less lubrication.
Although currently only around 5% of bearings in EV applications are hybrids featuring ceramic elements, this is beginning to change. The value that hybrid units offer in reliability and extended service life is becoming increasingly recognised and acknowledged.
Another solution that is being explored is carbonitriding bearing raceways for applications where bearings are exposed to contamination or poor lubricants. Carbonitriding increases the surface hardness and consequently, as with ceramics, increases the in-service lifetime. As the global EV market continues to expand, many more advanced ways of dealing with all the specific conditions required for EVs are also under development. These include special greases that maintain a stable viscosity at higher speeds and temperatures.
Bearings rolling out EV market growth
According to an International Energy Agency analysis published in 2019, the global EV fleet is now well above 5 million vehicles. A study from market research company, Frost and Sullivan, stated that the volume of global sales almost doubled in a single year (from 2017 to 2018) and China remains the world's largest electric car market. This segment is expected to continue to dominate the market.
Given the new constraints linked to EV technology development, the bearings' contribution to the overall system behaviours should not be underestimated. Manufacturers such as SKF are determined to ensure that bearings are fit for the future with improvements in performance, efficiency and reliability. The future for bearings is electric.
For more information contact Samantha Joubert, SKF South Africa, +27 11 821 3500, samantha.joubert@skf.com, www.skf.com
Credit(s)
Further reading:
Condition monitoring for critical times
First Quarter 2020, Bearing Man Group T/A BMG , Shaft power components
BMG, which provides engineering support to essential service providers during the COVID-19 crisis, encourages operating companies not to neglect condition monitoring at this critical time. "It is very 
...
Read more...
---
Successful elevator chain solution
First Quarter 2020, SKF South Africa , Shaft power components
Machines and equipment utilised in the cement industry operate in highly corrosive environments. When a leading cement producer faced constant downtime due to frequent unforeseen failures of its elevator 
...
Read more...
---
Turning up the heat with a portable bearing heating solution
First Quarter 2020, SKF South Africa , Shaft power components
The new portable induction heater TWIM 15 from SKF uses medium-frequency technology to heat up roller bearings as well as other ring-shaped, metallic components. This innovative device heats the bearing 
...
Read more...
---
Focusing on bearings
First Quarter 2020, Bearing Man Group T/A BMG , Shaft power components
BMG's comprehensive range of bearings extends from precision miniature bearings used in machine tools and electronics applications, to giant size bearings that meet the demands of steel and mining industries. "To 
...
Read more...
---
Bearings have savings for steelworks
First Quarter 2020 , Shaft power components
NSK's expertise in solving issues for the steel industry worldwide is helping achieve savings of €372 555 per annum on a continuous annealing line, thanks to the elimination of unplanned downtime resulting 
...
Read more...
---
SKF automotive products for race winning performance
First Quarter 2020, SKF South Africa , News & events
SKF is a passionate sponsor of global motorsport. Through its Racing Division, the company is involved in all aspects of technical assistance, design and manufacture for motorsport applications. In the 
...
Read more...
---
Butterfly valves for demanding applications
First Quarter 2020 , Shaft power components
Compact butterfly valves, with good flow characteristics and low maintenance requirements, are extremely versatile and ensure dependable operation, even in the toughest environments.
Read more...
---
Food grade belts for pristine hygiene applications
First Quarter 2020, Bearing Man Group T/A BMG , Shaft power components
Ammeraal Beltech's Rapplon folder gluer belts, which meet FDA and EC standards for contact with dry foodstuffs, form part of BMG's extensive range of food grade belts for pristine hygiene applications. 
...
Read more...
---
Chain for bakery ovens and provers
First Quarter 2020 , Shaft power components
Bearings International (BI) offers KOBO prover chain for specific applications such as bakery ovens and provers. In South Africa, standard prover chain is a 100 mm pitch chain with custom-dimensioned 
...
Read more...
---
Bearing speeds up product development
First Quarter 2020, SKF South Africa , Shaft power components
SKF has released the world's first commercial load sensing bearing based on its proprietary fibre optic sensing technology. This streamlines the creation of rotating products such as pumps, using angular 
...
Read more...
---