printer friendly version
Eighteen synchronous NC axes
Second Quarter 2020 Editor's Choice Robotics & Mechatronics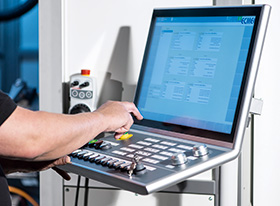 Swedish equipment manufacturer, Ecmec, has developed a high-tech machine for a supplier to the automobile industry that can complete several process steps simultaneously without having to remount the part being worked on. The machining centre is designed for high-volume production of up to 200 000 parts per year and performs its functions and processing steps simultaneously within the same cycle. The machine reduces the previous processing and conversion times by more than one third, while requiring less of the valuable shop floor space. Beckhoff supplies TwinCAT 3 automation software for the Ecmec machine's PLC and NC operations as well as the main spindle and forward-feed drives.
Ecmec produces hydraulic and mechanical fixtures, accessories for robot grippers and customised machines for assembly, part handling and machining operations. The latest example is the newly developed Ecmec Special Purpose Machine (SPM) machining centre, which integrates and simultaneously executes all steps for processing up to 200 000 pressure die castings per year for the automotive industry.
From drawing board to finished machine in record time
When equipment manufacturers design a customer-specific machine, they must keep an eye not only on component costs but also on development expenses. For this reason, the time from first draft to delivery should be as short as possible. "Since we don't build a machine of this magnitude every day, we looked for a partner who could supply control and drive components designed to meet customer requirements," says Daniel Eklund, managing director of Ecmec.
The challenges were considerable. Parts that were previously made on two machine tools with three to five axes had to be processed by a single machine operating 18 NC axes simultaneously. Two main spindles are designed as four-axis units, meaning they can move freely along the X, Y and Z axes as well as rotate and tilt. Another three main spindles move as three-axis units supplemented by an additional one-axis main spindle. With this configuration, workpieces can be machined on all sides without having to be remounted. A tool changer with four different tools makes the design even more flexible.
"The Ecmec SPM employs a totally different set of processing methods compared to traditional machines and does everything much faster," explains Eklund. "It processes the workpieces roughly 33 percent faster than conventional machines and requires less machine footprint."
Precise motion control with faster response times
"Addressing all 18 axes simultaneously requires a fast and powerful control system, which is where Beckhoff came into play," says Eklund. "Beckhoff was able to meet all the customer specifications. The flexible hardware design was another reason for the decision to select Beckhoff technology. The Beckhoff system is very powerful and easy to operate, which is something we truly appreciate. It is a prime example of German engineering."
At the core of the machine is TwinCAT 3 NC I software, which controls the six mechanical spindles simultaneously. As a highly scalable system, PC-based control also provides the best possible hardware platform for this application. The TwinCAT real-time kernel and the ultra-fast system communication over EtherCAT offer ideal conditions for high-precision motion control. Eklund explains: "This platform provided very fast control properties and a much faster response time than the conventional PLCs we used in the past, which was one of the main reasons why we selected PC-based control technology from Beckhoff."
Control and drive components from a single source
The Ecmec SPM is controlled and operated via a C6930 control cabinet industrial PC with a custom-designed CP3921 multi-touch control panel featuring push-button extensions. The user interface is TwinCAT HMI for NC processing, which is easily programmable based on standards such as .NET. The axes and I/O channels are configured via TwinCAT Engineering with NC I functions.
The two main spindles are equipped with AM8000-series servomotors with speeds of up to 11 000 rpm. The other four spindles ensure a high degree of processing efficiency for downstream processing steps as well. The maximum feed rate is 30 m/min, and the maximum acceleration rate is 0,2 g. The six main spindles and 12 servomotors are controlled by Beckhoff AX5000 servo drives for exceptionally fast and dynamic positioning. In addition, One Cable Technology (OCT) saves a significant amount of installation space.
Credit(s)
Further reading:
How to embrace the benefits of smart pneumatics
Third Quarter 2021, Emerson Automation Solutions , Editor's Choice, Pneumatic systems & components
Understand how this challenge creates opportunities
It is important to consider how insights from data can help end-users react to real-time events or even predict the future. For example, the Emerson 
...
Read more...
---
PC-based control runs the stage machinery for Rigoletto
Third Quarter 2021, Beckhoff Automation , Editor's Choice, Electrical switching & drive systems & components
In the production, the court jester Rigoletto becomes a clown. Only the head, encircled by a wide collar, and the hands of the gigantic clown protrude from the lake. Eventually the clown becomes the victim 
...
Read more...
---
Robotics and the potential for the lights-out factory
Third Quarter 2021, Omron Electronics , Editor's Choice, Other technologies
However the 100% automated, fully lights-out factory is not a realistic goal for a large proportion of manufacturing businesses currently operating. A key reason is that manufacturing needs people. Human 
...
Read more...
---
Energy from the power of the moon
Third Quarter 2021, SKF South Africa , Editor's Choice, Shaft power components
It is intended to help reduce climate-damaging CO
2
emissions, slow down global warming and thus build a more sustainable future for generations to come. With the help of modern technology from SKF, 
...
Read more...
---
Electric motors without magnets
Third Quarter 2021 , Editor's Choice, Electrical switching & drive systems & components
Permanent magnets, though, come with their own baggage. 97% of the world's rare earth metal supply comes out of China and state control over such a crucial resource across a number of high-tech industries 
...
Read more...
---
A very smart material
Second Quarter 2021 , Editor's Choice, Electrical switching & drive systems & components
Shape memory materials (SMMs) are strong, lightweight materials that have the ability to recover their original shape after being deformed if a stimulus is applied. They can be programmed to remember 
...
Read more...
---
The benefits of collaborative robots
Second Quarter 2021, SMC Corporation South Africa , Editor's Choice, Robotics & Mechatronics
While robotics led the way for the rapid growth of automation, cobots are the democratisation of robotics technology. They eliminate the cost and complex programming that robots usually require while providing much greater flexibility.
Read more...
---
Fast, safe transport on the factory floor
Second Quarter 2021, Omron Electronics , Editor's Choice
The Philips site in Klagenfurt produces over 23 million linear cutting elements for hair and beard trimmers each year. These beard trimmers use lift-and-trim technology: the beard hair is first lifted 
...
Read more...
---
SKF bearings help Mars Rover collect rock
Second Quarter 2021, SKF South Africa , Editor's Choice, Shaft power components
Enabling the Mars Rover's core operations in the harsh environment on Mars are Kaydon RealiSlim thin-section ball bearings, designed and manufactured by SKF at the company's global thin-section bearing 
...
Read more...
---
Product-specific packaging with PC-based control
Second Quarter 2021, Beckhoff Automation , Electrical switching & drive systems & components
Kern in Konolfingen, Switzerland, is a family business founded more than 70 years ago and originally rose to success with enveloping machines. However, the market for enveloping machines is declining. 
...
Read more...
---