printer friendly version
Automation with robotics
Second Quarter 2020
Robotics & Mechatronics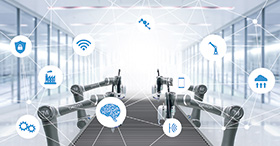 BOLÇİ Bolu Chocolate produces over 200 tons of chocolate items each month. The company needed to meet its promise of delivering chocolate products that are 'untouched by human hand'. Omron and Innovas joined forces to commission a line of three Omron robots in the packaging section of the factory's production line, with the aim of enhancing production quality.
BOLÇİ currently exports to 13 countries but wants to increase this number each year. It also wants to build its production capacity and efficiency; minimise any production errors; and improve its infrastructure. Prior to introducing the Omron robots, the chocolates were placed manually into dividers in the packaging area. However, the company faces seasonal variations in demand and at special occasions in the year. As a result, sales could increase on a daily basis and the production needed to be adjusted accordingly.
Innovas is one of the leading system integrators in the food industry and was employed as the system integrator for this project. The integrator looked for a compact solution for this project and wanted to be able to supply everything from a single channel. Innovas has been using Omron products for many different applications over the years, including programmable logic controllers and servo systems and knew that it could meet the needs of this very special project. Omron also has considerable experience in pick-and-place applications for chocolate and food products.
Omron suggested the four-arm Quattro robot, which is compact and has a unique kinematic structure. Innovas selected the robot because of its speed and flexibility as well as its ability to cope with the variety of products in the box. Omron also recommended its PackXpert programme, which uses a wizard-based user interface and meets the needs of applications in the packaging sector.
Omron has brought its innovations together in the form of i-Automation! – a concept based on developing the intelligent, integrated and interactive automation systems of the future. These systems will help manufacturers to achieve higher levels of efficiency, flexibility, safety, integration, quality and connectivity.
Innovas installed three Omron Quattro robots for BOLÇİ. These are now used to pick-and-place the chocolates into the dividers, which has saved time considerably. The three robots work in sync with each other as part of an integrated system that includes visual inspection, safety and the robotic systems. Because chocolate is a very delicate material, it's important that its shape doesn't deteriorate during the process. This requires accurate positioning and a very precise handling of the product. The robots determine how many pieces will be put into the system each day and enable a repeatable quality and standard to be achieved.
So, how does the new system work in practice? One person places the dividers on the conveyor and the other feeds chocolates through the 12 feed channels. There is also a final visual check on the output of chocolates before they are sent to packaging.
The chocolates are brought to the robots by conveyors. The chocolates can be at different angles, but the camera system checks them and the robots capture the products with a vacuum system, based on the position and product information determined by the camera.
In the packaging area, the three robots place the chocolates into boxes and dividers. BOLÇİ has about 40 boxes of different sizes and types. On a screen, the operator chooses the boxes to be filled and the appropriate mechanical adjustments are made. The system has four different chocolate feeding entry points for each robot. Up to 12 different chocolates can be stacked in four boxes at the same time.
The new robots have resulted in a 40% increase in production capacity. They have also enabled BOLÇİ to give shorter deadlines to its customers. The robots have helped BOLÇİ to reach its required production quality standards by minimising production errors and by enabling the company to provide quality products to its customers.
In the future, BOLÇİ plans to increase its production capacity by extending the number of Omron robots it uses on the existing line. The company aims to complete its automation processes by implementing similar projects, with the ultimate objective of becoming a smart factory that can comply with Industry 4.0.
For more information contact Omron Electronics, +27 11 579 2600, info_sa@omron.com, www.industrial.omron.co.za
Credit(s)
Further reading:
Reducing business downtime with robots
Third Quarter 2020, Yaskawa Southern Africa , Robotics & Mechatronics
In a world that is always connected and moving at a blistering speed, businesses cannot afford to have extensive periods of downtime. As efficiency becomes a primary driver of business, industries are 
...
Read more...
---
Innovative mobile robots
Third Quarter 2020, Omron Electronics , Editor's Choice
Tailor-made mobile robotics revolutionise human-machine collaboration in the automotive industry.
Read more...
---
Gimatic builds on its mechatronics expertise
Third Quarter 2020, Gimatic , Robotics & Mechatronics
Gimatic is a leading global manufacturer of pneumatic and electric grippers for End Of Arm Tooling used in industrial automation. The company specialises in the production of vacuum cups (flat and bellow), 
...
Read more...
---
The future of collaborative robots
Third Quarter 2020, Omron Electronics , Editor's Choice, Robotics & Mechatronics
Collaborative robots (cobots) that can work safely in the same environment as people have an important role in enabling flexible manufacturing and creating a competitive advantage for companies. A new 
...
Read more...
---
Thousands of robots swarm together
Second Quarter 2020 , Editor's Choice, Robotics & Mechatronics
Harvard engineers have created a robotic system consisting of a swarm of 1024 small robots called Kilobots that can collaborate and organise themselves into complex shapes.
Read more...
---
Robots in the time of COVID-19
Second Quarter 2020, Yaskawa Southern Africa , Robotics & Mechatronics
COVID-19 has swept through the lives of people across the globe, disrupted all industries and brought the world's economy to a grinding halt. As the world moves towards a different tomorrow, future-orientated 
...
Read more...
---
Eighteen synchronous NC axes
Second Quarter 2020, Beckhoff Automation , Editor's Choice, Robotics & Mechatronics
Swedish equipment manufacturer, Ecmec, has developed a high-tech machine for a supplier to the automobile industry that can complete several process steps simultaneously without having to remount the 
...
Read more...
---
Robots in South Africa
Second Quarter 2020, Yaskawa Southern Africa , Editor's Choice, Robotics & Mechatronics
Manufacturers In South Africa experience significant challenges and there are many obstacles that prevent industries from pushing forward into a new era of automation and robotic solutions. Due to the 
...
Read more...
---
Tailor-made mobile robotics revolutionise the automotive industry
Second Quarter 2020, Omron Electronics , Robotics & Mechatronics
Continuous optimisation of production and logistics processes
Depending on the BMW plant, up to 1600 vehicles are produced each day. With such production volumes, continuous optimisation and efficiency 
...
Read more...
---
AGVs for automated production
First Quarter 2020, SICK Automation Southern Africa , Robotics & Mechatronics
Automated and flexible production processes are the answer to increasing quantities, smaller batch sizes, and high production speeds. Automated guided vehicle (AGVs) systems and their smaller relatives, 
...
Read more...
---