printer friendly version
From the editor's desk: Moving on after loss
Second Quarter 2020
News & events
It is with a heavy heart that I announce the passing of our CEO, Vivienne Dorrington, after a long and brave battle with cancer. It was a privilege to have worked with her, and everyone at Technews will miss her terribly.
On a more positive note, we are very excited to announce a brand new format for Motion Control. As technical business-to-business publishers, we continually analyse the market and what our vendors and readers want, and we are making some changes to our Motion Control Buyers' Guide (MCBG). The previous format included a broad range of information in the form of tables and directories in one annual publication. We believe this will be more accessible and useful if it is split up and included in the quarterly issues of Motion Control, where it will be aligned to specific features alongside relevant product editorial, application notes and white papers. This will allow readers to see who is relevant in a particular area of technology, as well as the latest trends. The first 2020 edition of MCBG is published in this issue and features hydraulics.
We are all trying to deal with the loss of our old way of life, make sense of what has happened to us, and cope with a new world. The Economist talks about the Theory of Punctuated Equilibrium, which says that social systems stay the same for long periods, punctuated by sudden shifts leading to radical change in short, stressful bursts of time. Evolution is not a constant, gradual process, it occurs when species are in an environment of high tension. This kind of makes sense to me. Six months ago when we talked about disruptive technologies in IIoT, little did we realise what disruption really meant. In a previous editorial we said that 4IR was blurring the boundaries between the physical, digital and biological worlds. It looks to me like it's now at a tipping point that is hurtling us into the future.
The pandemic is making us realise how much we need 21st century technologies to keep going. Humans come up with the brightest and most innovative ideas when they are looking into the abyss. Systems that have resisted change for decades have gone virtual. Videoconference meetings and online schooling are now happening in our homes. Companies are building new digital capabilities and adapting their business models at a speed not even imagined a few short months ago.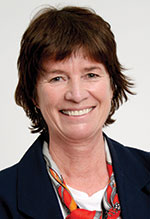 Kim Roberts.
Innovations in motion control technology have increased manufacturing production, speed and efficiency. We have technologies now that we did not have twenty years ago to share information, designs and manufacturing technology to make things quickly and simply. Advanced digital design and 3D printing technology have made rapid product switching possible. Engineers are rethinking their assumptions and applying their expertise in new ways. Here are some examples:
Lego's engineering team worked around the clock to create designs and repurpose moulding machines that can produce 13 000 visors a day for frontline health workers. Vacuum-maker, Dyson, produced 10 000 ventilators, swapping from making machines that suck to ones that blow. Electronics giant, Sharp, adapted its cleanroom production facilities for LCD display panels to make 150 000 surgical masks a day. General Motors produced medical grade face masks using interior textiles for cars.
Engineers at the Royal Mint tapped into their problem solving abilities, shifted gear and took just 48 hours to design a plastic visor. A week previously they knew nothing about visors, now they are making one every 10 seconds. Tesla engineers built ventilators using car parts typically found in the suspension system of a Tesla Model S, including the air tank and air pressure regulator to build the oxygen mixing chamber. They are also using the infotainment computer and touchscreen from a Model 3 to monitor and control the air flow. At home, Distell has repurposed its Monis production plant to produce alcohol-based sanitiser, while SAB donated 100 000 face shields made from recycled beer crates.
The Economist adds that the pandemic's silver lining is the chance to experiment with technologies and cooperative global approaches that could lead to a safer, more sustainable future. Those who successfully adapt won't just thrive in the accelerated 4IR, they will shape it.
Some of these ideas are quite exciting, but at the end of the day I have to say that I really miss hanging out at the office, or a hello-hug with my buddies. I hope that you and your families and friends stay safe, and that we are all able to emerge from our losses into a new, dynamic, more caring and prosperous world.
Credit(s)
Further reading:
BI launches new e-commerce platform
News & events
Bearings International (BI) is entering the fast-growing realm of e-commerce by expanding its current website to provide more detailed information. "The aim is to create a 24/7 access experience for 
...
Read more...
---
TUKS campus taken over by robots!
RS Components SA News & events
Several teams of third-year engineering students took to the track for the ultimate robot showdown as the highly anticipated annual TUKS Robot Race Day took place at the campus recently. Now in its 
...
Read more...
---
From the editor's desk: Killer science and alternative energy
Technews Publishing News & events
I couldn't resist watching The World Industrial Reporter's video on Ten Scientists Killed By Their Own Experiments. Some of them would have deserved the Darwin Award for taking themselves out of the 
...
Read more...
---
Bosch Rexroth SA celebrates women in hydraulics
News & events
Bosch Rexroth South Africa is committed to social investment and the advancement of all its employees, breaking down barriers to create a diverse and dynamic workplace. This upcoming Women's Day presents 
...
Read more...
---
ABB's lifeline to unemployed graduate
News & events
When a kind stranger took a photograph of Momelezi Sifumba standing at a busy roadside with a cardboard sign stating: 'Help Me to Find a Job' and posted it on LinkedIn, little did the unemployed graduate 
...
Read more...
---
Port and rail upgrades essential for SA
News & events
Bearings International (BI) has welcomed the assertion by President Cyril Ramaphosa in his State of the Nation address on 10 February that the economy cannot grow without efficient ports and railways. 
...
Read more...
---
From the editor's desk: Making sense of the metaverse
Technews Publishing News & events
It wasn't so long ago that nobody had heard of IIoT. Then the hype began and now it's an integral part of the manufacturing environment. Recently I've been hearing more and more about the metaverse 
...
Read more...
---
Innovation for sustainable agriculture
News & events
Panasonic Industry has announced the Gold sponsorship of ETH Zurich's Robotic Weeding System (Rowesys) project and will assist the student team with engineering know-how, as well as components and products 
...
Read more...
---
New head office and warehouse for Fuchs Lubricants
News & events
The new head office and warehouse for Fuchs Lubricants South Africa is on track to be completed this month. The company is investing over R250 million in the expansion at its existing location in Isando, 
...
Read more...
---
Bosch Rexroth Africa Development appoints Tanzanian distributor
News & events
Bosch Rexroth Africa Development has appointed a Tanzanian company as its in-country distributor. Transec is a general mining equipment supplier with an established countrywide presence. In line with 
...
Read more...
---