printer friendly version
SEW-Eurodrive sets the benchmark for Industry 4.0
Second Quarter 2020
Electrical switching & drive systems & components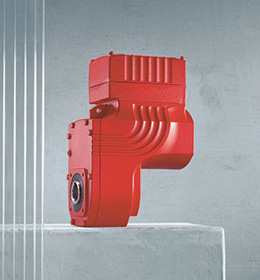 With the advent of Industry 4.0 set to change the face of industry and production, SEW-Eurodrive has a range of solutions for its concept of the Lean Sm@rt Factory. This is based on the paradigm shift introduced by new technologies such as big data, embedded computing, IIoT and cloud computing in the production environment.
The MOVIGEAR mechatronic drive system from SEW-Eurodrive is designed for flexible use across various communication infrastructures. It is ideal for decentralised field applications. Features include a compact design and optimal integration of components with permanent-field synchronous motor, gear unit and integrated electronics.
MOVIGEAR is especially tailored for efficient use in the general materials handling sector. It is available in two sizes and three electrical performance classes for a total of four communication variants. Energy savings of up to 50% are possible due to the seamless interplay between the IE4-rated motor, efficient gear unit and integrated electronics.
"Perfectly matched components, combined with the energy optimisation of the overall system, facilitate high system efficiency. These features make the MOVIGEAR mechatronic drive solution a cost-effective, power-optimised, total solution," says MD, Raymond Obermeyer.
Flexible, compact and intelligent MOVIDRIVE B drive inverters save space in the control cabinet. In addition, they are equipped with integrated IPOSplus positioning and sequence control as standard features. These inverters are ideal for asynchronous AC or synchronous servo drives.
Additional features are a broad power range from 0,55 to 250 kW and a high overload capacity. Based on a modular concept, the MOVIDRIVE B inverter is ideal to improve the flexibility and efficiency of a range of applications.
SEWEurodrive also offers the freely programmable MOVIPLC motion and logic controller for solving complex tasks in a flexible manner. These scalable controllers are an ideal solution platform due to their universal operation and functionality. Comprehensive interfaces are available for the external periphery and for visualisation purposes so as to fully automate complete machines.
For fast and simple startup, users can take advantage of preconfigured program modules for many applications. The standard programming languages FBD, LD, IL and structured text ensure greater flexibility. MOVI-PLC provides the drive functionality necessary to match any specific application. It can be used wherever smart drive solutions are required.
"The basic concept behind Industry 4.0 is to leverage information technology in order to integrate business and engineering processes for more flexible, efficient and time-independent production in a range of applications and industries. At the same time, high quality and lower costs are a given. SEW-Eurodrive's approach combines the basic tenets of Industry 4.0 with its benchmark-setting solutions and concepts," Obermeyer concludes.
For more information contact Jana Klut, SEW-Eurodrive, +27 11 248 7000, jklut@sew.co.za, www.sew-eurodrive.co.za
Credit(s)
Further reading:
Integrated drive technology for optimised machine design
Second Quarter 2020, Beckhoff Automation , Editor's Choice, Electrical switching & drive systems & components
In this way, the power electronics are relocated to the machine, reducing space requirements in control cabinets to just a single coupling module. In addition, decentralised distribution modules and the 
...
Read more...
---
More intelligent drive systems
Second Quarter 2020, Siemens Digital Industries , Electrical switching & drive systems & components
Siemens has developed a concept study that demonstrates the integration of a Sinamics drive system to the Siemens Industrial Edge platform. In future, it will be possible to perform high frequency data 
...
Read more...
---
Meeting the needs of the mining industry
Second Quarter 2020, Varispeed (Div. of Hudaco Trading) , Electrical switching & drive systems & components
Both above and below ground, Varispeed keeps the interests of its customers top of mind, all the time. The company was recently approached by a platinum mine to assist with a robust application. Three 
...
Read more...
---
ZEST Weg to offer geared motors
Second Quarter 2020, Zest WEG Group Africa , Electrical switching & drive systems & components
A new range of WEG geared motors will soon be available to customers in South Africa and the rest of the continent from Zest WEG. The WEG WG20 range is a natural extension of the company's offering in 
...
Read more...
---
Decentralised electric drives from Festo
Second Quarter 2020, Festo , Electrical switching & drive systems & components
The Festo Simplified Motion electric drive series combines the simplicity of pneumatics with the advantages of electric automation to ensure that your machines are faster and better connected. It includes 
...
Read more...
---
Electrohydrostatic pump unit
Second Quarter 2020, MOOG , Electrical switching & drive systems & components
MOOG has launched a new generation electrohydrostatic pump Unit (EPU) that helps machine builders and end-users derive the combined benefits of both hydraulic and electric actuation. The EPU is at the 
...
Read more...
---
Gearmotors for electrified monorail system
Second Quarter 2020, SEW-Eurodrive , Editor's Choice, Electrical switching & drive systems & components
A leading systems integrator for the automotive industry has adapted a Maxolution electrified monorail system (EMS) and 23 HK Series gear units for overhead trolley systems from SEW-Eurodrive for a major 
...
Read more...
---
Electromechanical motion products for today's machines
Second Quarter 2020, Parker Hannifin - Sales Company South Africa , Electrical switching & drive systems & components
Stroke capacity
Among the fundamental questions to ask is: Does the actuator offer various stroke lengths as standard? A product using a ball or leadscrew drive is commonly restricted to stroke lengths 
...
Read more...
---
Save energy costs with VFDs
Second Quarter 2020, ElectroMechanica , Electrical switching & drive systems & components
Customers can realise significant savings on their total energy costs by replacing older motor starters with energy-efficient Delta variable frequency drives (VFDs), distributed locally by ElectroMechanica 
...
Read more...
---
SEW-Eurodrive adds value in the sugar industry
First Quarter 2020, SEW-Eurodrive , Electrical switching & drive systems & components
Being in a heavy industrial engineering environment, SEW-Eurodrive offers a range of transmission solutions to assist sugar millers in cutting costs. Sugar millers depend on high plant availability for 
...
Read more...
---