printer friendly version
maxon is flying to the sun
First Quarter 2020
Editor's Choice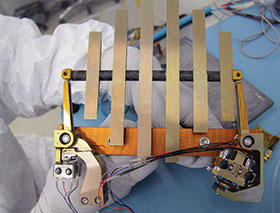 The European Space Agency (ESA) wants to study the sun up close. Next month the agency will be launching the Solar Orbiter space probe. Scientists hope that the mission will provide them with new insights into phenomena such as solar wind, as well as the complex dynamics that are responsible for solar eruptions.
Solar Orbiter will fly within 45 million kilometres of the sun. At this distance, the side of the probe facing the sun will be exposed to intense heat, more than 500°C. A heat shield will protect the spectrometer-telescope for imaging X-rays (STIX), whose purpose is to study solar eruptions more closely and may even assist in predicting large scale eruptions in the future.
Swiss drives by maxon are among the components used in the X-ray telescope. Two specially modified DC motors with diameters of 13 mm move an aluminium attenuator, which slides in front of STIX's 30 detectors as required. The micro drives are wired in parallel and can be used together or individually. This ensures that they run smoothly for the entire five years planned for the mission. The design is based on micromotors that will soon be used in ESA's ExoMars Rover. The key factors when selecting the drives were their low weight, energy efficiency, and resistance to vibration.
Solar Orbiter is one of ESA's flagship projects and has cost more than a billion Swiss francs. After its launch, the probe will journey for almost two years before it can start taking measurements.
For more information contact Hans Burri, DNH Tradeserve, +27 11 468 2722, hans.burri@dnhtrade.co.za, www.dnhtrade.co.za
Credit(s)
Further reading:
Moving into 2020 with Festo digitalised products
Second Quarter 2020, Festo South Africa , Editor's Choice
HoloLens, mobile phones, 3D printing and smart glasses – the gadgets that captured the public imagination in the blockbuster movie 'Back to the Future' over 30 years ago have now become a reality, all 
...
Read more...
---
Simplified access to HIV tests
Second Quarter 2020 , Editor's Choice
Roche has developed the Cobas Plasma Separation Card (PSC), a new technology that simplifies and improves the examination and monitoring of HIV patients, particularly in remote areas. For the first time, 
...
Read more...
---
Three lubrication myths that need busting
Second Quarter 2020 , Editor's Choice
As specialists in lubrication reliability solutions, the team at Lubrication Engineers (LE) South Africa frequently comes up against myths relating to lubricants. "People believe things or are taught 
...
Read more...
---
E-Motion on the bike
Second Quarter 2020, Horne Technologies , Editor's Choice
The bicycle is a part of locomotion culture in Germany. Over 97% of people in Germany can ride a bike. They use bicycles not only for bike tours in their free time but also on a daily basis for shopping 
...
Read more...
---
Enabling the smart factory
Second Quarter 2020 , Editor's Choice
Smart manufacturing practices making use of connected technology hold the power to improve efficiency and optimise factory operations. However the increased use of IIoT comes with the threat of a cyber 
...
Read more...
---
Versatile energy saving drives
Second Quarter 2020, Bearing Man Group T/A BMG , Editor's Choice
BMG's Vacon 100 AC drives have been designed to save energy, optimise process control and improve productivity in many sectors, including processing, mining and minerals, industrial HVAC, marine and water, 
...
Read more...
---
Developing custom lubrication solutions
Second Quarter 2020 , Editor's Choice
The right lubricant, consistently applied at the right interval, goes a long way in extending plant life, minimising downtime and maximising the usefulness of machinery. This is why Lubrication Engineers 
...
Read more...
---
Robots in the medical arena
Second Quarter 2020 , Editor's Choice
The Coronavirus outbreak has highlighted use cases for mobile robotics to successfully disinfect, monitor, surveil and handle and deliver materials. These proven use cases will propel the overall mobile 
...
Read more...
---
Critical support for essential service providers
Second Quarter 2020 , Editor's Choice
BMG has been authorised to provide engineering components and support services to businesses approved as essential service providers, during the country's COVID-19 lockdown period. "As a customer-driven 
...
Read more...
---
Mobile robots for quiet locations
Second Quarter 2020 , Editor's Choice
NSK has developed an innovative direct-drive wheel unit aimed at OEMs looking to add mobility to their autonomous or collaborative robots. Specifically designed for use in quiet environments such as hospitals, 
...
Read more...
---