printer friendly version
Developing custom lubrication solutions
1 August 2020 Editor's Choice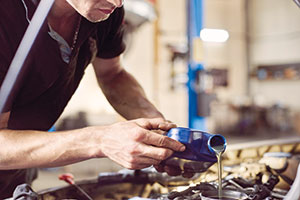 The right lubricant, consistently applied at the right interval, goes a long way in extending plant life, minimising downtime and maximising the usefulness of machinery. This is why Lubrication Engineers (LE) suggests businesses engage a specialist lubrication consultant to help put in place the ideal lubrication schedule and complete reliability solution.
"A lubrication consultant should be able to identify problem areas related to lubrication," says lubrication consultant, Jurie Reichel. "For example, when I evaluate open gear applications, these could include things like vibrations that are too high, a decibel rating that's over spec or excessively high temperatures."
After compiling a report on the challenges a client is experiencing, Reichel checks what lubrication products are in use. "Nine times out of 10, the wrong lubricant is being used," he says. "I also inspect how the product is being applied. Improper lubrication application can cause problems – even if you are using the right product. For example, over-greasing a bearing can actually cause internal friction within the lubricant, which is the opposite of what you want."
Signs that lubricant is being incorrectly applied include grease leaking out through seals and the smell of fluid friction. With oils, the sight glass will reveal milky oil, dirt or oil leakage on the seals or at the breather.
After making an obligation-free assessment, LE South Africa supplies companies with a recommendation form, which makes suggestions on changes to lubrication products, application and schedules and sometimes lubrication management systems (for example, automatic lubrication dispensing equipment) that will help to solve the problems identified.
"The changes I recommend most often with regard to open gear equipment include lowering the pulses on the spray system for a month to see whether or not there is a difference in vibration and noise," says Reichel. "If not, I suggest switching over to the LE Duolec 1609 gear oil to clean off the existing product without needing to shut off the machinery. Then I would advise running an NDT test on the gear, as well as an alignment check. Then, switch over to LE's Pyroshield 9011 – which is specifically designed as an open gear oil. I then play with the pulses until we find a normal vibration reading, get the noise down to a level where the decibels are in spec, and the temperature is consistent. Generally, this approach fixes all the issues and often results in a cost saving for the client. Once they are applying the right lubricant at the right time, they need to use less, and less often."
Other considerations that can affect lubrication efficacy include incorrect storage. "We found that 90% of lubrication contamination happens before the lubricant reaches the machinery," says Reichel. "We therefore help our clients to address any problems in their lubrication storage as well as the actual lubrication of their equipment."
He emphasises that when it comes to lubrication for different businesses, there is no one-size-fits-all solution "Each client is unique in the way they function and what problems they have," he says. "We design programmes specifically to accommodate the needs of and solve the issues for the customers we do business with. We will also accommodate the budget the client has available and do our best to assist, whatever the circumstances."
For more information contact Callum Ford, Lubrication Engineers, +27 11 464 1735, callum@lubricationengineers.co.za, www.lubricationengineers.co.za
Further reading:
maxon drives are heading to the Red Planet
Third Quarter 2020, DNH Tradeserve , Editor's Choice
NASA is sending its fifth rover to Mars. Its main mission is to collect soil samples that will be analysed on Earth at a later time. The rover will also carry a helicopter that will perform the first flights on the Red Planet. maxon's precision DC and BLDC motors will be used for numerous mission-critical tasks.
Read more...
---
The new mobility: how sensors control the cobots of the future
Third Quarter 2020, SICK Automation Southern Africa , Editor's Choice
The ongoing development of small, powerful and flexibly positionable robots that can collaborate with humans is progressing in leaps and bounds. Sensors from SICK Automation are an important component. 
...
Read more...
---
Innovative mobile robots
Third Quarter 2020, Omron Electronics , Editor's Choice
Tailor-made mobile robotics revolutionise human-machine collaboration in the automotive industry.
Read more...
---
From the editor's desk: The future is calling
Third Quarter 2020, Technews Publishing , Editor's Choice
The move to level 2 has brought a feeling of renewal. At last we can start thinking ahead and contemplating the future in this new digital world. SAFPA for one has taken the leap, and has engaged an association 
...
Read more...
---
Milling machines for the aircraft industry
Third Quarter 2020, Beckhoff Automation , Editor's Choice, Electrical switching & drive systems & components
In aircraft construction, exceptional component quality and precision are crucial. However sheet-metal aircraft parts are often very large, making machining and handling problematic. Harmuth CNC-Frästechnik 
...
Read more...
---
The role of hydraulics and pneumatics in smart mining technologies
Third Quarter 2020 , Editor's Choice, Pneumatic systems & components
A Bosch Rexroth South Africa perspective.
Read more...
---
Rethinking pneumatic technology for the factories of the future
Third Quarter 2020, Parker Hannifin - Sales Company South Africa , Editor's Choice, Pneumatic systems & components
As manufacturing continues its rapid journey to digitalisation, one must ask, what will become of conventional technologies? Take pneumatics for example, which remains based on the age old principle of 
...
Read more...
---
Do all wireless solutions solve real industry problems?
Third Quarter 2020, Festo South Africa , Editor's Choice, Pneumatic systems & components
Wireless technology makes use of devices that allow us to communicate without using cables or wires and it plays a role in solving complex engineering problems. With this platform machines can communicate 
...
Read more...
---
The future of collaborative robots
Third Quarter 2020, Omron Electronics , Editor's Choice, Robotics & Mechatronics
Collaborative robots (cobots) that can work safely in the same environment as people have an important role in enabling flexible manufacturing and creating a competitive advantage for companies. A new 
...
Read more...
---
Moving into 2020 with Festo digitalised products
Second Quarter 2020, Festo South Africa , Editor's Choice
HoloLens, mobile phones, 3D printing and smart glasses – the gadgets that captured the public imagination in the blockbuster movie 'Back to the Future' over 30 years ago have now become a reality, all 
...
Read more...
---