printer friendly version
Energy efficient mining for a better tomorrow
Third Quarter 2020
News & events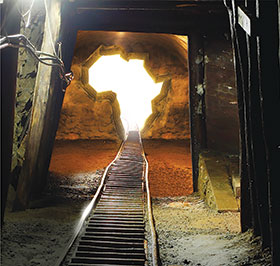 Never has there been more of a need for the mining industry to adopt energy efficient measures as part of a successful transition towards a low carbon future. The mining sector needs to rethink its traditional energy consumption patterns and move towards decarbonisation. Meanwhile the decreasing costs of renewables and the proven reliability of hybrid power technologies are now driving the interest of these companies towards energy efficient mining practices. These are dominated by themes such as renewable energy, e-mobility, energy efficiency, new biofuels and demand side management.
According to Energy Minister, Gwede Mantashe, the mining industry is responsible for more than 40% of total industrial energy use in sub-Saharan Africa. But there is much that can be done. "Conventionally, motors run at a fixed speed, regardless of actual output requirement, wasting a tremendous amount of energy. Energy output use can be reduced by 60% by controlling motors with electrical variable speed drives," says Danfoss mining accounts and business development manager, Stephen Brown.
Therefore, Danfoss is embarking on a series of informative webinars to address the topic of energy efficient mining, geared towards mining engineers, specifiers, buyers, mining houses and investors. These interactive webinars will enable them to think differently about their current energy usage and how the right drives can bring savings in energy costs. The next webinar will be on 23 September at 9:30 CAT. To register visit: https://attendee.gotowebinar.com/register/1723706986600731152
For more information contact Lynne McCarthy, Danfoss, +27 11 785 7628, mccarthyl@danfoss.com, www.danfoss.co.za
Credit(s)
Further reading:
Helping farmers free up energy
Fourth Quarter 2020, Danfoss , Electrical switching & drive systems & components
In recent years, South African energy security has been constrained, while also being recognised by the Development Bank of Southern Africa as a water-scarce country. The importance of energy efficiency 
...
Read more...
---
Condition monitoring using the drive as a sensor
Third Quarter 2020, Danfoss , Electrical switching & drive systems & components
Variable speed drives have been used for over half a century, with the main advantage being the reduction of electrical energy use. With the advance of Industry 4.0, the role of the drive moves from that 
...
Read more...
---
SEW-Eurodrive's new head office and factory
Fourth Quarter 2020, SEW-Eurodrive , News & events
SEW-Eurodrive has commenced construction of a new R200 million head office and factory in Everton, Johannesburg in order to accommodate the company's growth. The 25 000 sqm building is being constructed 
...
Read more...
---
Thirty years of linear motion technology
Fourth Quarter 2020, Tectra Automation , News & events
This year, factory automation specialist Bosch Rexroth celebrates 30 years of linear motion technology and innovation. Constantly updating its range of innovative linear axes, the company has a product 
...
Read more...
---
ABB and BI extend partnership to high-efficiency IE3 motors
Fourth Quarter 2020 , News & events
Low-voltage IE3 motors from ABB Africa will now be distributed by Bearings International (BI). This is an extension of the existing partnership between the two companies, with BI already a distributor 
...
Read more...
---
VSDs improve energy efficiency on farms
Fourth Quarter 2020, Danfoss , Electrical switching & drive systems & components
"Farming operations are not only facing the challenges of the COVID-19 pandemic, which has affected every industry globally, but farmers also need to cope with power supply limitations and the rising 
...
Read more...
---
Festo helps young South Africans realise their dreams
Fourth Quarter 2020, Festo South Africa , News & events
Festo has been a leading worldwide supplier of automation technology and a performance leader in industrial training and education programmes for almost half a century. The company is more than just an 
...
Read more...
---
Energy efficient drives for the mining industry
Third Quarter 2020, Danfoss , Electrical switching & drive systems & components
The mining and minerals industry presents some of the most challenging environments for production. Mine sites, mineral processing facilities, associated stockyards, and port facilities are large in scale 
...
Read more...
---
Hydraulics training course with CPD points
Third Quarter 2020 , News & events
The Bosch Rexroth South Africa Group training department has received its first CESA-validated CPD points for its three day hydraulics training course. Already merSETA accredited, the course has now been 
...
Read more...
---
Siemens joins forces with the National Ventilator Project
Third Quarter 2020, Siemens Digital Industries , News & events
Siemens has been a long-standing partner of the CSIR in South Africa and has co-operated in various fields of research, including manufacturing and mining. The CSIR, in collaboration with a number of 
...
Read more...
---