printer friendly version
Rethinking pneumatic technology for the factories of the future
Third Quarter 2020 Editor's Choice Pneumatic systems & components
Widespread digitalisation has helped usher in the era of Industry 4.0, where automation and data exchange combine to provide real-time insight into the performance of equipment, driving efficiencies across the shop floor.
As manufacturing continues its rapid journey to digitalisation, one must ask, what will become of conventional technologies? Take pneumatics for example, which remains based on the age old principle of controlling compressed air through tubes. Does a technology such as this have a central role to play in the flexible, smart production lines of the factories of the future?
The answer is a resounding yes, according to the findings of a recent research study of discrete manufacturers carried out by Parker Hannifin's Pneumatic Division. Pneumatics is still seen as one of the most suitable means of providing controlled movement on complex automated lines, a critical requirement for digitised manufacturing. Imagine, for instance, a multi-product assembly system utilising pneumatic actuators for the use of controlled motion or force. Such components are typically powered by clean, dry air. This is one reason why, according to the research, demand for pneumatic automation equipment is expected to increase substantially in the era of digital manufacturing.
Pneumatic system capability in the new era
This presents real opportunities for the suppliers of pneumatic systems, as they look to adapt to the concept of digitalisation and the need for the real-time processing of data. Indeed, many suppliers have adapted their products in line with Industry 4.0, developing pneumatic systems that are equipped with cost-efficient sensors. These enable OEMs to monitor the real-time status, condition and efficiency of the various components that make up the modern automation line, such as actuators, air preparation units and smart directional control valves.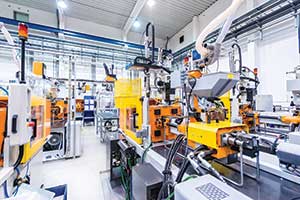 Image copyright GettyImages_584241892_credit_yoh4nn_HRES.
At Parker, for instance, the entire product development cycle has been focused on making simple devices smarter, by ensuring that they can communicate easily with the rest of the network on the factory floor. But what does this mean in terms of application in practice? Well, for example, in days gone by a filter could have become clogged, causing possible downtime while the system was checked and the filter changed. Now, the filter element can communicate its status directly, sending a message via the PLC when it needs to be changed. This ability to underpin intelligent maintenance proves that pneumatics can play a central role in advanced Industry 4.0 methodologies, helping manufacturers to improve their operations.
How machine builders can futureproof their designs
While the development of this kind of technology continues to progress, machine builders need to make careful choices now to future-proof their designs. Indeed, Parker firmly believes that low cost, open-source industrial Ethernet (IE)-based shop floor connectivity will provide the best solution and many manufacturers are already shifting their plants in this direction. In practice, the use of IE and IO-Link network nodes make the control, safety and maintenance of a range of different machines simple and cost-effective, regardless of location. Indeed, ensuring that key automation components are IIoT-enabled in this manner is an excellent way for machine builders to innovate in the factories of the future.
In terms of Parker's focus on IE/IO-Link-enabled connectivity and networking solutions, there has been a range of intelligent new components brought to market. The CPS line of analog/digital sensors, for example, can provide end-users with cycle time, position feedback and overall health of an actuator. The sensor continuously detects the position of the magnetic piston of the actuator using a direct, non-contact technology. This transfer of positional data, via analog outputs or IO-Link, upgrades the functionality of the pneumatic cylinders by making them more intelligent and, as a result, more versatile.
Meanwhile, the IO-link-enabled H-Universal solenoid valve manifold system is a family of base-mounted valves available in five size ranges. This provides machine designers with a new set of tools to right-size their valve selection to ensure optimum valve/actuator performance.
Celebrating a new spirit of innovation
As an already well-established technology, pneumatics lends itself well to the advancement of the IIoT-enabled factory. In this increasingly digital manufacturing sphere, pneumatic systems will no doubt continue to see a trend towards adaptation for real-time process data through the incorporation of networked nodes and sensors. As such, this tried and trusted technology will be around for a long time to come.
For more information contact Lisa de Beer, Parker Hannifin SA, +27 11 961 0700, lisa.debeer@parker.com, www.parker.com/za
Credit(s)
Further reading:
From the editor's desk: Life after coal
Fourth Quarter 2020 , Editor's Choice
Renewable energy has been around for a while. But as attractive as the concept might have been, the hard reality was always that it just did not make economic sense. I remember not so many years ago doing 
...
Read more...
---
maxon drives are heading to the Red Planet
Third Quarter 2020, DNH Tradeserve , Editor's Choice
NASA is sending its fifth rover to Mars. Its main mission is to collect soil samples that will be analysed on Earth at a later time. The rover will also carry a helicopter that will perform the first flights on the Red Planet. maxon's precision DC and BLDC motors will be used for numerous mission-critical tasks.
Read more...
---
The new mobility: how sensors control the cobots of the future
Third Quarter 2020, SICK Automation Southern Africa , Editor's Choice
The ongoing development of small, powerful and flexibly positionable robots that can collaborate with humans is progressing in leaps and bounds. Sensors from SICK Automation are an important component. 
...
Read more...
---
Innovative mobile robots
Third Quarter 2020, Omron Electronics , Editor's Choice
Tailor-made mobile robotics revolutionise human-machine collaboration in the automotive industry.
Read more...
---
From the editor's desk: The future is calling
Third Quarter 2020 , Editor's Choice
The move to level 2 has brought a feeling of renewal. At last we can start thinking ahead and contemplating the future in this new digital world. SAFPA for one has taken the leap, and has engaged an association 
...
Read more...
---
Milling machines for the aircraft industry
Third Quarter 2020, Beckhoff Automation , Editor's Choice, Electrical switching & drive systems & components
In aircraft construction, exceptional component quality and precision are crucial. However sheet-metal aircraft parts are often very large, making machining and handling problematic. Harmuth CNC-Frästechnik 
...
Read more...
---
The role of hydraulics and pneumatics in smart mining technologies
Third Quarter 2020 , Editor's Choice, Pneumatic systems & components
A Bosch Rexroth South Africa perspective.
Read more...
---
Do all wireless solutions solve real industry problems?
Third Quarter 2020, Festo South Africa , Editor's Choice, Pneumatic systems & components
Wireless technology makes use of devices that allow us to communicate without using cables or wires and it plays a role in solving complex engineering problems. With this platform machines can communicate 
...
Read more...
---
The future of collaborative robots
Third Quarter 2020, Omron Electronics , Editor's Choice, Robotics & Mechatronics
Collaborative robots (cobots) that can work safely in the same environment as people have an important role in enabling flexible manufacturing and creating a competitive advantage for companies. A new 
...
Read more...
---
Moving into 2020 with Festo digitalised products
Second Quarter 2020, Festo South Africa , Editor's Choice
HoloLens, mobile phones, 3D printing and smart glasses – the gadgets that captured the public imagination in the blockbuster movie 'Back to the Future' over 30 years ago have now become a reality, all 
...
Read more...
---