printer friendly version
The future of collaborative robots
Third Quarter 2020 Editor's Choice Robotics & Mechatronics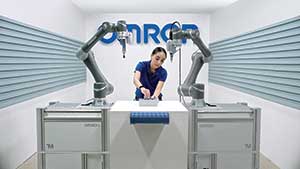 Collaborative robots (cobots) that can work safely in the same environment as people have an important role in enabling flexible manufacturing and creating a competitive advantage for companies. A new generation of cobots is evolving from classical industrial robots in response to the needs of Industry 4.0. In applications where flexibility is key, as opposed to maximum production speed, collaborative robots are filling the gap in the robotics market with their extremely user-friendly software tools and integrated sensory functions. These now include machine vision systems, location capabilities and integration with warehouse systems.
Collaborative robots do heavy lifting
Cobots are gaining strength, although being lightweight. For example, the Omron Techman TM14M robot can lift goods up to 14 kg. While compliant with the ISO 10218 safety standard, which describes the interaction of robots and humans, industrial cobots are becoming actual team members in production and logistics environments, thanks to their lifting capabilities. This brings innovation to the factory floor through the harmonisation and collaboration of humans and machines.
Cobots can be deployed in a wide range of applications, such as production, testing, quality control, packaging and palletising, as well as intralogistics. For example, it is possible to support people in assembly processes at those stages where precision and repeatability are key. These robots can apply adhesives and seals with simultaneous quality control. Thanks to their repeatability, they are also perfectly suited for automating complex quality tests. Being able to do heavy lifting, with the proper safety equipment they can also be used as palletisers.
Collaborative robots are on the move
The new generation of cobots can be easily integrated with mobile robots. This cooperation is made more accessible thanks to the low weight of the latest robots, as well as the possibility of building mobile platforms on mobile robots, such as the Omron LD autonomous intelligent vehicle. Cobots can now be a natural part of a flexible, constantly evolving production environment in which the re-deployment of machines, line changeovers and conveyors are needed.
Cobots installed on mobile robots, for example, can become elements of innovative logistic solutions and provide complete sub-assemblies and semi-finished products for assembly stations, and finished products to be placed in stock or quality control stations. Cobots can effectively complement and augment people's work in many discrete manufacturing processes.
Collaborative robots are becoming smart
Cobots are just beginning to contribute to innovation and competitiveness for manufacturers. The ability to carry out tasks performed so far only by standard robots, all easily configurable by local engineering staff, is an undisputed advantage. If we additionally consider the easier implementation resulting from the reduced need to provide typical robot security measures, and greater flexibility of operation, the return on investment can be very surprising.
If we add the capabilities of machine vision combined with artificial intelligence into the mix, the possibilities are limitless. A cobot can have a built-in intelligent vision system which provides totem pairing, object position, bar code identification, colour differentiation, and other vision functions. You can use gestures to guide the robot and the task by hand, as well as freely change the degree of freedom of the hand-guide function according to different conditions.
If you have seen Omron's interactive table tennis robot, Forpheus, in action, you can imagine the possibilities for artificial intelligence combined with collaborative robots. Forpheus demonstrates human machine collaboration by combining vision with robotics and artificial intelligence at the machine level. It can play an interactive game and identify ping-pong balls in a 3D space in an identical way to the human visual system, as well as evaluate the players and judge their ability level, while a high-speed robotic arm moves in response to its AI controller, predicting smashes for example.
What does the future hold for Omron?
Omron and Techman Robot, the world's leading company for collaborative arm robots that work together with people, recently signed an agreement to form a strategic alliance in the area of cobots.
Together they will provide cobots that can be used for a wide variety of applications such as electronics assembly, product testing and inspection. These robots will enable flexible manufacturing and increase the productivity and quality of production lines for customers in the automotive and electronics industries, as well as various materials handling operations in a broad range of manufacturing industries, to realise an innovative manufacturing environment where humans and machines work in harmony.
Credit(s)
Further reading:
Mobile robots transport medical vials
Omron Electronics Robotics & Mechatronics
Established in 1937, Madrid-based company, Normon, has been manufacturing high quality medicines for over
80 years
, serving customers in the pharmaceutical and healthcare sectors throughout Europe and 
...
Read more...
---
Ultra-compact robot-based cake production with PC control
Beckhoff Automation Editor's Choice
"Baking Baumkuchen requires advanced skills and experience from the confectioner," says Mr Matsumoto, managing director of Juchheim's central plant. "However, if the oven's parameters can be captured 
...
Read more...
---
The advantages of robotics and simulation for your business
Editor's Choice Robotics & Mechatronics
The more complex your business is, the more room there is for innovation. At the same time, innovation cannot come at the cost of efficiency, quality and output levels. According to Von Fintel, this is 
...
Read more...
---
Ball screws with nut cooling
Editor's Choice Shaft power components
The machine tool industry uses ball screws to convert the rotary motion of an electric motor into linear motion. Very often, the positioning accuracy, as well as the travel speed and acceleration, have 
...
Read more...
---
Concept to solution the short way
Axiom Hydraulics Editor's Choice Hydraulic systems & components
QuickDesign streamlines your custom design process, delivering complete designs in as little as ten minutes.
Read more...
---
Wireless communication and control of electro-pneumatic manifolds and IO
Editor's Choice
SMC analysed the control of manifolds-in-motion, where the physical removal of communications cables is desirable. Applications include manifolds mounted on robot gripper assemblies or rotating tables. 
...
Read more...
---
Pneumatics and digital transformation: overcome what's holding you back
Emerson Automation Solutions Editor's Choice Pneumatic systems & components
While IIoT offers the promise of a revolutionary impact on manufacturing, implementation of the technology has its challenges. What holds us back from a broader embrace of digital transformation, especially in pneumatics? And how do we move past the challenges to embrace the opportunity for real improvement in productivity and efficiency?
Read more...
---
The world's smallest electric subsea valve actuator
Editor's Choice
The actuator minimises energy consumption and is geared toward delicate ecosystems and installation and operating costs are reduced. When the SVA R2 is used in subsea factories at a depth of up to 4000 metres, 
...
Read more...
---
Reduced costs for packaging process
SICK Automation Southern Africa Editor's Choice Other technologies
To address Tetra Pak's requirements, SICK recommended the utilisation of its sHub sensors with EDS/EDM35 feedback system. This motor feedback system incorporates an acceleration sensor and enables comprehensive 
...
Read more...
---
Festo Process Automation solutions for all production levels
Festo South Africa Editor's Choice Electrical switching & drive systems & components
The first leg of the campaign creates an analogy between the human heart and its Process Automation solutions. The heart is at the centre of the vascular system, which is a network of blood vessels 
...
Read more...
---