printer friendly version
Evolved drive systems
28 September 2020 Electrical switching & drive systems & components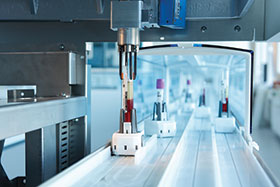 Drive specialist Faulhaber has once again demonstrated its competence as a system provider and has extended its BXT flat motor series by adding corresponding gearheads and integrated encoders as well as speed controllers that are exceptionally short in the axial direction. All components have been optimised to ensure that they function perfectly together. The three sizes can solve many different drive challenges. In the case of a lower-arm prosthesis, for example, the smallest drive with a diameter of 22 mm would be ideal for the hand and the 16 mm long motor for the elbow. Other possible applications for the small compact drive systems are robot grippers, industrial automation, humanoid robots and even bio-robotics for motorised hand exoskeletons. Thanks to their precise speed control properties, they are also suitable for dialysis machines or medical pumps.
Innovative winding technology for more torque
The motors were developed based on the classic external rotor design. Thanks to innovative winding technology and optimised construction, the brushless DC-servomotors produce torques up to 134 mNm within a diameter of 22 mm, 32 mm and 42 mm and deliver a continuous output of up to 100 W with a high level of efficiency. This means the compact motors significantly exceed the standards usual in this drive class. Particularly the ratio of torque to installation space and weight is superior to other motors commonly available on the market. Thanks to the high copper filling factor and the design of the pole shoes, the magnetic field is strong and the cogging torque very small. The motors, which operate at speeds up to 10 000 rpm, are available with or without a housing, which again extends the range of potential applications.
Metallic planetary gearheads with numerous reduction ratios
The GPT metal planetary gearhead family, which also impresses with its compact dimensions and high torque, is suitable for speed reduction of the flat motors. The pure metal gearheads achieve performance values that are comparable to those of significantly more expensive technologies, such as those that use ceramic components. The gearheads are available with motor-compliant diameters and offer reduction ratios from 3:1 to 1,294:1 with extremely fine graduations in up to four stages. Each stage was optimised for high performance with respect to torque and speed. Depending on the diameter, the gearheads achieve continuous torques of 1,8 and 18 Nm. Higher torques are also possible for a short period.
Furthermore, the gearheads are extremely robust and tolerate continuous loads as well as rapid load changes. They have been developed for limited axial installation space and are significantly shorter than other models with the same diameter.
Housed encoder precise positioning tasks
The encoder is fully integrated in the housed motor variant, thereby increasing the length of the overall drive by just 6,2 mm. Despite the flat design, it offers three channels with index function, a line driver and high resolution and positioning accuracy.
All BXT motors are equipped with digital Hall sensors and thanks to their large number of poles their speed can be controlled very precisely. The IEF3-4096 magnetic encoder is available for up to 4 096 lines per revolution. The combination of motor and encoder is an ideal system solution in cases where extremely precise positioning must be performed in constrained spaces and at the same time, high torques are required, for example in robotics, medical technology, laboratory automation or industrial automation.
Integrated speed controllers complete the product range
Speed controllers are also available for the BXT motors. They are integrated in the housed versions of the BXT motors and increase the length of these motors by just 6,2 mm. The design concept enables both the encoder and the speed controller to be installed in the same housing and also permits a large number of common parts to be used. Speed control is performed by the digital Hall sensors integrated in the motors. Thus, a wide speed range from 200 to 10 000 rpm is available. The compact combination of motor and speed controller is ideal for space-critical applications and simplifies installation and commissioning.
For more information contact David Horne, Horne Technologies, +27 76 563 2084, sales@hornet.cc, www.hornet.cc
Credit(s)
Further reading:
Energy efficient drives for the mining industry
Third Quarter 2020, Danfoss , Electrical switching & drive systems & components
The mining and minerals industry presents some of the most challenging environments for production. Mine sites, mineral processing facilities, associated stockyards, and port facilities are large in scale 
...
Read more...
---
Same day VSD solution
Third Quarter 2020 , Electrical switching & drive systems & components
When a manufacturing facility on the East Rand urgently required a replacement variable speed drive (VSD) for an extraction fan in its welding facility after the existing drive broke down and halted production, 
...
Read more...
---
Remote commissioning for sugar mills
Third Quarter 2020, ABB South Africa, Industrial Automation , Electrical switching & drive systems & components
Virtual commissioning can be used in a number of different ways without working with physical assets and has several benefits for customers. This technology has the potential to improve operations in 
...
Read more...
---
Additive manufacturing for mass production of customised helmets
Third Quarter 2020, Siemens Digital Industries , Electrical switching & drive systems & components
Bicycle helmets made to measure and in an affordable framework for everyone − what was unthinkable a few years ago is now becoming reality thanks to digitalisation and additive manufacturing. The 
...
Read more...
---
Powerful general-purpose drives
Third Quarter 2020, Nidec Industrial Automation Southern Africa , Electrical switching & drive systems & components
The Commander series of simple and compact AC motor speed controllers meets advanced requirements in a wide range of applications. Their small footprint makes them ideal for machine builders and OEMs, 
...
Read more...
---
Nine drives for copper mining project
Third Quarter 2020, SEW-Eurodrive , Electrical switching & drive systems & components
SEW-Eurodrive has supplied a comprehensive drive package to a major Greenfield copper mining project in the Democratic Republic of Congo. The package comprised nine drives in total, of which the five 
...
Read more...
---
New IE5+ motor generation
Third Quarter 2020, Bearing Man Group T/A BMG , Electrical switching & drive systems & components
BMG and German precision engineers, Getriebebau Nord, entered a partnership agreement in 1996 to assemble, distribute and support Nord Drivesystems throughout southern Africa. BMG has made a substantial 
...
Read more...
---
Milling machines for the aircraft industry
Third Quarter 2020, Beckhoff Automation , Editor's Choice, Electrical switching & drive systems & components
In aircraft construction, exceptional component quality and precision are crucial. However sheet-metal aircraft parts are often very large, making machining and handling problematic. Harmuth CNC-Frästechnik 
...
Read more...
---
E-Motion on the bike
Second Quarter 2020, Horne Technologies , Editor's Choice
The bicycle is a part of locomotion culture in Germany. Over 97% of people in Germany can ride a bike. They use bicycles not only for bike tours in their free time but also on a daily basis for shopping 
...
Read more...
---
Integrated drive technology for optimised machine design
Second Quarter 2020, Beckhoff Automation , Editor's Choice, Electrical switching & drive systems & components
In this way, the power electronics are relocated to the machine, reducing space requirements in control cabinets to just a single coupling module. In addition, decentralised distribution modules and the 
...
Read more...
---