printer friendly version
Reducing business downtime with robots
28 September 2020 Robotics & Mechatronics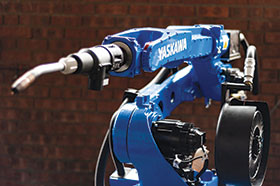 In a world that is always connected and moving at a blistering speed, businesses cannot afford to have extensive periods of downtime. As efficiency becomes a primary driver of business, industries are investigating new and innovative ways to reduce downtime; and this includes the implementation of automation and robotics.
Erik Hupjé, founder of Road to Reliability, says that world class organisations ensure that less than 2% of their total maintenance is emergency maintenance. While each industry and business varies, there are some organisations striving for even better results.
"One of our clients aims for a 1% downtime," says Colin Brings, total customer support director at Yaskawa Southern Africa. "So far, it's been an achievable and realistic target for them, partially due to robots being highly reliable. In fact, it's usually the peripheral equipment such as tooling and jigging that affect the uptime or downtime − more so than the robots."
Modern robotic solutions feature predictive technology that warns operators of possible failures or parts that'll need to be replaced. Instead of nervously anticipating a breakdown, businesses are now in control of their operations as they can better prepare for maintenance and plan ahead.
"All of our latest robots have maintenance algorithms built into them where they can predict the life expectancy of speed reducers, such as gearboxes, and servo amplifiers like the drives for the motors," Brings says. "If you implement and adhere to these checks, you can schedule your maintenance accordingly and eliminate any unnecessary downtime."
While the automotive industry is one of the largest and most obvious to benefit from the use of automation, the implementation of robotics has reduced downtime and improved operations for other unexpected industries.
"Even before the start of the pandemic, we noticed an increase in demand for end-of-line packaging and food handling robots," Brings explains. "As an example, we embarked on an automation project with a number of bakeries recently. One of these bakeries produces 8000 loaves of bread per hour, with five to eight people running the factory. As a result, they are highly dependent on the robots' output and uptime, as any downtime could result in a shortage of bread in the area."
Brings adds that the sanitaryware industry has also experienced an uptake in automation, in an effort to manage uptime and curb unpredictability, robots are now being used to sand and polish quartz resin baths, while others are being used to inspect and check the quality of the baths before export.
"In a fast-moving and highly competitive world, late deliveries or production issues due to downtime cannot be overlooked," Brings says. "It's up to businesses to ensure these moments are rare and that they don't impact their clients and customers at the end of the day."
No organisation can afford the luxury of shutting down its operations for two days or more a year due to downtime. Productivity, process and consistency translate into profit and the only way to ensure it continues is to embrace technology and use it to help solve some of the biggest business challenges.
For more information contact Brenda Herrero, Yaskawa Southern Africa, +27 11 608 3182, brenda@yaskawa.za.com, www.yaskawa.za.com
Further reading:
The role of pick and place robots
Fourth Quarter 2020 , Robotics & Mechatronics
As automation became widely accepted and implemented throughout various industries, robotics took it one step further with robots designed for specific applications, such as handling, packaging and 
...
Read more...
---
Mobile robot with 1500 kg payload capacity
Fourth Quarter 2020, Omron Electronics , Robotics & Mechatronics
The 1500 kg payload capacity enables transportation of large automotive components such as car chassis and voluminous pallet size payloads − items that would have traditionally been moved using forklifts. 
...
Read more...
---
Gimatic builds on its mechatronics expertise
Third Quarter 2020, Gimatic , Robotics & Mechatronics
Gimatic is a leading global manufacturer of pneumatic and electric grippers for End Of Arm Tooling used in industrial automation. The company specialises in the production of vacuum cups (flat and bellow), 
...
Read more...
---
The future of collaborative robots
Third Quarter 2020, Omron Electronics , Editor's Choice, Robotics & Mechatronics
Collaborative robots (cobots) that can work safely in the same environment as people have an important role in enabling flexible manufacturing and creating a competitive advantage for companies. A new 
...
Read more...
---
Thousands of robots swarm together
Second Quarter 2020 , Editor's Choice, Robotics & Mechatronics
Harvard engineers have created a robotic system consisting of a swarm of 1024 small robots called Kilobots that can collaborate and organise themselves into complex shapes.
Read more...
---
Robots in the time of COVID-19
Second Quarter 2020 , Robotics & Mechatronics
COVID-19 has swept through the lives of people across the globe, disrupted all industries and brought the world's economy to a grinding halt. As the world moves towards a different tomorrow, future-orientated 
...
Read more...
---
Eighteen synchronous NC axes
Second Quarter 2020, Beckhoff Automation , Editor's Choice, Robotics & Mechatronics
Swedish equipment manufacturer, Ecmec, has developed a high-tech machine for a supplier to the automobile industry that can complete several process steps simultaneously without having to remount the 
...
Read more...
---
Robots in South Africa
Second Quarter 2020 , Editor's Choice, Robotics & Mechatronics
Manufacturers In South Africa experience significant challenges and there are many obstacles that prevent industries from pushing forward into a new era of automation and robotic solutions. Due to the 
...
Read more...
---
Automation with robotics
Second Quarter 2020, Omron Electronics , Robotics & Mechatronics
BOLÇİ Bolu Chocolate produces over 200 tons of chocolate items each month. The company needed to meet its promise of delivering chocolate products that are 'untouched by human hand'. Omron and Innovas 
...
Read more...
---
Tailor-made mobile robotics revolutionise the automotive industry
Second Quarter 2020, Omron Electronics , Robotics & Mechatronics
Continuous optimisation of production and logistics processes
Depending on the BMW plant, up to 1600 vehicles are produced each day. With such production volumes, continuous optimisation and efficiency 
...
Read more...
---