printer friendly version
SEW-Eurodrive's new head office and factory
Fourth Quarter 2020
News & events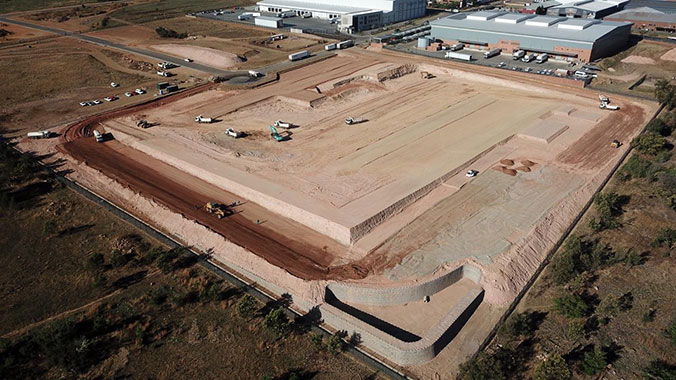 SEW-Eurodrive has commenced construction of a new R200 million head office and factory in Everton, Johannesburg in order to accommodate the company's growth. The 25 000 sqm building is being constructed on property acquired by the company two years ago. Construction is due to be completed by October 2021 and the company plans to move in to its new premises – which will also act as its South African headquarters – in January 2022. 
The factory will be fitted with state-of-the-art, Industry 4.0 compliant technologies over a three to five year period. These will include automated assembly machines and guided vehicles, which the company anticipates will cost at least another R200 million. "In order to remain globally competitive it's important that this new factory is highly automated," says managing director, Raymond Obermeyer. 
The new hi-tech facility will allow the company to service customers more efficiently and effectively, both in Gauteng and the rest of Africa. The company expects the majority of its growth in the years ahead to come from Africa rather than South Africa. "We expect African markets to account for 50% of our turnover within the next three to four years, given that growth in many countries around the continent is much faster than it is locally," adds Obermeyer. "Not only do we expect to see opportunities for growth coming from the establishment of the African Free Trade Continental Area (AfCFTA) agreement, but the removal of border restrictions will make it significantly easier for companies like SEW-Eurodrive to do business on the continent." 
The new factory will accommodate a number of the company's assembly plants around the country in order to develop better efficiencies and contain costs. SEW-Eurodrive's existing plants in Nelspruit, Durban, Port Elizabeth and Cape Town will continue to operate with a focus on servicing the company's national footprint of customers, while its current head office and factory will become a large gear box repair centre. 
SEW-Eurodrive specialises in gear motors and units, drive solutions, components, and supplementary products and services to the mining, renewable energies and industrial sector, and has been operational in South Africa since 1986. "This new facility has been planned for some years already and we're delighted that construction has finally kicked off, paving the way for an exciting period in the company's growth trajectory," concludes Obermeyer. 
Credit(s)
Further reading:
Thirty years of linear motion technology
Fourth Quarter 2020, Tectra Automation , News & events
This year, factory automation specialist Bosch Rexroth celebrates 30 years of linear motion technology and innovation. Constantly updating its range of innovative linear axes, the company has a product 
...
Read more...
---
ABB and BI extend partnership to high-efficiency IE3 motors
Fourth Quarter 2020 , News & events
Low-voltage IE3 motors from ABB Africa will now be distributed by Bearings International (BI). This is an extension of the existing partnership between the two companies, with BI already a distributor 
...
Read more...
---
Festo helps young South Africans realise their dreams
Fourth Quarter 2020, Festo South Africa , News & events
Festo has been a leading worldwide supplier of automation technology and a performance leader in industrial training and education programmes for almost half a century. The company is more than just an 
...
Read more...
---
Hydraulics training course with CPD points
Third Quarter 2020 , News & events
The Bosch Rexroth South Africa Group training department has received its first CESA-validated CPD points for its three day hydraulics training course. Already merSETA accredited, the course has now been 
...
Read more...
---
Siemens joins forces with the National Ventilator Project
Third Quarter 2020, Siemens Digital Industries , News & events
Siemens has been a long-standing partner of the CSIR in South Africa and has co-operated in various fields of research, including manufacturing and mining. The CSIR, in collaboration with a number of 
...
Read more...
---
HAW has the stockholding to meet customer demand
Third Quarter 2020 , News & events
Hydraulic and Automation Warehouse has taken measures to assist with seamless production for its customers' operations with its new large stockholding of products. The company increased its stockholding 
...
Read more...
---
Hytec opens branch in Lephalale
Third Quarter 2020 , News & events
Hytec South Africa, a member of the Bosch Rexroth South Africa Group, officially opened its new branch in Lephalale, Limpopo in January 2020. The branch will provide a fast turnaround service, supply 
...
Read more...
---
FIRST Lego League goes from strength to strength
Third Quarter 2020 , News & events
FIRST (for inspiration and recognition of science and technology) is an international organisation that aims to generate an interest in mathematics, science and technology through the use of robotics 
...
Read more...
---
Energy efficient mining for a better tomorrow
Third Quarter 2020, Danfoss , News & events
Never has there been more of a need for the mining industry to adopt energy efficient measures as part of a successful transition towards a low carbon future. The mining sector needs to rethink its traditional 
...
Read more...
---
Nine drives for copper mining project
Third Quarter 2020, SEW-Eurodrive , Electrical switching & drive systems & components
SEW-Eurodrive has supplied a comprehensive drive package to a major Greenfield copper mining project in the Democratic Republic of Congo. The package comprised nine drives in total, of which the five 
...
Read more...
---