printer friendly version
ABB and BI extend partnership to high-efficiency IE3 motors
Fourth Quarter 2020
News & events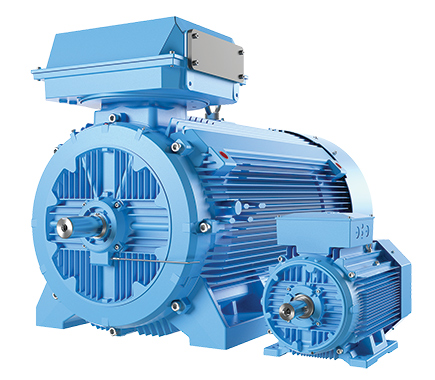 Low-voltage IE3 motors from ABB Africa will now be distributed by Bearings International (BI). This is an extension of the existing partnership between the two companies, with BI already a distributor of ABB Dodge gearboxes. BI has been a Mechanical Power Transmission (MPT) partner for ABB since 2011.
"BI is a channel partner under the ABB Value Provider Programme for distributors," explains Michael Wächter, ABB Motion Communications lead for southern Africa. The comprehensive programme includes marketing support and training. The MPT partnership has evolved to encompass high-efficiency motors from ABB, with the potential for supplementary products in future. This means BI can supply Dodge gearboxes in conjunction with ABB motors.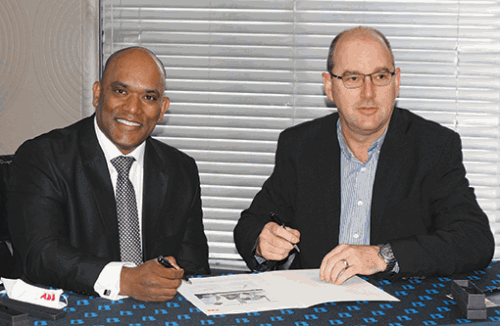 Signing the partnership agreement, from l: Ryan Chetty, national sales manager, ABB Motion; Ross Trevelyan, business unit head, Bearings International.
"As a distributor of globally recognised brands, BI has been supplying an IE1 electric motor for the last 15 years," says offer marketing manager, Victor Strobel. "It identified a need for high-efficiency IE2 and IE3 electric motors, which are often specified by the mining industry. ABB was a natural fit, given that it already has a close working relationship with BI."
"The advantages of the partnership with ABB include dealing with a local supplier versus direct imports and the availability of quick technical backup and support. BI has extended its motor range in size, with a 400 V and 525 V offering, allowing it to be able to supply projects in the mining industry. ABB, in turn, will be able to leverage from BI's extensive 42-branch network across South Africa, covering all the major mining and industrial areas where BI has a major footprint," explains ABB divisional channel manager, Nevin Turner. "The availability of IE3 high-efficiency motors from ABB will be especially welcomed by these sectors, where cost-effectiveness and total cost of ownership are key in an increasingly difficult trading environment."
Looking to the future, BI will train several electric motor champions to cover each of the main mining and industrial areas where it has a presence to reassure customers that any technical support is readily available, in addition to backup advice or expertise. BI will hold stock of the ABB motors to meet the specific requirements of its branch network. First level customer support will be provided by BI's own sales team and product managers, while second level support for technical issues will be provided by ABB itself.
For more information contact Bearings International, +27 11 899 0000, info@bearings.co.za, www.bearings.co.za
Further reading:
SEW-Eurodrive's new head office and factory
Fourth Quarter 2020, SEW-Eurodrive , News & events
SEW-Eurodrive has commenced construction of a new R200 million head office and factory in Everton, Johannesburg in order to accommodate the company's growth. The 25 000 sqm building is being constructed 
...
Read more...
---
Thirty years of linear motion technology
Fourth Quarter 2020, Tectra Automation , News & events
This year, factory automation specialist Bosch Rexroth celebrates 30 years of linear motion technology and innovation. Constantly updating its range of innovative linear axes, the company has a product 
...
Read more...
---
Festo helps young South Africans realise their dreams
Fourth Quarter 2020, Festo South Africa , News & events
Festo has been a leading worldwide supplier of automation technology and a performance leader in industrial training and education programmes for almost half a century. The company is more than just an 
...
Read more...
---
Hydraulics training course with CPD points
Third Quarter 2020 , News & events
The Bosch Rexroth South Africa Group training department has received its first CESA-validated CPD points for its three day hydraulics training course. Already merSETA accredited, the course has now been 
...
Read more...
---
Siemens joins forces with the National Ventilator Project
Third Quarter 2020, Siemens Digital Industries , News & events
Siemens has been a long-standing partner of the CSIR in South Africa and has co-operated in various fields of research, including manufacturing and mining. The CSIR, in collaboration with a number of 
...
Read more...
---
HAW has the stockholding to meet customer demand
Third Quarter 2020 , News & events
Hydraulic and Automation Warehouse has taken measures to assist with seamless production for its customers' operations with its new large stockholding of products. The company increased its stockholding 
...
Read more...
---
Hytec opens branch in Lephalale
Third Quarter 2020 , News & events
Hytec South Africa, a member of the Bosch Rexroth South Africa Group, officially opened its new branch in Lephalale, Limpopo in January 2020. The branch will provide a fast turnaround service, supply 
...
Read more...
---
FIRST Lego League goes from strength to strength
Third Quarter 2020 , News & events
FIRST (for inspiration and recognition of science and technology) is an international organisation that aims to generate an interest in mathematics, science and technology through the use of robotics 
...
Read more...
---
Energy efficient mining for a better tomorrow
Third Quarter 2020, Danfoss , News & events
Never has there been more of a need for the mining industry to adopt energy efficient measures as part of a successful transition towards a low carbon future. The mining sector needs to rethink its traditional 
...
Read more...
---
BMG launches online shopping platform
Fourth Quarter 2020, Bearing Man Group T/A BMG , News & events
BMG has announced the launch of the company's new online shopping platform - BMG Online - which makes doing business in the industrial sector even easier. "Although the planning, development and execution 
...
Read more...
---