printer friendly version
Festo Simplified Motion Series electric drives designed for simple movements
Fourth Quarter 2020
Electrical switching & drive systems & components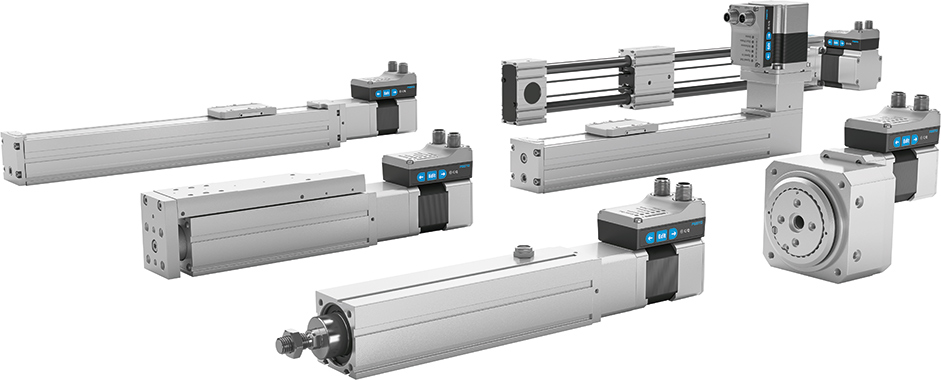 Solving simple motion tasks electrically is now possible with the Simplified Motion Series (SMS) from Festo. The electric drive series combines the simplicity of pneumatics with the benefits of electric automation to offer users an affordable solution that is easy to install and operate. The SMS consists of different linear and rotary electromechanical components together with a simple and application-optimised combination of motor and servo drives. With this solution, there is no need for external servo drives and the installation of a control cabinet, because it is mounted directly in the machine.
The Simplified Motion Series integrates all the elements of standard electric drive solutions into a single package for simple motion tasks such as repositioning, aligning, feeding, sorting, clamping, ejecting and stopping. Simplified setup and operation make these electric drives perfect for simple motions between two mechanical end positions, without having to sacrifice electric drive motion characteristics such as pre-defined speed, gently cushioned movement into end positions and selectable force for pressing or clamping functions.
There is no need for additional software. The parameters for the advancing and retracting speed as well as the pressing and clamping force can be set directly on the drive, along with the end position reference and cushioning profile. Thanks to this intuitive, quick and easy commissioning facility, configurations do not require any special software or specific know-how. The motion can be simply controlled via digital I/O (DIO), like a pneumatic valve. End position feedback, similar to that from a standard proximity sensor or cylinder switch, provides feedback on completion of the motion.
Each drive in this series is controlled via digital I/O. Digital I/O and IO-Link are included as standard. IO-Link enables the drives to communicate intelligently from the controllers all the way to the cloud about simple motions, as well as easy handling, commissioning and actuation. Additionally, it allows remote control, parameter copy, backup function and read functions for process parameters.
Product overview
The Simplified Motion Series comprises various powerful electric drives. The drives below work together to give customers optimum results.
Spindle and toothed belt axis ELGS
An extremely compact and cost-effective spindle axis ELGS-BS with precise, resilient recirculating ball bearing guide for the slide and powerful ball screw.
Mini slide EGSS
The cost-effective and resilient EGSS has smooth spindle operation for vertical Z movements or guided linear individual movements in every mounting position.
Electric cylinder EPCE
The EPCE is an electric cylinder for short strokes and cycle times, offering a minimal zero stroke and excellent value for money. It is ideal for use in testing and inspection systems as well as for labelling, in simple centring tasks and for aligning workpieces.
Electric cylinder EPCS
The EPCS is suitable for single linear movements in every mounting position, and its smooth-running ball screw allows precise and rapid positioning. As an extremely cost-effective complete solution, the electric cylinder is ideal for applications such as positioning or clamping, distributing, sorting or ejecting, and in handling systems as a simple Z-axis.
Toothed belt axis ELGE
The toothed belt axis offers outstanding running performance thanks to its recirculating ball bearing guide ELGE-TB. As an attractively priced complete solution with a cost-optimised design, it is an ideal and economical choice for simple tasks.
Rotary drive ERMS
As a cost-effective solution package, the rotary drive ERMS is ideal for simple swivel tasks as well as for increased mechanical loads. It has a rotary plate with sturdy, precise and backlash-free ball bearings so it can absorb lateral forces and torques.
The Simplified Motion Series is an ideal entry point for customers requiring an upgrade to electric drive automation with simple setup and control. The ready matched motor, drive and axis make selection safe and reliable and clearly show the way ahead for simple yet controlled motion.
For more information contact Festo South Africa, 08600 FESTO (33786), marketing.za@festo.com, www.festo.co.za
Credit(s)
Further reading:
Less than 7 millimetres for fully integrated speed controller
Fourth Quarter 2020, Horne Technologies , Electrical switching & drive systems & components
The BXT motor family, consisting of brushless DC servomotors with an especially short design, was expanded in all sizes with a diameter-compliant, integrated speed controller. With an additional attachment 
...
Read more...
---
Energy efficient drives for the mining industry
Fourth Quarter 2020, Danfoss , Electrical switching & drive systems & components
The mining and minerals industry presents some of the most challenging environments for production. Mine sites, mineral processing facilities, associated stockyards, and ports facilities are large-scale 
...
Read more...
---
Miniature DC motors drive tattoo machine design forwards
Fourth Quarter 2020 , Electrical switching & drive systems & components
All of this places stringent requirements on the motor – the prime mover in the tattoo machine and perhaps the most critical element of the machine design – as Vishal Sapale, assistant manager – design 
...
Read more...
---
Ultra-efficient UAV drive
Fourth Quarter 2020, DNH Tradeserve , Electrical switching & drive systems & components
maxon has collaborated with drone startup Flybotix to develop performance-optimised brushless DC motors for a new kind of inspection drone. With the know-how gained from this and other projects, maxon 
...
Read more...
---
Helping farmers free up energy
Fourth Quarter 2020, Danfoss , Electrical switching & drive systems & components
In recent years, South African energy security has been constrained, while also being recognised by the Development Bank of Southern Africa as a water-scarce country. The importance of energy efficiency 
...
Read more...
---
Condition monitoring using the drive as a sensor
Third Quarter 2020, Danfoss , Electrical switching & drive systems & components
Variable speed drives have been used for over half a century, with the main advantage being the reduction of electrical energy use. With the advance of Industry 4.0, the role of the drive moves from that 
...
Read more...
---
VSDs improve energy efficiency on farms
Fourth Quarter 2020, Danfoss , Electrical switching & drive systems & components
"Farming operations are not only facing the challenges of the COVID-19 pandemic, which has affected every industry globally, but farmers also need to cope with power supply limitations and the rising 
...
Read more...
---
Lubricant and feed gear pumps
Fourth Quarter 2020, Bearing Man Group T/A BMG , Electrical switching & drive systems & components
BMG's range of Steimel lubricant and feed gear pumps – the SF series – are used mainly on oil lube systems in mines, steel works, power stations and general industry. "SF heavy duty pumps, which 
...
Read more...
---
Extending wind turbine service life
Fourth Quarter 2020, Beckhoff Automation , Electrical switching & drive systems & components
One way to prolong service life beyond the design life is to reduce the load on the main components. For instance, a 10% reduction in damage-equivalent load at the rotor blade root results in a 50% longer 
...
Read more...
---
Drive configuration made easy
Fourth Quarter 2020, Nidec Control Techniques , Electrical switching & drive systems & components
Nidec Control Techniques prides itself on offering free software for commissioning, optimising and monitoring drive/system performance. "If you have already purchased our hardware, why should you have 
...
Read more...
---