printer friendly version
Extending wind turbine service life
Fourth Quarter 2020
Electrical switching & drive systems & components
Operating wind turbines successfully over the longer term is a significant challenge. During the next five years, more than one third of turbines in Germany, Denmark and Spain will reach the end of their intended service lives. Solutions capable of optimising wind turbines and prolonging their useful life – like the retrofit for pitch control systems, complete with rotor blade condition monitoring, co-developed by the companies fos4X and aerodyn – are an important way forward. End-of-life solutions are helping to extend wind turbine service life while significantly increasing overall energy yields. This can also boost the financial appeal of wind power projects as well as bring down energy generation costs.
One way to prolong service life beyond the design life is to reduce the load on the main components. For instance, a 10% reduction in damage-equivalent load at the rotor blade root results in a 50% longer service life. Comprehensive load monitoring allows wind farm operators to monitor the impact of discrete events on rotor blade service life. The same indicators can serve as metrics for understanding differences in behaviour between individual turbines on the same wind farm, enabling operators to identify wake effects (caused by wake currents in slipstreams) in turbines with higher levels of fatigue, as well as damage caused by fluctuations in the rotor blade's natural frequencies, and yaw and pitch errors due to uneven rotor loading.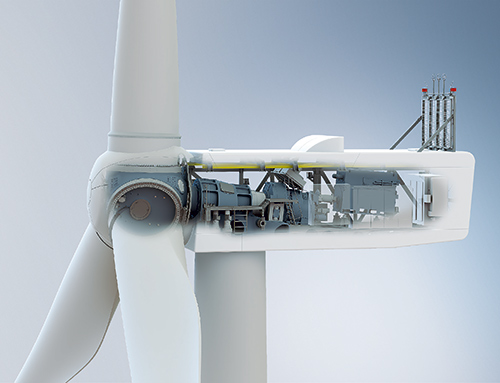 Image copyright fos4X, Germany.
The focus of these solutions is on rotor blade sensors and data analytics. The wind turbines are fitted with fos4X's field-proven sensor system, which is installed inside the rotor blades to protect it from environmental impacts. The sensors reliably deliver valuable data over the entire turbine service life. The solution is calibrated autonomously using algorithms developed by fos4X. Much like a digital twin, the fos4X system produces high quality real-time data needed in subsequent processing. This is used to adjust each rotor blade's angle of attack in a specially developed approach known as individual pitch control. fos4X can also detect yaw and pitch errors from the load data captured. Correcting these errors leads to a higher energy yield and reduced wear. The solution can also monitor the condition of blades to identify damage or ice build-up. It is the first in the world to monitor rotor blades comprehensively, while at the same time delivering important data for use in digital twins and predictive maintenance.
A variety of data must be captured to implement pitch control. This includes forces acting on the wind turbine. To accomplish this, fos4X installs sensors inside the turbine blades – a process that takes just a day to complete. The purpose-designed algorithm in the retrofit system allows each rotor blade to respond individually in real time to load fluctuations and to compensate for loads as they arise. This can substantially reduce the effective load borne, which reduces wear on the various turbine components.
For access to the wind turbine's control system, communication is critical. This is where Beckhoff comes in as a strategic partner – and the openness of PC-based control plays a central role. Wind generating facilities typically use a heterogeneous mix of components from different vendors, and integration with the equipment already deployed is key. As an open platform that supports all common fieldbus standards, including EtherCAT, CANopen, Profibus and Profinet, PC-based control enables simple and flexible integration with any solution. The combination of modular hardware with the high speed communication capabilities and flexible topology of EtherCAT makes the system perfectly adaptable to the requirements.
The solution from fos4X operates as an EtherCAT slave, so it is exceptionally simple to incorporate into a PC-based control system. However, it can integrate just as easily with any other controller, making it suitable both for retrofits to existing turbines and for installation in new turbine systems. If required, the system can also be expanded on a modular basis using Beckhoff EtherCAT terminals to capture strain, vibration and temperature information, for instance.
The controller developed by aerodyn is implemented as a TwinCAT TcCOM module, which means it will work on any embedded or control cabinet PC running TwinCAT 3 software. TwinCAT also makes connecting fos4X sensors simple. Plus, by adding TwinCAT 3 functions for OPC UA, IoT and database connectivity, integration with existing scada systems can be accomplished with little effort.
For more information contact Dane Potter, Beckhoff Automation, +27 79 493 2288, danep@beckhoff.com, www.beckhoff.co.za
Credit(s)
Further reading:
Helping farmers free up energy
Fourth Quarter 2020, Danfoss , Electrical switching & drive systems & components
In recent years, South African energy security has been constrained, while also being recognised by the Development Bank of Southern Africa as a water-scarce country. The importance of energy efficiency 
...
Read more...
---
Condition monitoring using the drive as a sensor
Third Quarter 2020, Danfoss , Electrical switching & drive systems & components
Variable speed drives have been used for over half a century, with the main advantage being the reduction of electrical energy use. With the advance of Industry 4.0, the role of the drive moves from that 
...
Read more...
---
Festo Simplified Motion Series electric drives designed for simple movements
Fourth Quarter 2020, Festo South Africa , Electrical switching & drive systems & components
The Simplified Motion Series integrates all the elements of standard electric drive solutions into a single package for simple motion tasks such as repositioning, aligning, feeding, sorting, clamping, 
...
Read more...
---
VSDs improve energy efficiency on farms
Fourth Quarter 2020, Danfoss , Electrical switching & drive systems & components
"Farming operations are not only facing the challenges of the COVID-19 pandemic, which has affected every industry globally, but farmers also need to cope with power supply limitations and the rising 
...
Read more...
---
Lubricant and feed gear pumps
Fourth Quarter 2020, Bearing Man Group T/A BMG , Electrical switching & drive systems & components
BMG's range of Steimel lubricant and feed gear pumps – the SF series – are used mainly on oil lube systems in mines, steel works, power stations and general industry. "SF heavy duty pumps, which 
...
Read more...
---
Drive configuration made easy
Fourth Quarter 2020, Nidec Control Techniques , Electrical switching & drive systems & components
Nidec Control Techniques prides itself on offering free software for commissioning, optimising and monitoring drive/system performance. "If you have already purchased our hardware, why should you have 
...
Read more...
---
What is adaptive acceleration control?
Fourth Quarter 2020, Elettronica Santerno South Africa , Electrical switching & drive systems & components
Adaptive Acceleration Control (AAC) is a new soft start control type that allows the selection of different acceleration and deceleration profiles according to application needs. Soft starters offer a 
...
Read more...
---
Powerful technology packages for motion control and CNC
Fourth Quarter 2020, Siemens Digital Industries , Electrical switching & drive systems & components
Siemens is launching three powerful technology packages exclusively for the CNC Sinumerik One. The Sinumerik One Dynamics packages are One Dynamics Operate, One Dynamics 3-axis milling and One Dynamics 
...
Read more...
---
Never say no to a challenge
Fourth Quarter 2020, Omron Electronics , Electrical switching & drive systems & components
High speed seed counting and packing solution - a first in South Africa.
Read more...
---
Food Safe motors withstand over 1100 washdown cycles
Fourth Quarter 2020 , Electrical switching & drive systems & components
Rigorous testing at a state-of-the-art hygiene laboratory verifies that ABB's Food Safe stainless steel motors can withstand frequent sanitisation. The motors emerged in full working order after being 
...
Read more...
---