printer friendly version
Solutions for shipping
Fourth Quarter 2020
Shaft power components
The marine industry is tough. Whether you are operating a single vessel or an entire fleet, challenging sea conditions, rising costs and increasing environmental and safety regulations are affecting profitability and operational efficiency. Technical knowledge gaps and reduced crew numbers present further challenges; staying ahead in the marine industry requires a concerted effort across many fields.
When a ship is out at sea, outside support is a long way off and rough seas present extreme working conditions. Equipment reliability and flexibility is therefore paramount. SKF's marine solutions encompass easy, cost-efficient products and a full portfolio of high-quality components designed to deliver high reliability, serviceability and long service life to keep customers' operations running smoothly.
The company's extensive marine portfolio includes seals, rolling, slewing and plain bearings and housings, fin stabilisers and steering gear solutions, condition monitoring, power transmission products (couplings), automatic lubrication systems and related services.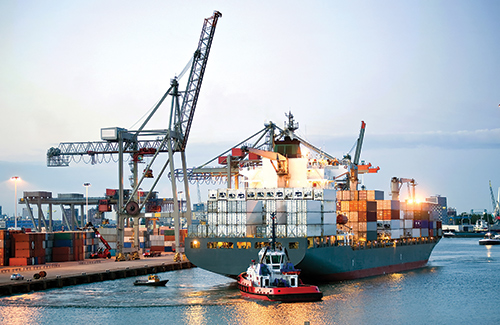 Image copyright ShutterStock.
For most machinery, even small oil leaks can present a big problem. Today's increasingly aggressive lubricants can threaten seal performance, damaging vital equipment which can lead to unplanned maintenance and subsequent downtime. Fitting the right seals will reduce friction, retain lubricity and keep contaminants out of the system. SKF has the necessary expertise to help identify the right seal for each individual application. Simplex and all SKF seals are designed to provide cost-effective, reliable sealing performance. Available in a range of designs, sizes and materials, these products can be delivered promptly around the globe.
The operational efficiency of the line-shafting of a ship's propulsion plant is mainly determined by the quality of the bearings used. Simplex Intermediate bearings, characterised by their short shell length, are developed especially for this purpose as short, plain bearings.
The running properties of the bearing metal have been optimised with a technically advanced bonding of the bearing metal and shell and can be precisely aligned to avoid edge loading. The vital lubrication of the bearing is safeguarded in the Simplex bearing at all times, even at low shaft speeds. Temperature sensing, monitoring and cooling systems are available for unfavourable operating conditions.
Stabilising systems and steering gears play an essential role in improving the all-important on-board experience for passengers and crew. SKF's wide range of fin stabilisers and steering gear solutions are designed to provide a vessel with better roll reduction on rough seas and can help maintain speeds while reducing fuel consumption.
Ship uptime relies on high performing and available machinery on board. In tough sea conditions, assessing the condition of auxiliary machinery without having to disassemble the equipment is more important than ever before. SKF's condition monitoring solutions enable complete asset condition maintenance for the entire fleet, or a single ship, and are designed to serve a fleet CM program as a foundation of the fleet Condition-Based Maintenance (CBM) strategy that complies with the class societies´ recommendations and requirements. SKF's condition monitoring solutions and all related equipment are aligned with ISO and class requirements.
Power transmission products play a key role in overall bearing performance. They are literally the vital link between moving parts in equipment. To help optimise overall machine performance, SKF has developed a wide range of power transmission products engineered to give engineers more design choices according to performance and cost considerations.
Coupling systems are critical components that connect vital applications such as propeller shafts, propellers and rudder assemblies. If couplings are off by just a fraction, they can be prone to premature wear and shortened life cycles. SKF coupling systems are designed to resist high torques to provide maximum strength – reducing downtime while keeping operations running.
Vibration, high mechanical loads, contamination and moisture are all threats to bearing and gear service life in marine applications. Like any mechanical system, moving parts in engines, gearboxes, propeller shafts, steering gears, winch drives, deck cranes or other auxiliary equipment require proper lubrication to function optimally. SKF and Lincoln automatic lubrication systems help to optimise marine operations by enabling efficient and safe fleet maintenance of all types of vessels.
For more information contact Samantha Joubert, SKF South Africa, +27 11 821 3500, samantha.joubert@skf.com, www.skf.com
Credit(s)
Further reading:
Spherical roller bearings take the guesswork out of mounting
Fourth Quarter 2020 , Shaft power components
The Dodge ISN Safety Mount spherical roller bearings from ABB, distributed by Bearings International (BI), feature a patented integral adaptor mounting and removal system that makes it easy to install 
...
Read more...
---
New-generation soft seated butterfly valves
Fourth Quarter 2020 , Shaft power components
Valve specialist GEMÜ has redesigned its tried and tested butterfly valves and now offers the GEMÜ R480 Victoria in wafer version. Thanks to its flow-optimised and sleek disc design, the redesigned butterfly 
...
Read more...
---
BI is a critical supplier to sugar mill
Third Quarter 2020 , Shaft power components
From the growing of sugar cane on the agricultural side to sugar refineries on the production side, Bearings International (BI) plays a key role in this important economic sector. Typical solutions provided 
...
Read more...
---
High quality, price-competitive bearings
Third Quarter 2020 , Shaft power components
Various market segments have responded positively to the launch of products from Craft Bearings by Bearings International (BI). "The first stock consignment was not affected by the Covid-19 crisis. All 
...
Read more...
---
How to avoid bearing failures with proper lubrication
Third Quarter 2020 , Shaft power components
Bearings are a fundamental component of mechanical equipment and centre on the idea of reducing rolling friction to allow parts to move without being destroyed. Reducing friction can contribute to higher 
...
Read more...
---
Cummins ReCon parts a cost-effective alternative
Third Quarter 2020 , Shaft power components
Cummins ReCon parts are not just repaired or rebuilt, but are remanufactured to meet or exceed your engine's original specifications for performance, reliability and durability. These parts also include 
...
Read more...
---
Hydraulic bolt tensioners remove uncertainty from couplings
Third Quarter 2020, SKF South Africa , Hydraulic systems & components
Hydrocam hydraulically operated bolt tensioners offer far greater accuracy compared to other fixing methods. With their superior control and safety, damage to bolts and associated structures is avoided, 
...
Read more...
---
Quick, easy leak detection
Third Quarter 2020, SKF South Africa , Pneumatic systems & components
Compressed air production is an integral part of manufacturing plants but it is also one of the largest energy consumers. Air leaks amplify the load on a compressor, leading to higher electricity consumption 
...
Read more...
---
The smart connection
Second Quarter 2020 , Shaft power components
Powermite's Molex GWConnect heavy duty connector portfolio includes industrial connectors (including multipole), inserts, aluminium enclosures and more than 6000 complementary products. All components 
...
Read more...
---
Upgraded grid couplings
Second Quarter 2020, Bearing Man Group T/A BMG , Shaft power components
BMG has extended its range of power transmission components to include its recently upgraded Fenagrid Premium grid couplings. These taper grid steel flexible couplings accommodate angular, parallel and 
...
Read more...
---