printer friendly version
Chain for improved wear life in demanding conditions
Fourth Quarter 2020
Shaft power components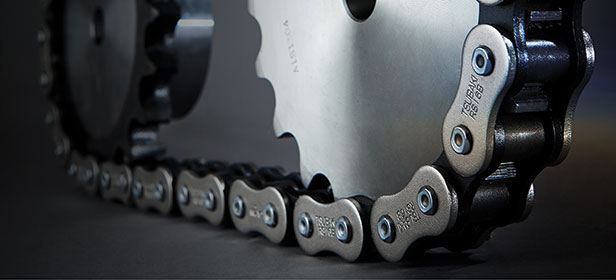 BMG's power transmission division has launched the new Tsubaki Titan chain series which offers significant improvements in wear-life in demanding applications, including abrasive and dusty conditions.
"Selecting the right chain for every job is critical, especially in harsh conditions where dust and abrasive particles infiltrate moving parts and significantly shorten the lifetime of standard chain. This damage results in high costs caused by downtime, production loss, replacement parts and labour," says Tsubaki product manager, Gavin Kirstein. "Tsubaki Titan chain, which offers previously unobtainable wear life in harsh conditions, combines key features of the existing premium Tsubaki GT4 Winner chain, with new specifications which have been designed to deliver extended wear performance."
Advanced design features for the Titan series not only extend service life of the chain, but also reduce maintenance costs and minimise downtime. Another advantage is the reduced frequency of swapping out old chain for new, which contributes to a significant reduction in the total cost of ownership.
An important feature of Tsubaki Titan chain is the use of seamless bushes that incorporate lube grooves. These bushes, which are precision made and perfectly cylindrical, ensure the smoothest possible operation to help minimise wear. Added to this, the specially designed lube grooves ensure oil is retained at the point of contact, where the chain needs it most. This limits the wear between pin and bush, significantly improving the wear life.
Tsubaki Titan pins have a special surface coating that provides an extra hard yet low-friction surface, further extending service life.
For this new series, the Tsubaki development team has specified corrosion resistant, nickel-plated outer link plates, which are used in combination with black oxide inner link plates to provide an additional layer of protection against corrosion.
Tsubaki has also incorporated its reliable ring coined technology, which overcomes the problem of typical standard slip-fit connecting links, which are usually much weaker than other links. The process of ring-coining the connecting links ensures that the chain can be specified up to its full load capacity.
Standard Tsubaki Titan Chain is available from BMG in sizes 12B to 32B. Additional sizes, multi-strand and attachment options are available on request.
Typical applications of this series include abrasive and dusty conditions, such as those found in timber mills, brickworks, mining and metal working, as well as in sugar and paper processing.
All Tsubaki chain products are manufactured with special materials, coatings and lubrication and undergo an immaculate production process to ensure dimensional accuracy, constant geometry, high surface quality and long service life.
BMG is the only company in the world – outside of the Tsubaki organisation – with the accreditation to provide a specialist assembly service for Tsubaki chain products. The company has a dedicated facility at BMG World in Johannesburg, where special attachment chains are assembled to exact requirements and delivered in less than one week.
Customers are able to specify a wide range of standard Tsubaki attachments on any suitable American (ANSI) or British (BS) chain product of up to 50 metres in length. There is no compromise in terms of component specifications and quality standards are guaranteed. BMG's assembly service means customers do not need to invest in expensive stockholdings of specialised attachment chains for a particular machine.
The complete range of Tsubaki power transmission components is available from BMG's national branch network, which offers a technical advisory and 24-hour backup service.
Credit(s)
Further reading:
Drive-based predictive maintenance solutions
Bearing Man Group T/A BMG Electrical switching & drive systems & components
BMG's NORD predictive maintenance solutions offer fast, efficient and comprehensive evaluation of analogue and digital data, to enhance the operational efficiency and safety of machines. The intelligent 
...
Read more...
---
Ball screws with nut cooling
Editor's Choice Shaft power components
The machine tool industry uses ball screws to convert the rotary motion of an electric motor into linear motion. Very often, the positioning accuracy, as well as the travel speed and acceleration, have 
...
Read more...
---
Match and Tag for high accuracy in paired chain
Bearing Man Group T/A BMG Shaft power components
Modern machinery often requires chains of precisely the same length to be used in pairs or other multiples. For these applications, BMG specialists recommend Tsubaki Match & Tag chains, which guarantee 
...
Read more...
---
Draw-wire mechanisms for encoders
ifm - South Africa Shaft power components
Draw-wire mechanisms for encoders are the ideal choice when positions must be accurately determined over straight lines. Examples of their use range from short distances, for example with scissor lifts 
...
Read more...
---
New series of metric roller bearings
Bearing Man Group T/A BMG Shaft power components
BMG's bearings portfolio extends from precision miniature bearings used in machine tools and electronics applications to giant-size bearings that meet high demands in steel and mining. This range has 
...
Read more...
---
Coupling considerations for designers
Shaft power components
For designers, spending time selecting the perfect coupling may be low on the priority list. However, ensuring an efficient and reliable connection between two shafts is paramount for system reliability 
...
Read more...
---
Bearings drive cost-saving in food plants
Shaft power components
NSK's Life-Lube bearing units are proving increasingly popular in the food and beverage industry and with good reason. These advanced bearings combine the corrosion-resistant properties of Silver-Lube 
...
Read more...
---
High strength friction transmission belts
Bearing Man Group T/A BMG Shaft power components
BMG supplies a wide range of power transmission components designed to enhance efficiency and safety in the food and beverage sector. Included in this portfolio are Fenner high strength friction transmission 
...
Read more...
---
Power transmission solutions for the sugar sector
Bearing Man Group T/A BMG Shaft power components
BMG plays a critical role in the sugar sector, not only during the operational period of sugar production, but also in off-crop seasons, when maintenance and refurbishment on sugar farms and at mills 
...
Read more...
---
New optimised quick coupling series
Parker Hannifin - Sales Company South Africa Shaft power components
Parker Hannifin has launched the new optimised FEM Quick Coupling Series which offers an increased working pressure up to 350 bar and a decreased pressure drop for better flow properties. The revised 
...
Read more...
---