printer friendly version
Hybrid bearings for wind farm
Fourth Quarter 2020
Shaft power components
SKF's Renewables Segment team was instrumental in securing an order for the supply of three hybrid bearings which deliver improved reliability and uptime for a customer operating a wind farm in the Western Cape.
The customer is responsible for the operation of nine wind turbines in the Western Cape and a further sixty in the Eastern Cape, and enquired about replacement bearings for its wind turbine generators. Sales engineer, Zachry Viljoen, explains that they received an RFQ for a standard bearing but after SKF's Customer Service and Renewables Segment teams did their due diligence, they discovered that these particular generators are notorious for bearing damage caused by current leakage.
"We came up with a much better bearing solution for our customer in the form of a hybrid bearing which offers a host of added benefits. The highly superior design of this bearing solves the issue of damage caused by current leakage (pitting) on the bearing raceways, subsequently preventing premature bearing failure. In addition to improved operational reliability of the asset and extended equipment life cycle, our customer will also benefit greatly from reduced downtime of the turbine, delivering substantial savings on maintenance," he adds.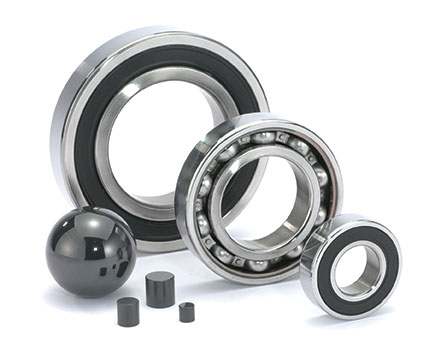 Viljoen explains that current passing though the bearings would cause a spot-welding effect between the rolling elements and the raceways in traditional steel bearings. These break off during movement, damaging the internal surfaces of the bearing and reducing operating life. Instead of the conventional steel rolling elements, the hybrid bearing makes use of silicon nitride rolling elements that do not conduct electricity, therefore electrically insulating the bearing.
It is these insulating properties that ensure resistance to damage caused when current passes through the bearing. Viljoen also points out that the lower coefficient of thermal expansion of the silicon nitride rolling elements is taken advantage of by leveraging off the quality and precision of SKF's bearing steel raceways, resulting in a bearing that has lower internal friction and an increased stiffness. Additional benefits of hybrid bearings include resistance to wear caused by solid contaminants and false brinelling (permanent indentation of a hard surface).
"This project pays tribute to SKF's renewed efforts in early 2019 to apply a segment-focused approach in the southern African market, which led to the official establishment of a four-strong Renewables Segment team in June 2020. By combining SKF's collective technical expertise, we were able to offer the best value adding solution to our customer," concludes Viljoen.
Credit(s)
Further reading:
Ball screws with nut cooling
Editor's Choice Shaft power components
The machine tool industry uses ball screws to convert the rotary motion of an electric motor into linear motion. Very often, the positioning accuracy, as well as the travel speed and acceleration, have 
...
Read more...
---
Match and Tag for high accuracy in paired chain
Bearing Man Group T/A BMG Shaft power components
Modern machinery often requires chains of precisely the same length to be used in pairs or other multiples. For these applications, BMG specialists recommend Tsubaki Match & Tag chains, which guarantee 
...
Read more...
---
Draw-wire mechanisms for encoders
ifm - South Africa Shaft power components
Draw-wire mechanisms for encoders are the ideal choice when positions must be accurately determined over straight lines. Examples of their use range from short distances, for example with scissor lifts 
...
Read more...
---
New series of metric roller bearings
Bearing Man Group T/A BMG Shaft power components
BMG's bearings portfolio extends from precision miniature bearings used in machine tools and electronics applications to giant-size bearings that meet high demands in steel and mining. This range has 
...
Read more...
---
Coupling considerations for designers
Shaft power components
For designers, spending time selecting the perfect coupling may be low on the priority list. However, ensuring an efficient and reliable connection between two shafts is paramount for system reliability 
...
Read more...
---
Bearings drive cost-saving in food plants
Shaft power components
NSK's Life-Lube bearing units are proving increasingly popular in the food and beverage industry and with good reason. These advanced bearings combine the corrosion-resistant properties of Silver-Lube 
...
Read more...
---
High strength friction transmission belts
Bearing Man Group T/A BMG Shaft power components
BMG supplies a wide range of power transmission components designed to enhance efficiency and safety in the food and beverage sector. Included in this portfolio are Fenner high strength friction transmission 
...
Read more...
---
Power transmission solutions for the sugar sector
Bearing Man Group T/A BMG Shaft power components
BMG plays a critical role in the sugar sector, not only during the operational period of sugar production, but also in off-crop seasons, when maintenance and refurbishment on sugar farms and at mills 
...
Read more...
---
New optimised quick coupling series
Parker Hannifin - Sales Company South Africa Shaft power components
Parker Hannifin has launched the new optimised FEM Quick Coupling Series which offers an increased working pressure up to 350 bar and a decreased pressure drop for better flow properties. The revised 
...
Read more...
---
Spherical roller bearings for tough environments
Shaft power components
Unforeseen bearing failures in production-critical machines and equipment can prove extremely costly in replacement parts, labour and downtime. This problem becomes worse in contaminated environments 
...
Read more...
---