printer friendly version
PC-based control technology for next-generation telescope
First Quarter 2021 Editor's Choice Electrical switching & drive systems & components
The Giant Magellan Telescope (GMT) is a project of superlatives. After a long planning and construction period, the next-generation telescope is expected to go live in 2029. With seven mirrors and a combined diameter of 25 m, it will enable entirely new resolutions and even allow a look back into the time just after the Big Bang. PC-based control from Beckhoff was specified as the future automation equipment.
Key factors were the advantages of EtherCAT for site-wide real-time communication connecting all telescope functions. Various embedded PCs and AM8000 servomotors were also tested and specified, among other things, to move the more than 3000 motion axes.
Once installed at Las Campanas Observatory, the GMT will introduce incredible opportunities for the astrophysics and cosmology research communities. The land-based telescope design boasts a resolution 10 times greater than that afforded by the Hubble Space Telescope by combining seven mirrors into a singular optical system with a total diameter of 25 m.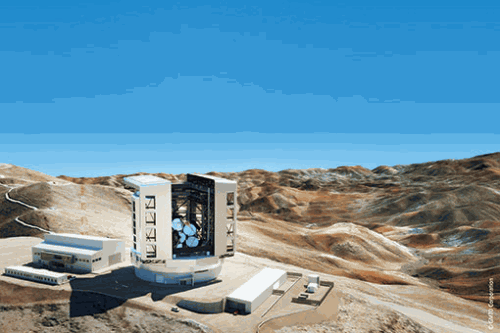 Image copyright: GMTO Corporation, Chile/USA.
These advances will enable the GMT to capture images of astronomical objects sharper than currently possible by reducing distortions introduced by the terrestrial atmosphere. Scientists and engineers working on similar telescope projects have traditionally built their own automation solutions using custom control components. However, the team that is currently planning the infrastructure for the GMT sees this differently, explains GMT Organisation (GMTO) senior electronics engineer, José Soto: "We want to change the historical method of treating telescopes as special and totally unlike other automated systems. Future-facing industrial control solutions have the power to solve many problems we face today in astrophysics."
Standards-based automation for a unique project
Specifying automation and control components for the GMT also required careful consideration due to the real-time communication and control requirements, especially considering the system will possess more than 3000 axes of motion. Beyond rotating the telescope's 22-story-tall enclosure, the flexible mirrors must move with utmost precision to implement the complex adaptive optics in order to achieve the highest possible image resolution.
One example is the active optics system, which requires integration of 170 pneumatic actuators per primary mirror to support the mass of each mirror. The engineering team identified the need for automation and control components that were powerful now, but would also support future advances in technology. Soto adds: "Since these projects take a long time we must account for obsolescence in every aspect. The most effective method of fighting obsolescence is standardising on proven industrial technologies."
TwinCAT software
TwinCAT 3 automation software from Beckhoff has offered a key platform to test devices, and it is specified for control of the structures around the telescope. "The PC-based controller for the telescope's enclosure will run TwinCAT directly," says GMTO engineer, Hector Swett. "It also provides the real-time capability to interface this massive application with the observatory control system via OPC UA. Exemplifying system openness, TwinCAT can automatically scan and configure third-party devices over ADS and EtherCAT, providing an optimal platform for all tasks from sensing to motion control."
New technologies for creative ideas
EtherCAT first led the GMTO engineers to Beckhoff, and it remains foundational to the telescope's control architecture design. Soto concludes: "Using EtherCAT as the GMT fieldbus enables real-time communication down to the I/O level. We have achieved cycle times of 2 ms, which allows enough bandwidth to close the loop on a range of subsystems, expanding our control and networking abilities significantly. Compact EtherCAT I/O modules and embedded PCs save space in control cabinets, and because the PC-based controllers can be located at a distance from the I/Os, this reduces heat dissipation."
In a decade, this process of observation and discovery will not belong to the engineers designing and building the GMT, but to the astrophysicists and cosmologists using it to explore the cosmos. Researchers will have the flexibility to bring their own creative ideas when using the telescope to make great discoveries that cannot yet even be imagined.
For more information contact Dane Potter, Beckhoff Automation, +27 79 493 2288, danep@beckhoff.com, www.beckhoff.co.za
Credit(s)
Further reading:
The top three reasons cylinders fail
Parker Hannifin - Sales Company South Africa Editor's Choice
Cylinder operation requires precise fluid pressure on both sides of the piston. If a seal breaks down and allows fluid to leak from one side of the piston to the other or out of the cylinder altogether, 
...
Read more...
---
Rugged, reliable electro-hydraulics
Axiom Hydraulics Editor's Choice
From simple switching valves to sophisticated closed-loop control, Sun's line of E-H products powers your most demanding applications.
Read more...
---
What you should know about air preparation
Editor's Choice
Compressed air quality has three potential problem areas to consider: particles, water and oil.   
• Dust and other airborne particles: The compressed air leaving the compressor room, which has already 
...
Read more...
---
Superconductivity for aircraft
Editor's Choice Other technologies
In 1911, Dutch physicist Heike Kamerlingh Onnes found himself preoccupied with one question: what happens to the electrical conductivity of pure metals at very low temperatures? During an experiment, 
...
Read more...
---
Yaskawa steps into the future
Editor's Choice Robotics & Mechatronics
Crackett says that Yaskawa Southern Africa has installed more than 2500 Motoman robots. The company's main target market is automotive, having cut its teeth here when Terry Rosenberg first started up 
...
Read more...
---
Faster and more flexible digital printing
Beckhoff Automation Electrical switching & drive systems & components
In just a few years Danish machine builder, Refine Finishing, has created a secure position among the world's leading suppliers of machines that convert digitally printed labels. Equipped with PC-based 
...
Read more...
---
Cool move for rotor hubs
Editor's Choice Electrical switching & drive systems & components
At the company's new Mechatronic Competence centre, machine houses and rotor hubs are produced for the entire Enercon range of products. After painting, the large volume cast bodies of the rotor 
...
Read more...
---
How to embrace the benefits of smart pneumatics
Emerson Automation Solutions Editor's Choice Pneumatic systems & components
Understand how this challenge creates opportunities
It is important to consider how insights from data can help end-users react to real-time events or even predict the future. For example, the Emerson 
...
Read more...
---
PC-based control runs the stage machinery for Rigoletto
Beckhoff Automation Editor's Choice Electrical switching & drive systems & components
In the production, the court jester Rigoletto becomes a clown. Only the head, encircled by a wide collar, and the hands of the gigantic clown protrude from the lake. Eventually the clown becomes the victim 
...
Read more...
---
Robotics and the potential for the lights-out factory
Omron Electronics Editor's Choice Other technologies
However the 100% automated, fully lights-out factory is not a realistic goal for a large proportion of manufacturing businesses currently operating. A key reason is that manufacturing needs people. Human 
...
Read more...
---