printer friendly version
ABB sensor onboard SpaceX rocket to detect greenhouse gas emissions
First Quarter 2021
News & events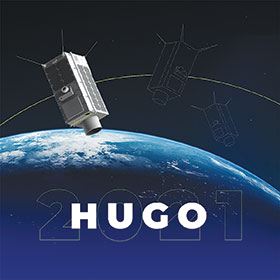 The ABB supplied optical sensor can map methane emissions from space at a resolution that is 100 times higher than prior sensors. Whilst previously only larger regions could be surveyed, for the first time the new greater granularity now allows the identification of the source of emissions. An additional nine units are currently under manufacture at ABB to be launched by the end of 2022 ready to be on-board across the first private satellite constellation dedicated to emission measurement.
Space offers the ideal location to freely monitor emissions across jurisdictions and quantitatively report on improvements. The ABB sensors will provide valuable insights which will enable governments and industries around the world to meet their emission reduction targets and reduce the negative impact on global warming.
"We selected ABB for its ability to deliver world-class instruments while meeting the challenges of a new space company like ours. "said Stephane Germain, CEO of GHGSat. "We strive to innovate for the needs of the future, and we're excited to work with ABB to achieve that."
"ABB shares GHGSat's goal of reducing emissions through the creation of their greenhouse gas sensing constellation," said Marc Corriveau, general manager ABB Measurement & Analytics Canada. "Our selection as the manufacturer for these advanced sensors demonstrates our competitiveness and strong fit with the private space sector requirements.
"The space revolution is well underway and ABB with its heritage of unique space instruments and serial production of advanced measurement sensors for industrial applications is extremely well positioned to serve this emerging sector."
GHGSat announced the constellation contract award with ABB in October 2020, with first deliveries in 2021. The unit launched by SpaceX was a single unit procured by GHGSat from ABB two years ago ahead of a selection for the constellation.
With its involvement in the Canadian SCISAT mission and the Japanese GOSAT series of satellites, ABB has been at the forefront of the field of greenhouse gas sensing from space for more than two decades. ABB optical equipment already in space cumulates more than 100 years of reliable operation.
The SCISAT sensor tracks long-term subtle composition changes in the earth's atmosphere down to parts per trillion of more than 70 molecules and pollutants since 2003. Weather agencies across the world base their predictions on ABB equipment flying onboard the US National Oceanographic and Atmospheric Administration (NOAA) weather satellites (NPP and JPSS), which saves lives by improving the timeliness and accuracy of weather forecasts for up to seven days.
For more information contact ABB South Africa, +27 10 202 5000, paulo.dasilva@za.abb.com, www.abb.com/za
Credit(s)
Further reading:
From the editor's desk: Would you like an NFT?
Technews Publishing News & events
One of my favourite light-hearted books is called Fifty Flippen Brilliant South Africans and Elon Musk stands out as one of the giants. He is one of the most iconic inventors and entrepreneurs of our 
...
Read more...
---
Fuchs Lubricants sees major growth in Africa
News & events
Moving to a centralised new head office in Isando, Johannesburg and launching a new unified product brand image in mid-November is all part of a long-term strategy for sustained growth and expansion at 
...
Read more...
---
Hytec Rustenburg establishes permanent site in Marikana
News & events
Hytec Rustenburg has established its first 24/7 satellite mine site at a prominent mine in the North West province. This enables Hytec SA to provide a tailored maintenance programme and stock a selection 
...
Read more...
---
Danfoss acquires Eaton's hydraulics business
Danfoss News & events
Danfoss has officially finalised its $3,3 billion acquisition of Eaton's hydraulics business. The move will see the Danfoss Group grow in size by a third and establish itself as a global leader in mobile 
...
Read more...
---
Festo Didactic helps customers unpack their full learning potential
Festo News & events
Technological changes are continually transforming tasks in companies today. Investment in technologies and machines alone is not enough to ensure success. Festo recognises that skilled employees are 
...
Read more...
---
Engineering Solutions Group achieves Level 2 B-BEEE status
News & events
Invicta Holdings' Engineering Solutions Group (ESG) − distributors of engineering consumables, automotive components, technical services and related solutions − has achieved recognition as a Level 2 contributor 
...
Read more...
---
BMG opens new branch in Maun
News & events
BMG has extended its service in Botswana, with the opening of a new branch in Maun. "BMG now has two dedicated branches in Botswana – one in Gaborone, which was established in 1998 to service and supply 
...
Read more...
---
Fuchs Lubricants achieves top certification
News & events
Fuchs Lubricants South Africa has achieved IATF 16949:2016 certification, which aims at providing improved quality products to automotive customers worldwide. IATF 16949, specified by The International 
...
Read more...
---
Festo's life science webinar on gas handling opens up new horizons
Festo News & events
How piezo technology more efficiently regulates flow rate and pressure.
Read more...
---
Parker Hannifin announces new two-day online oil and gas event
Parker Hannifin - Sales Company South Africa News & events
Parker Hannifin has announced that it will hold an online trade show dedicated to the oil and gas industry, on 6 and 7 October.
Read more...
---