printer friendly version
Lubrication-free roller chain
First Quarter 2021
Shaft power components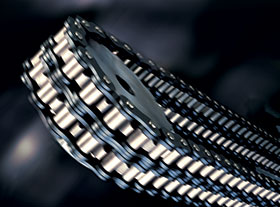 BMG's extensive range of Tsubaki chain products encompasses the Lambda lubrication-free roller chain series, which has been designed for industries where clean working environments are required and where product contamination cannot be tolerated.
Typical applications for this chain are in packaging machines used in food processing, pharmaceuticals and electronics manufacturing, as well as in environments where abrasive contamination is prominent, like wood processing and the paper and packaging sectors.
"Tsubaki's environmentally-friendly Lambda lube-free chain series has been designed with a sintered oil-impregnated bush, where the chain is internally lubricated to avoid premature wear. This feature extends the operating life of the chain, without the need for additional maintenance or messy external lubrication," explains business unit manager, Carlo Beukes. "Because Tsubaki's Lambda lube-free chain requires no lubrication, working conditions are cleaner and safer.
"Difficulties encountered with conventional chain for case packaging and secondary packaging equipment include contamination of cardboard surfaces and products caused by lubricants and paper dust. This gives rise to high maintenance costs and costly production halts for the necessary cleaning cycles of equipment. Added to this, uneven wear and elongation cause problems with chain alignment, resulting in unsynchronised product transport.
"BMG's Tsubaki Lambda chain is supplied with a specially developed food grade lubricant as standard and this increases chain wear life by 30%, with no compromise on chain strength. Because there is no need for external lubrication, the chain is kept cleaner, making it easier to specify and install, especially in areas with strict hygiene regulations.
"The microscopic pores in the seamless sintered bush of Lambda chain are vacuum filled with a high performance NSF-H1 food grade lubricant. While most of the lubricant is held in place, where it is needed most, a small amount will inevitably migrate to the surface of the chain. For this reason, it is critical that the lubricant is deemed suitable for use in the food industry."
BMG's Tsubaki Lambda lube-free chain meets all NSF-H1 requirements and can be safely used in environments where there is the possibility of incidental contact with food. H2 lubricants are suitable for locations where there is no possibility of contact with food, and H3 lubricants, which are typically edible oils, are used where there is likely to be contact with foodstuffs.
Many industries, including food and beverage production, use processes involving heating and cooling. Lambda chain, which has been shot-peened for higher fatigue strength, operates efficiently and safely in a wide ambient temperature range between -10°C and 150°C. BMG supplies a special heat resistant series which is suitable for use in environments with elevated temperatures up to 230°C.
The surfaces of the outer and inner link plates are FE403 blackened for improved corrosion resistance and there is smooth engagement with the sprocket and reduced wear on the sprocket teeth because of the durable roller. There is also a lower risk of chain breakage because the specially selected steel alloy has undergone effective heat treatment.
Apart from the advantage of the extended service life of this chain, which is achieved as a result of advanced sintering bushing and an improved bushing/ lubricant combination, other features of this series include easy cutting, a patented ring coining process, high productivity, easy interchangeability of chains and sprockets, and reduced maintenance requirements.
The patented ring coin connecting link ensures the chain can be specified to its full chain capacity. This process increases the strength of the link plate around the pinholes to ensure the link retains the same high strength and wear resistance as the rest of the chain.
The disassembled rivet pin design facilitates easy fitting and removal of the chain and a special coating on the pin surface enhances long term internal lubrication. The elongation pattern of Tsubaki's Lambda chain is extremely stable, which reduces the need for intermediate chain and sprocket adjustment and also contributes to increased service life.
The standard Lambda series includes BS/DIN and ANSI drive and conveyor chain with attachments, double and hollow pitch conveyor chain, as well as double plus and accumulator chain with centre rollers.
BMG's national branch network offers a technical advisory service on correct chain selection – a critical factor in any power transmission system. For specific applications, chains with special materials, coatings and lubrication are available nationally, and to meet exact requirements, chains are accessible in any length.
For more information contact Carlo Beukes, BMG, +27 11 620 7558, carlob@bmgworld.net, www.bmgworld.net
Credit(s)
Further reading:
New B2C online shopping platform for engineering consumables
Third Quarter 2021, Bearing Man Group T/A BMG , News & events
BMG's online shopping platform now encompasses a newly launched E-commerce service, designed especially for consumers, to boost their buying experience of engineering consumables.
Read more...
---
Energy from the power of the moon
Third Quarter 2021, SKF South Africa , Editor's Choice, Shaft power components
It is intended to help reduce climate-damaging CO
2
emissions, slow down global warming and thus build a more sustainable future for generations to come. With the help of modern technology from SKF, 
...
Read more...
---
Spindle screw pumps
Third Quarter 2021, Bearing Man Group T/A BMG , Shaft power components
BMG supplies and supports the full range of SEIM spindle screw pumps, flow meters and in-line relief valves. "These robust pumps and related products – which are manufactured to stringent quality specifications 
...
Read more...
---
Complete solutions for the mining value chain
Third Quarter 2021 , Shaft power components
Bearings International (BI) has products for the entire mining value chain, from the beginning of mining operations to their end of life. This encompasses all types of mining operations, from opencast 
...
Read more...
---
Common gear problems to look out for
Third Quarter 2021 , Shaft power components
Like any mechanical element, gears are subject to wear and if this is not addressed, even failure. Callum Ford, national marketing manager at Lubrication Engineers (LE) South Africa, says that during 
...
Read more...
---
Components for submerged chain conveyors
Third Quarter 2021, Bearing Man Group T/A BMG , Shaft power components
BMG's extensive power transmission range encompasses HEKO conveyor components, including round link chains which have been designed for dependable use in many harsh environments. "High wear-resistant 
...
Read more...
---
HydraForce electro-proportional valves
Second Quarter 2021, Bearing Man Group T/A BMG , Hydraulic systems & components
BMG supplies a wide range of HydraForce electro-proportional valves, which are suitable for use in many applications in agriculture, construction, materials handling, fluid conveyance, mining and quarrying. 
...
Read more...
---
The unforeseen costs of counterfeit bearings
Second Quarter 2021 , Shaft power components
Downtime, consequential damage, reduced lifespan, poor performance and safety are just some of the dangers of using counterfeit bearings, which are increasingly prevalent across South African industry, 
...
Read more...
---
Breathers and spin-on elements
Second Quarter 2021, Bearing Man Group T/A BMG , Hydraulic systems & components
BMG's fluid technology filtration solutions comprise a wide range of fluid power components and systems, which are supported by the team's broad technical capabilities to ensure fluids operate within 
...
Read more...
---
BMG contributes to YES programme
Second Quarter 2021, Bearing Man Group T/A BMG , News & events
BMG – part of the Engineering Solutions Group (ESG) of Invicta Holdings – is participating in South Africa's Youth Employment Service (YES) Programme, which is a joint initiative between the government 
...
Read more...
---