printer friendly version
Counting their chickens before they hatch
First Quarter 2021
Shaft power components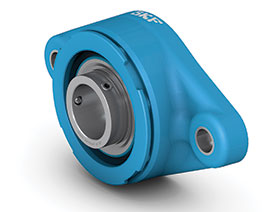 The introduction of food line (blue line) bearing units by SKF, in collaboration with its Authorised Distributor, Bearing Services (BSA) Polokwane, has reduced downtime and increased plant reliability for Spif Chickens, a high throughput export approved abattoir and leader in South Africa's chicken processing industry.
BSA regional manager, Andre Jansen van Vuuren explains that extreme contamination by chicken waste is a common challenge faced by the chicken processing industry. "Subsequent frequent high pressure wash-downs cause water contamination within the bearing, reducing lubrication life.," he says. "Owing to premature bearing failures and concerns around chemical and water ingress, Spif Chicken was compelled to replace bearing units with new bearings on the application every three months. In addition to facing regular downtime with accompanying time constraints and cost implications, our customer also had to put a detailed maintenance process in place."
The blue line range of bearings has been specially developed by SKF for conveyor applications in food and beverage plants where bearings are exposed to extreme contamination, making regular washdowns and food safety the order of the day. Jansen van Vuuren says that the relubrication-free blue line bearing boasts a unique seal which makes use of multiple channels that direct water away from the sealing lip during washdowns; the water exits the seal by gravity when the bearing is stationary. The optional end covers and back seals prevent high pressure spraying from directly hitting the bearing seals during washdowns, consequently further reducing the possibility of water ingress into the bearing.
He adds that the back seal, which is seated on the shaft, provides an additional barrier to prevent contaminants from the lines reaching the enclosed bearing. Furthermore, the smooth housing surface eliminates crevices where soiling can occur, thereby facilitating the washdown process.
SKF received the order from Spif Chicken for the supply of four blue line bearing units in March 2020. The bearings, which were supplied as completely sealed units with end cover and back seal, were ex European Distribution Centre and delivery was arranged via air freight. The bearings arrived just prior to South Africa's national Covid-19 level 5 lockdown. Jansen van Vuuren points out that these bearings are easy to install, requiring no customer training; Spif Chicken successfully completed the bearing installation under BSA's supervision.
As an essential service provider, Spif Chicken's plant remained operational during the lockdown period. "The blue line bearings have successfully passed their initial trial period and I am extremely pleased to report that, eight months on, the units are still running smoothly, showing no signs of premature failure. Alongside minimised plant stoppages and increased uptime and plant reliability, Spif Chickens is now able to implement washdown procedures with complete confidence, freeing up time to focus on production. Spif Chicken is considering expanding our bearing solution to other production areas," concludes Jansen van Vuuren.
For more information contact Samantha Joubert, SKF South Africa, +27 11 821 3500, samantha.joubert@skf.com, www.skf.com
Credit(s)
Further reading:
Bearing solution for demanding applications
Shaft power components
The latest bearing solution for arduous and demanding industries has been launched by Bearings International (BI). The new Rexnord RN series of metric bearings offers cutting edge design with unmatched 
...
Read more...
---
Power transmission components
Bearing Man Group T/A BMG Shaft power components
BMG's comprehensive range of Tsubaki encompasses pin gear drive units that replace conventional gear rack systems. Tsubaki standard series (steel) and the S series (stainless steel) pin gear drive units 
...
Read more...
---
Spherical roller bearings for continuous casting
Shaft power components
The bearings used in continuous casting machines have to endure arduous operating conditions that include high temperatures, heavy loads, ultra-low speeds, water/water vapour and scale. As a result, bearing 
...
Read more...
---
Energy from the power of the moon
SKF South Africa Editor's Choice Shaft power components
It is intended to help reduce climate-damaging CO
2
emissions, slow down global warming and thus build a more sustainable future for generations to come. With the help of modern technology from SKF, 
...
Read more...
---
ML based predictive maintenance
SKF South Africa Other technologies
Read more...
---
Spindle screw pumps
Bearing Man Group T/A BMG Shaft power components
BMG supplies and supports the full range of SEIM spindle screw pumps, flow meters and in-line relief valves. "These robust pumps and related products – which are manufactured to stringent quality specifications 
...
Read more...
---
Complete solutions for the mining value chain
Shaft power components
Bearings International (BI) has products for the entire mining value chain, from the beginning of mining operations to their end of life. This encompasses all types of mining operations, from opencast 
...
Read more...
---
Common gear problems to look out for
Shaft power components
Like any mechanical element, gears are subject to wear and if this is not addressed, even failure. Callum Ford, national marketing manager at Lubrication Engineers (LE) South Africa, says that during 
...
Read more...
---
Components for submerged chain conveyors
Bearing Man Group T/A BMG Shaft power components
BMG's extensive power transmission range encompasses HEKO conveyor components, including round link chains which have been designed for dependable use in many harsh environments. "High wear-resistant 
...
Read more...
---
The unforeseen costs of counterfeit bearings
Shaft power components
Downtime, consequential damage, reduced lifespan, poor performance and safety are just some of the dangers of using counterfeit bearings, which are increasingly prevalent across South African industry, 
...
Read more...
---