printer friendly version
SMC's new virtual showroom
First Quarter 2021
News & events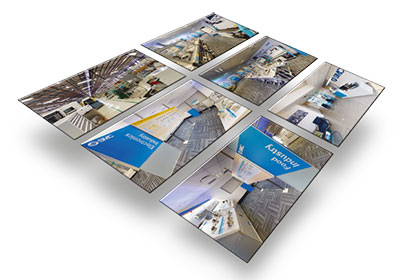 SMC Corporation South Africa is proud to announce the launch of its new 360-degree interactive virtual showroom. Locally designed and developed by Joanne Zimmerman, it was created to extend the company's visibility to all provinces, and in fact globally. This is not only because of the Covid-19 pandemic, but also because SMC services customers across the whole of southern Africa from its Johannesburg warehouse and headquarters.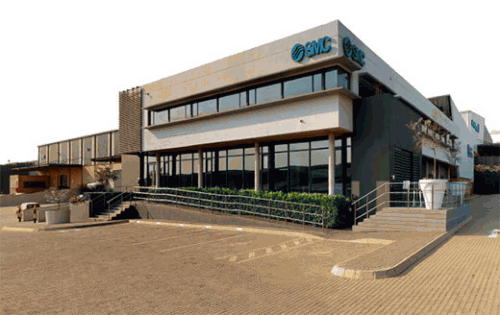 SMC Corporation's vast portfolio of automation products and their applications can be daunting. The showroom provides an excellent way to explore the products, their applications and the improvements and solutions they provide. "Travelling to Johannesburg from outside Gauteng usually means an entire day out of the office with expensive travel costs," says Zimmerman. "This way we can take our showroom to our customers instead." The showroom is also integrated into Google Maps for quick access.
A key benefit of the virtual showroom is its ease of use. Upon entering the virtual Midrand office, visitors are presented with several circles from which to choose their options:
• Grey circles move visitors to different parts of the building.
• Blue circles are for zooming in, including links to more technical information on the products themselves.
• Red circles in the reception area reveal a quick overview video of what to expect on the virtual tour, as well as SMC's corporate video. Finding a red circle on a product indicates that there is a handy product video to be found there too.
• Locally manufactured products are highlighted on the Africa pedestal at the entrance to the showroom, while in the training room, training aids and products can be seen, along with the courses on offer.
SMC plans to continuously review and expand the showroom with more content and demonstration videos, which promise to be as good as having a meeting with a technical consultant.
Experience SMC's new virtual showroom at https://www.smc.eu/en-za/virtual-tour.
For more information contact SMC Corporation South Africa, +27 10 900 1233, zasales@smcza.co.za, www.smcza.co.za
Further reading:
Danfoss continues to invest in sustainable transformation
First Quarter 2021, Danfoss , News & events
There has been growing momentum in the energy sector, and governments across the world are committing to a transition to low-carbon economies. At the recent opening of the Investing in Africa Mining Indaba, 
...
Read more...
---
ABB sensor onboard SpaceX rocket to detect greenhouse gas emissions
First Quarter 2021, ABB South Africa , News & events
An optical sensor manufactured by ABB was deployed with the successful launch of satellite Hugo from GHGSat, the emerging leader in greenhouse gas sensing services in space.
Read more...
---
From the editor's desk: The sun in a bottle
First Quarter 2021, Technews Publishing , News & events
I was recently captivated by the sheer scale of a new technology. On the horizon is the promise of something way bigger than renewable energy – nuclear fusion – with the vision of a clean and endless 
...
Read more...
---
Siemens and CSIR to boost 4IR
First Quarter 2021, Siemens Digital Industries , News & events
South Africa's pursuit of 4IR received a massive boost when the CSIR and Siemens South Africa entered into a partnership to empower the country with digital skills. The two organisations have signed an 
...
Read more...
---
The digital sensor age is here
First Quarter 2021 , News & events
In an ever-growing digital world, Danfoss Industrial Automation has repositioned itself as Danfoss Sensing Solutions, representing the union of application-driven sensor technologies and unparalleled 
...
Read more...
---
Willem Gijzelaar retires from Bosch Rexroth
First Quarter 2021 , News & events
Willem Gijzelaar, group marketing manager at Bosch Rexroth South Africa, retired in December 2020 after 35 years' service at the company and 47 years in the fluid power industry. Beginning his career 
...
Read more...
---
Schneider Electric supports GivingTuesday
First Quarter 2021, Schneider Electric South Africa , News & events
Schneider Electric South Africa has, in the run up to GivingTuesday, rolled out complimentary virtual training to its education partners network across southern Africa. These digital training sessions 
...
Read more...
---
Gimatic expands product range with launch of vacuum product offering
First Quarter 2021 , News & events
Suction cups, vacuum pumps, sensors, and related accessories allow Gimatic's customers to handle different objects in various industrial sectors with low energy consumption and reduced downtime. Gimatic 
...
Read more...
---
Appointments
First Quarter 2021 , News & events
Read more...
---
SEW-Eurodrive's new head office and factory
Fourth Quarter 2020, SEW-EURODRIVE , News & events
SEW-Eurodrive has commenced construction of a new R200 million head office and factory in Everton, Johannesburg in order to accommodate the company's growth. The 25 000 sqm building is being constructed 
...
Read more...
---