printer friendly version
SMC's new virtual showroom
First Quarter 2021
News & events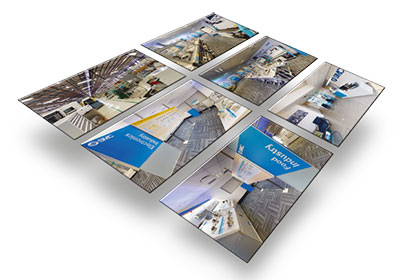 SMC Corporation South Africa is proud to announce the launch of its new 360-degree interactive virtual showroom. Locally designed and developed by Joanne Zimmerman, it was created to extend the company's visibility to all provinces, and in fact globally. This is not only because of the Covid-19 pandemic, but also because SMC services customers across the whole of southern Africa from its Johannesburg warehouse and headquarters.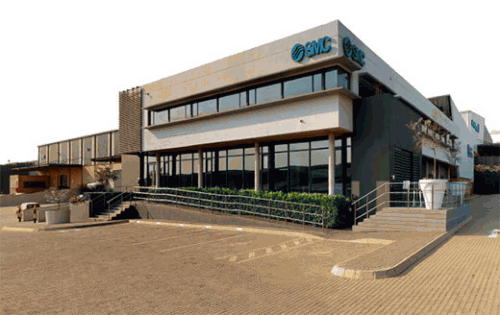 SMC Corporation's vast portfolio of automation products and their applications can be daunting. The showroom provides an excellent way to explore the products, their applications and the improvements and solutions they provide. "Travelling to Johannesburg from outside Gauteng usually means an entire day out of the office with expensive travel costs," says Zimmerman. "This way we can take our showroom to our customers instead." The showroom is also integrated into Google Maps for quick access.
A key benefit of the virtual showroom is its ease of use. Upon entering the virtual Midrand office, visitors are presented with several circles from which to choose their options:
• Grey circles move visitors to different parts of the building.
• Blue circles are for zooming in, including links to more technical information on the products themselves.
• Red circles in the reception area reveal a quick overview video of what to expect on the virtual tour, as well as SMC's corporate video. Finding a red circle on a product indicates that there is a handy product video to be found there too.
• Locally manufactured products are highlighted on the Africa pedestal at the entrance to the showroom, while in the training room, training aids and products can be seen, along with the courses on offer.
SMC plans to continuously review and expand the showroom with more content and demonstration videos, which promise to be as good as having a meeting with a technical consultant.
Experience SMC's new virtual showroom at https://www.smc.eu/en-za/virtual-tour.
For more information contact SMC Corporation South Africa, +27 10 900 1233, zasales@smcza.co.za, www.smcza.co.za
Further reading:
From the editor's desk: Would you like an NFT?
Technews Publishing News & events
One of my favourite light-hearted books is called Fifty Flippen Brilliant South Africans and Elon Musk stands out as one of the giants. He is one of the most iconic inventors and entrepreneurs of our 
...
Read more...
---
Fuchs Lubricants sees major growth in Africa
News & events
Moving to a centralised new head office in Isando, Johannesburg and launching a new unified product brand image in mid-November is all part of a long-term strategy for sustained growth and expansion at 
...
Read more...
---
Hytec Rustenburg establishes permanent site in Marikana
News & events
Hytec Rustenburg has established its first 24/7 satellite mine site at a prominent mine in the North West province. This enables Hytec SA to provide a tailored maintenance programme and stock a selection 
...
Read more...
---
Danfoss acquires Eaton's hydraulics business
Danfoss News & events
Danfoss has officially finalised its $3,3 billion acquisition of Eaton's hydraulics business. The move will see the Danfoss Group grow in size by a third and establish itself as a global leader in mobile 
...
Read more...
---
Festo Didactic helps customers unpack their full learning potential
Festo News & events
Technological changes are continually transforming tasks in companies today. Investment in technologies and machines alone is not enough to ensure success. Festo recognises that skilled employees are 
...
Read more...
---
Engineering Solutions Group achieves Level 2 B-BEEE status
News & events
Invicta Holdings' Engineering Solutions Group (ESG) − distributors of engineering consumables, automotive components, technical services and related solutions − has achieved recognition as a Level 2 contributor 
...
Read more...
---
BMG opens new branch in Maun
News & events
BMG has extended its service in Botswana, with the opening of a new branch in Maun. "BMG now has two dedicated branches in Botswana – one in Gaborone, which was established in 1998 to service and supply 
...
Read more...
---
Fuchs Lubricants achieves top certification
News & events
Fuchs Lubricants South Africa has achieved IATF 16949:2016 certification, which aims at providing improved quality products to automotive customers worldwide. IATF 16949, specified by The International 
...
Read more...
---
Festo's life science webinar on gas handling opens up new horizons
Festo News & events
How piezo technology more efficiently regulates flow rate and pressure.
Read more...
---
Parker Hannifin announces new two-day online oil and gas event
Parker Hannifin - Sales Company South Africa News & events
Parker Hannifin has announced that it will hold an online trade show dedicated to the oil and gas industry, on 6 and 7 October.
Read more...
---