printer friendly version
Solutions for shipping
First Quarter 2021
Shaft power components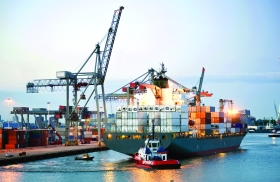 The marine industry is tough. Whether you are operating a single vessel or an entire fleet, challenging sea conditions, rising costs and increasing environmental and safety regulations are affecting profitability and operational efficiency. Technical knowledge gaps and reduced crew numbers present further challenges; staying ahead in the marine industry requires a concerted effort across many fields.
When a ship is out at sea, outside support is a long way off and rough seas present extreme working conditions. Equipment reliability and flexibility is therefore paramount. SKF's marine solutions encompass easy, cost-efficient products and a full portfolio of high-quality components designed to deliver high reliability, serviceability and long service life to keep customers' operations running smoothly.
The company's extensive marine portfolio includes seals, rolling, slewing and plain bearings and housings, fin stabilisers and steering gear solutions, condition monitoring, power transmission products (couplings), automatic lubrication systems and related services.
For most machinery, even small oil leaks can present a big problem. Today's increasingly aggressive lubricants can threaten seal performance, damaging vital equipment which can lead to unplanned maintenance and subsequent downtime. Fitting the right seals will reduce friction, retain lubricity and keep contaminants out of the system. SKF has the necessary expertise to help identify the right seal for each individual application. Simplex and all SKF seals are designed to provide cost-effective, reliable sealing performance. Available in a range of designs, sizes and materials, these products can be delivered promptly around the globe.
The operational efficiency of the line-shafting of a ship's propulsion plant is mainly determined by the quality of the bearings used. Simplex Intermediate bearings, characterised by their short shell length, are developed especially for this purpose as short, plain bearings.
The running properties of the bearing metal have been optimised with a technically advanced bonding of the bearing metal and shell and can be precisely aligned to avoid edge loading. The vital lubrication of the bearing is safeguarded in the Simplex bearing at all times, even at low shaft speeds. Temperature sensing, monitoring and cooling systems are available for unfavourable operating conditions.
Stabilising systems and steering gears play an essential role in improving the all-important on-board experience for passengers and crew. SKF's wide range of fin stabilisers and steering gear solutions are designed to provide a vessel with better roll reduction on rough seas and can help maintain speeds while reducing fuel consumption.
Ship uptime relies on high performing and available machinery on board. In tough sea conditions, assessing the condition of auxiliary machinery without having to disassemble the equipment is more important than ever before. SKF's condition monitoring solutions enable complete asset condition maintenance for the entire fleet, or a single ship, and are designed to serve a fleet CM program as a foundation of the fleet Condition-Based Maintenance (CBM) strategy that complies with the class societies´ recommendations and requirements. SKF's condition monitoring solutions and all related equipment are aligned with ISO and class requirements.
Power transmission products play a key role in overall bearing performance. They are literally the vital link between moving parts in equipment. To help optimise overall machine performance, SKF has developed a wide range of power transmission products engineered to give engineers more design choices according to performance and cost considerations.
Coupling systems are critical components that connect vital applications such as propeller shafts, propellers and rudder assemblies. If couplings are off by just a fraction, they can be prone to premature wear and shortened life cycles. SKF coupling systems are designed to resist high torques to provide maximum strength– reducing downtime while keeping operations running.
Vibration, high mechanical loads, contamination and moisture are all threats to bearing and gear service life in marine applications. Like any mechanical system, moving parts in engines, gearboxes, propeller shafts, steering gears, winch drives, deck cranes or other auxiliary equipment require proper lubrication to function optimally. SKF and Lincoln automatic lubrication systems help to optimise marine operations by enabling efficient and safe fleet maintenance of all types of vessels.
Credit(s)
Further reading:
Ball screws with nut cooling
Editor's Choice Shaft power components
The machine tool industry uses ball screws to convert the rotary motion of an electric motor into linear motion. Very often, the positioning accuracy, as well as the travel speed and acceleration, have 
...
Read more...
---
Match and Tag for high accuracy in paired chain
Bearing Man Group T/A BMG Shaft power components
Modern machinery often requires chains of precisely the same length to be used in pairs or other multiples. For these applications, BMG specialists recommend Tsubaki Match & Tag chains, which guarantee 
...
Read more...
---
Draw-wire mechanisms for encoders
ifm - South Africa Shaft power components
Draw-wire mechanisms for encoders are the ideal choice when positions must be accurately determined over straight lines. Examples of their use range from short distances, for example with scissor lifts 
...
Read more...
---
New series of metric roller bearings
Bearing Man Group T/A BMG Shaft power components
BMG's bearings portfolio extends from precision miniature bearings used in machine tools and electronics applications to giant-size bearings that meet high demands in steel and mining. This range has 
...
Read more...
---
Coupling considerations for designers
Shaft power components
For designers, spending time selecting the perfect coupling may be low on the priority list. However, ensuring an efficient and reliable connection between two shafts is paramount for system reliability 
...
Read more...
---
Bearings drive cost-saving in food plants
Shaft power components
NSK's Life-Lube bearing units are proving increasingly popular in the food and beverage industry and with good reason. These advanced bearings combine the corrosion-resistant properties of Silver-Lube 
...
Read more...
---
High strength friction transmission belts
Bearing Man Group T/A BMG Shaft power components
BMG supplies a wide range of power transmission components designed to enhance efficiency and safety in the food and beverage sector. Included in this portfolio are Fenner high strength friction transmission 
...
Read more...
---
Power transmission solutions for the sugar sector
Bearing Man Group T/A BMG Shaft power components
BMG plays a critical role in the sugar sector, not only during the operational period of sugar production, but also in off-crop seasons, when maintenance and refurbishment on sugar farms and at mills 
...
Read more...
---
New optimised quick coupling series
Parker Hannifin - Sales Company South Africa Shaft power components
Parker Hannifin has launched the new optimised FEM Quick Coupling Series which offers an increased working pressure up to 350 bar and a decreased pressure drop for better flow properties. The revised 
...
Read more...
---
Spherical roller bearings for tough environments
Shaft power components
Unforeseen bearing failures in production-critical machines and equipment can prove extremely costly in replacement parts, labour and downtime. This problem becomes worse in contaminated environments 
...
Read more...
---