printer friendly version
Product-specific packaging with PC-based control
Second Quarter 2021
Electrical switching & drive systems & components
Kern in Konolfingen, Switzerland, is a family business founded more than 70 years ago and originally rose to success with enveloping machines. However, the market for enveloping machines is declining. This provided the impetus to establish a new foothold in a promising related market, e-commerce.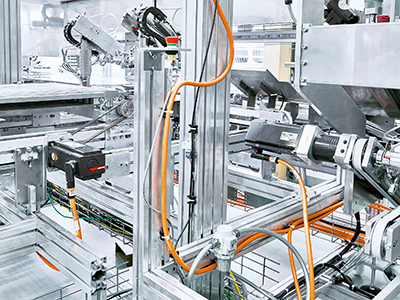 Image copyright: © Kern AG
The newly developed PackOnTime system enables automated and on-demand packaging of ordered products in shipping boxes produced to the perfect size. This saves packaging material, space and time. "We create a package with precisely the right size in the space of only 30 to 40 seconds," says Kern's subproject manager, Reto Schori. The only materials used are sustainable corrugated cardboard and glue. The system is capable of producing and filling up to 750 customised packages per hour. It can be operated efficiently by just one person.
"We spent a long time developing and utilising our own control systems. However, in 2016, we realised that we could no longer maintain the workload. With our own controllers we did not achieve the desired speeds," reports Marcel Stalder, head of development at Kern. "Based on our positive experience during evaluation, we decided on Beckhoff as our control systems supplier. Since then, all new projects have been implemented with PC-based control from Beckhoff."
One of the reasons for using PC-based control is its open design allowing different standards. "We initially had the idea of re-using software elements developed for our own controls systems. However, that ultimately turned out to be unnecessary," adds Schori. Kern chose a high-performance CX2062 Embedded PC with Intel Xeon CPU (2,0 GHz, eight cores) for the PackOnTime control system.
After switching to Beckhoff automation technology, the control software was initially created with Structured Text. "However, this type of programming required additional documentation overhead," says Schori. "That is why we decided to switch to TwinCAT 3 UML. The TwinCAT Editor for the Unified Modelling Language (UML) offers the advantage that the software is comprehensibly documented simultaneously with the development."
Optimal design and synchronisation of drive axes
Drive technology plays a major role in PackOnTime. Currently, around 100 drive axes are utilised in the plant prototype and a further 30 are planned. "It is very important that Beckhoff offers an extremely wide range of drive technology. With previous suppliers, we usually had to decide on one type of motor and one type of motion controller and then implement almost all of the applications with these. This sometimes proved difficult with regard to the parameterisation," explains Schori. "Beckhoff offers an extensive product catalogue, enabling us to select the optimum motor for every application as well as the ideal drive technology with the AX8000 Servo Drive and the EL72xx servomotor terminals. One Cable Technology (OCT) is another benefit because it significantly reduces the amount of cabling required."
Along with the decision to go with PC-based control, EtherCAT was also selected for the fieldbus and is utilised consistently with PackOnTime. "EtherCAT has truly proven its value in our system. The ability to synchronise the axes with each other extremely easily via EtherCAT was not possible with the previous control system and CANopen bus technology," says Schori. "The fact that a great number of suppliers now support EtherCAT was another advantage."
Kern is also impressed by the performance of EtherCAT, which will improve significantly with the new EtherCAT G technology upgrade. "Currently, the performance when implementing PackOnTime is completely adequate. However, EtherCAT G, which is based on 1 or 10-Gbit Ethernet, may become an important factor in the future, as our modular system will be expanded to include additional modules," adds Patrick Vogel, PackOnTime project manager at Kern.
Service tool increases reliability
Kern recommends that service organisations use the Beckhoff Service Tool (BST) to maintain their systems and machines. "We believe it is essential to be able to replace a component in the field at any time, even an IPC. That is why a tool like this is simply indispensable from our point of view," concludes Schori. BST is a user-friendly, graphical backup and restore program for Industrial PCs with a Windows operating system. In the event of failure, the operating system image can be restored or used to create a new IPC system with identical configurations and settings.
For more information contact Dane Potter, Beckhoff Automation, +27 79 493 2288, danep@beckhoff.com, www.beckhoff.co.za
Credit(s)
Further reading:
Light, invisible e-bike drive
Third Quarter 2021, DNH Tradeserve , Electrical switching & drive systems & components
E-bikes are conquering cities, rural areas and mountains. Many existing systems provide powerful support but are heavy and sluggish to handle. With the Bikedrive Air, maxon presents an invisible e-bike 
...
Read more...
---
PC-based control runs the stage machinery for Rigoletto
Third Quarter 2021, Beckhoff Automation , Editor's Choice, Electrical switching & drive systems & components
In the production, the court jester Rigoletto becomes a clown. Only the head, encircled by a wide collar, and the hands of the gigantic clown protrude from the lake. Eventually the clown becomes the victim 
...
Read more...
---
Festo gets to the heart of the matter with the Process and Electric Automation campaign
Third Quarter 2021, Festo South Africa , Electrical switching & drive systems & components
The company supplies customers with a comprehensive range of complete solutions from components all the way to commissioning that aid in sustaining their business. For the first time, they are offering 
...
Read more...
---
Wind turbines brakes
Third Quarter 2021 , Electrical switching & drive systems & components
A global demand for clean energy has caused the offshore wind sector to grow exponentially. Climate policy is pushing OEMs to build larger wind turbines to deliver increased power output to meet green 
...
Read more...
---
Electric motors without magnets
Third Quarter 2021 , Editor's Choice, Electrical switching & drive systems & components
Permanent magnets, though, come with their own baggage. 97% of the world's rare earth metal supply comes out of China and state control over such a crucial resource across a number of high-tech industries 
...
Read more...
---
Customised technologies to boost industrial performance
Third Quarter 2021 , Electrical switching & drive systems & components
The Maxolutionò solutions from SEW-EURODRIVE are fully integrated and customised technologies that automate, integrate, upgrade and streamline your existing production processes while still allowing for 
...
Read more...
---
Solving turbo problems
Third Quarter 2021 , Electrical switching & drive systems & components
Many vehicle owners and workshops have little knowledge of turbochargers and the correct procedure in troubleshooting and identifying the problems and true causes of turbo failures, so it is advisable 
...
Read more...
---
If it doesn't exist, create it
Third Quarter 2021 , Electrical switching & drive systems & components
Hawk Pumps is dedicated to innovation, growth and problem solving. Troy Mokawem, national operations manager at Hawk Pumps, believes that innovation begins with a bit of inspiration and talks about two 
...
Read more...
---
Another efficiency boost for motor users
Third Quarter 2021, Zest WEG Group Africa , Electrical switching & drive systems & components
In the face of rapidly rising electricity costs in South Africa, Zest WEG is phasing in IE4 super premium efficiency motors in its WEG W22 range from April 2021. This will save on customers' bottom lines 
...
Read more...
---
Festo perfectly integrated Electric Automation solutions for a complete drive system
Third Quarter 2021, Festo , Electrical switching & drive systems & components
The servo drive CMMT-AS/ST and servo motor EMMT-AS are some of the products that Festo recently featured in their 'heart of absolute automation' campaign. Their campaign aims to enhance machine performance. 
...
Read more...
---