printer friendly version
Mars helicopter makes history
Second Quarter 2021
Editor's Choice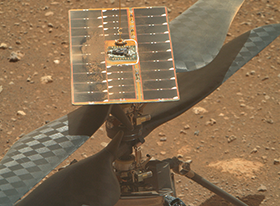 Space fans are thrilled. NASA's Ingenuity helicopter has successfully completed its first pioneering flight on Mars.
This is the first time in the history of powered, unmanned spaceflight that a device has flown in a controlled manner on another planet – with the help of DC motors from maxon motor. The helicopter flew over the surface of the Red Planet for about 40 seconds on April 19 and landed back on four legs. This is an historic event on par with the Wright brothers' first controlled flight in 1903. Ingenuity is completing several flight units over a period of 30 days, lasting up to 90 seconds and bringing it to a maximum altitude of five metres.
The helicopter is equipped with six brushed DC motors from maxon motor, which have been specifically modified for this challenge. The DCX series of drives, with diameters of 10 mm, control the pitch of the rotor blades and therefore the course of the helicopter, which weighs only 1,8 kg and is solar powered. The lightweight design is a prerequisite for a successful flight on the Red Planet, where there is hardly any atmosphere, making conditions similar to those at an altitude of 30 km on Earth. maxon's drives are also used in the Perseverance Rover. Ten BLDC motors and a special gearbox will handle the soil samples inside the Rover. The first of these motors has already successfully completed its task. It placed the Mars helicopter safely on the ground on February 18.
For more information contact Hans Burri, DNH Tradeserve, +27 11 468 2722, hans.burri@dnhtrade.co.za, www.dnhtrade.co.za
Credit(s)
Further reading:
The top three reasons cylinders fail
Parker Hannifin - Sales Company South Africa Editor's Choice
Cylinder operation requires precise fluid pressure on both sides of the piston. If a seal breaks down and allows fluid to leak from one side of the piston to the other or out of the cylinder altogether, 
...
Read more...
---
Rugged, reliable electro-hydraulics
Axiom Hydraulics Editor's Choice
From simple switching valves to sophisticated closed-loop control, Sun's line of E-H products powers your most demanding applications.
Read more...
---
What you should know about air preparation
Editor's Choice
Compressed air quality has three potential problem areas to consider: particles, water and oil.   
• Dust and other airborne particles: The compressed air leaving the compressor room, which has already 
...
Read more...
---
Superconductivity for aircraft
Editor's Choice Other technologies
In 1911, Dutch physicist Heike Kamerlingh Onnes found himself preoccupied with one question: what happens to the electrical conductivity of pure metals at very low temperatures? During an experiment, 
...
Read more...
---
Yaskawa steps into the future
Editor's Choice Robotics & Mechatronics
Crackett says that Yaskawa Southern Africa has installed more than 2500 Motoman robots. The company's main target market is automotive, having cut its teeth here when Terry Rosenberg first started up 
...
Read more...
---
Cool move for rotor hubs
Editor's Choice Electrical switching & drive systems & components
At the company's new Mechatronic Competence centre, machine houses and rotor hubs are produced for the entire Enercon range of products. After painting, the large volume cast bodies of the rotor 
...
Read more...
---
How to embrace the benefits of smart pneumatics
Emerson Automation Solutions Editor's Choice Pneumatic systems & components
Understand how this challenge creates opportunities
It is important to consider how insights from data can help end-users react to real-time events or even predict the future. For example, the Emerson 
...
Read more...
---
Light, invisible e-bike drive
DNH Tradeserve Electrical switching & drive systems & components
E-bikes are conquering cities, rural areas and mountains. Many existing systems provide powerful support but are heavy and sluggish to handle. With the Bikedrive Air, maxon presents an invisible e-bike 
...
Read more...
---
PC-based control runs the stage machinery for Rigoletto
Beckhoff Automation Editor's Choice Electrical switching & drive systems & components
In the production, the court jester Rigoletto becomes a clown. Only the head, encircled by a wide collar, and the hands of the gigantic clown protrude from the lake. Eventually the clown becomes the victim 
...
Read more...
---
Robotics and the potential for the lights-out factory
Omron Electronics Editor's Choice Other technologies
However the 100% automated, fully lights-out factory is not a realistic goal for a large proportion of manufacturing businesses currently operating. A key reason is that manufacturing needs people. Human 
...
Read more...
---