printer friendly version
Festo gets to the heart of the matter with the Process and Electric Automation campaign
Third Quarter 2021
Electrical switching & drive systems & components
Festo, a leading global automation supplier, is encapsulating the fist-sized powerhouse that sustains life in the human body with their latest campaign themed 'heart of absolute automation'. The task of a heart is to pump enough blood to deliver a continuous supply of oxygen and other nutrients to the brain and other vital organs – the same philosophy is realised at Festo.
The company supplies customers with a comprehensive range of complete solutions from components all the way to commissioning that aid in sustaining their business. For the first time, they are offering customers the benefits of Electric and Process Automation in a campaign that integrates both sectors. The company believes that the combination of these two industry sectors and their distinguished Pneumatic Automation solutions will bring their customers to the 'heart of absolute automation'.
Blood moves through many tubes called arteries and veins, which together are termed blood vessels. Through their Process Automation solutions, Festo helps their customers discover the best vessels to control and transfer their media from point A to B, as in the human body anatomy. For proper functioning of the heart, the conduction system consists of cardiac muscles that connect the brain to the heart. The same analogy is applied in Festo Electric Automation solutions as they also offer seamless functioning from components which play the role of the heart to the cloud which serves as the brain of the application.
Electric Automation solutions that cover the complete spectrum
"When customers are faced with cost reductions, looking at individual component costs is not enough. Machine builders and end-users need to look at the overall benefits achieved by automation providers", said Marcus Gericke, the head of Electric Automation at Festo. These providers need to cover the complete spectrum of automation equipment and maintain the flexibility to integrate into almost every higher-level controller, he added. As in the conduction system, seamless connectivity aims to make different and complex interfaces simple and easy to handle. Using Festo solutions is more reliable and reduces the required time for implementation. In the conduction system of the heart, nodes generate an electrical signal that controls the contracting of the upper heart. At Festo, the Automation System CPX-E serves as the node in automation as it controls the functions for handling technology.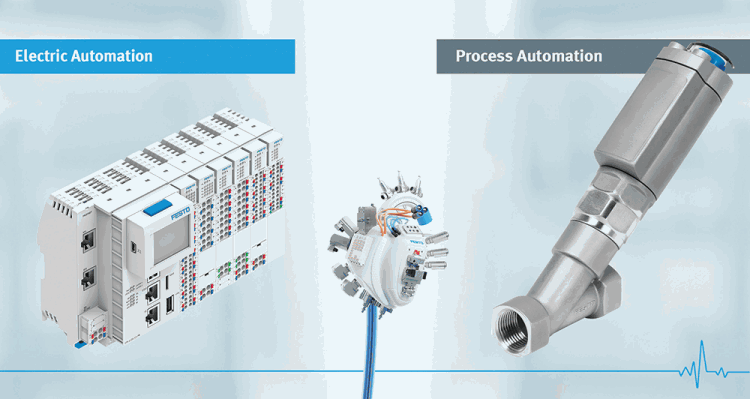 Automation System CPX-E
The automation system CPX-E is a high-performance motion control and PLC automation system that comprises of individual function modules that allow a very flexible system structure. Depending on the combination, the automation system CPX-E can be configured and used purely as a remote I/O system or as a complete control system. In addition to comprehensive PLC functions right up to multiple axis applications with interpolation, the CPX-E can be easily integrated into existing host systems. This is made possible by the EtherCAT master interface, the integrated PROFINET or EtherNet/IP slave interface. The OPC UA client and server functions ensure easy integration and interoperability in Industry 4.0 host environments with cloud and digitalisation concepts.
World-leading Process Automation solutions
"At Festo, we offer our customers holistic solutions that are imperative within the process industry," said Russell Schwulst, head of Process Automation. Whether you need a simple process valve or a complete solution comprising process valves, linear and rotary actuators, pinch valves, remote I/O, and PLC - we can deliver, he added. Products, solutions, expertise, and passion define the Festo Process Automation offering. In the heart, blood vessels take blood to every part of the body to ensure proper functioning. The same concept applies to Festo Process Automation solutions. They have a complete range of products that control and ensure that media travels effortlessly to all parts of the machine. This means that they can find the ideal solution for their customer's process requirements without shoehorning a solution to fit your application because of a limited product range. An example of their product is the Angle Seat VZXA.
Angle Seat Valve VZXA
The VZXA easily adapts to the task in hand thanks to its range of variants, thus maximising flexibility and minimising the effort involved in designing your application. The carefully thought-out product architecture means valve bodies and actuators can be freely combined. The modular product concept makes it easier to modify and maintain systems without removing the entire valve. Different actuators and valve bodies can be combined for easy integration into the application. Individual, function-tested modules simplify replacement in the case of expansion or maintenance. This unique interface between the actuator and the valve body means that the actuator can be replaced without opening the piping. In addition, the patented seal system prevents the operating medium from leaking out. This will be achieved by helping customers easily achieve maximised productivity and enhance competitiveness in the industry.
Festo is more than just pneumatics. They also provide quality Process and Electric Automation solutions. The company is uniquely positioned to be a complete automation solutions partner. Their objective is to provide innovative solutions to solve the most challenging automation problems. Furthermore, they continue to advance industrial automation with proven innovations, customised design solutions, and exceptional service.
Credit(s)
Further reading:
Light, invisible e-bike drive
Third Quarter 2021, DNH Tradeserve , Electrical switching & drive systems & components
E-bikes are conquering cities, rural areas and mountains. Many existing systems provide powerful support but are heavy and sluggish to handle. With the Bikedrive Air, maxon presents an invisible e-bike 
...
Read more...
---
PC-based control runs the stage machinery for Rigoletto
Third Quarter 2021, Beckhoff Automation , Editor's Choice, Electrical switching & drive systems & components
In the production, the court jester Rigoletto becomes a clown. Only the head, encircled by a wide collar, and the hands of the gigantic clown protrude from the lake. Eventually the clown becomes the victim 
...
Read more...
---
Wind turbines brakes
Third Quarter 2021 , Electrical switching & drive systems & components
A global demand for clean energy has caused the offshore wind sector to grow exponentially. Climate policy is pushing OEMs to build larger wind turbines to deliver increased power output to meet green 
...
Read more...
---
Electric motors without magnets
Third Quarter 2021 , Editor's Choice, Electrical switching & drive systems & components
Permanent magnets, though, come with their own baggage. 97% of the world's rare earth metal supply comes out of China and state control over such a crucial resource across a number of high-tech industries 
...
Read more...
---
Customised technologies to boost industrial performance
Third Quarter 2021 , Electrical switching & drive systems & components
The Maxolutionò solutions from SEW-EURODRIVE are fully integrated and customised technologies that automate, integrate, upgrade and streamline your existing production processes while still allowing for 
...
Read more...
---
Solving turbo problems
Third Quarter 2021 , Electrical switching & drive systems & components
Many vehicle owners and workshops have little knowledge of turbochargers and the correct procedure in troubleshooting and identifying the problems and true causes of turbo failures, so it is advisable 
...
Read more...
---
If it doesn't exist, create it
Third Quarter 2021 , Electrical switching & drive systems & components
Hawk Pumps is dedicated to innovation, growth and problem solving. Troy Mokawem, national operations manager at Hawk Pumps, believes that innovation begins with a bit of inspiration and talks about two 
...
Read more...
---
Another efficiency boost for motor users
Third Quarter 2021, Zest WEG Group Africa , Electrical switching & drive systems & components
In the face of rapidly rising electricity costs in South Africa, Zest WEG is phasing in IE4 super premium efficiency motors in its WEG W22 range from April 2021. This will save on customers' bottom lines 
...
Read more...
---
Festo perfectly integrated Electric Automation solutions for a complete drive system
Third Quarter 2021, Festo , Electrical switching & drive systems & components
The servo drive CMMT-AS/ST and servo motor EMMT-AS are some of the products that Festo recently featured in their 'heart of absolute automation' campaign. Their campaign aims to enhance machine performance. 
...
Read more...
---
Sugar masterplan is sweet news
Third Quarter 2021 , Electrical switching & drive systems & components
The sugar masterplan being implemented by the government has seen a commitment from large users to procure at least 80% of their requirements from local growers. The result has been a significant boost 
...
Read more...
---