printer friendly version
Customised technologies to boost industrial performance
Third Quarter 2021
Electrical switching & drive systems & components
The Maxolutionò solutions from SEW-EURODRIVE are fully integrated and customised technologies that automate, integrate, upgrade and streamline your existing production processes while still allowing for future technology to be incorporated.
"Our strength is in our expertise and knowledge of assessing and implementing the right solution for your system objectives," says Maxolutionò engineer, Dylan Enslin. "The technologies behind our Maxolutionò systems are extremely advanced and take into consideration that industry and its processes are constantly evolving, recognising the requirement for future upgrades and adjustments.
"Whether a customer is needing to source or enhance automated guided vehicles (AGV), electrified mono systems (EMS) or replace or upgrade motors and gear boxes, we can guide them from the project planning stage through to installation. This ensures that our customised software meets requirements, that communications between machines are configured correctly and that their entire production processes are seamlessly automated, integrated and optimally calibrated for best performance, with one eye on Industry 4.0 and the other eye on the future," he continues.
SEW-EURODRIVE believes that exchangeable modules are the future of factories. The concept of the Maxolutionò systems is that it enables the customers to react swiftly to changes in market requirements as their factory has now evolved into a smart factory with a new, flexible and adaptable modular structure where components and machines are added, duplicated or removed. This provides greater flexibility for production processes to be adjusted when needed and in the most efficient way possible.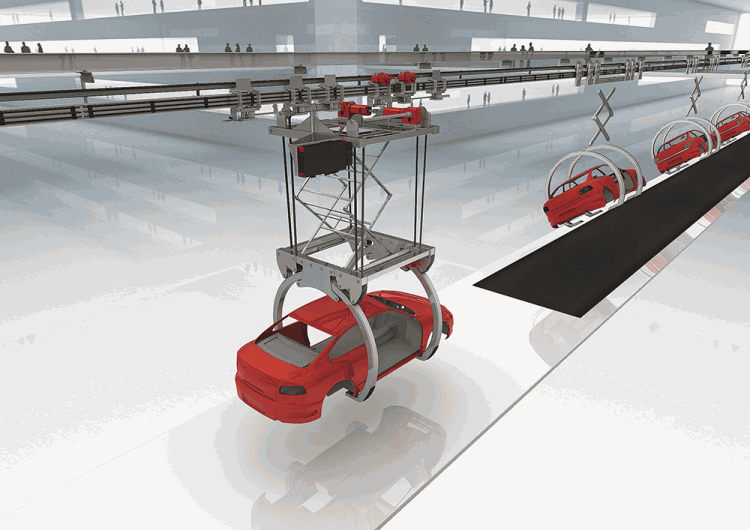 SEW-EURODRIVE was recently commissioned to develop a machine automation project with a customised Maxolutionò software solution. The pre-project assessment included motor and motor size requirements, gear box configurations and what electronic capability was needed to drive the specified motors and synchronised motor capability − critical factors that all needed to be featured into the design phase of the automation project.
SEW-EURODRIVE has also successfully implemented the Maxolutionò concept for torque testing machinery in the mining sector, as well as in the automotive manufacturing sector for an engine line where travel axis/hoist axis, gear box sizing, variable speed drive requirements, motor positioning and electronic communications were specified for the implementation of a EMS system.
Many global companies represented in South Africa, for example, in the automotive sector, have successfully utilised Maxolutionò systems at their European head office and have directed their local offices to implement the system due to its effectiveness and superior technology offering.
"We assist the customers in selecting the best solution for their production requirements by ensuring that all components meet their requirements and are compatible," adds Enslin. "The goal is to deliver a successful integration that supplies smart technology and machinery communications, coupled with a smooth, seamless and efficient system. Maxolutionò offers maximum flexibility with maximum availability – in short it automates and integrates your systems reliably and efficiently. Additionally, it works with external system integrators and OEMs in a supporting role, assisting with project planning, costing and customised or standard software solutions, as well as design recommendations and commissioning.
"As SEW-EURODRIVE has a global presence, it enables the company to tap into the expertise that has been developed across the entire spectrum of its technologies and applications if required. One of the biggest benefits that the company brings to the table is its stock holding, which is exceptionally large and comprehensive and components can be dispatched at very short notice. Nothing is out of reach when it comes to problem solving and conceptualising a future-based integrated system solution from planning through to design through to commissioning," he concludes.
For more information contact Jana Klut, SEW-EURODRIVE, +27 11 248 7000, jklut@sew.co.za, www.sew-eurodrive.co.za
Further reading:
Light, invisible e-bike drive
Third Quarter 2021, DNH Tradeserve , Electrical switching & drive systems & components
E-bikes are conquering cities, rural areas and mountains. Many existing systems provide powerful support but are heavy and sluggish to handle. With the Bikedrive Air, maxon presents an invisible e-bike 
...
Read more...
---
PC-based control runs the stage machinery for Rigoletto
Third Quarter 2021, Beckhoff Automation , Editor's Choice, Electrical switching & drive systems & components
In the production, the court jester Rigoletto becomes a clown. Only the head, encircled by a wide collar, and the hands of the gigantic clown protrude from the lake. Eventually the clown becomes the victim 
...
Read more...
---
Festo gets to the heart of the matter with the Process and Electric Automation campaign
Third Quarter 2021, Festo South Africa , Electrical switching & drive systems & components
The company supplies customers with a comprehensive range of complete solutions from components all the way to commissioning that aid in sustaining their business. For the first time, they are offering 
...
Read more...
---
Wind turbines brakes
Third Quarter 2021 , Electrical switching & drive systems & components
A global demand for clean energy has caused the offshore wind sector to grow exponentially. Climate policy is pushing OEMs to build larger wind turbines to deliver increased power output to meet green 
...
Read more...
---
Electric motors without magnets
Third Quarter 2021 , Editor's Choice, Electrical switching & drive systems & components
Permanent magnets, though, come with their own baggage. 97% of the world's rare earth metal supply comes out of China and state control over such a crucial resource across a number of high-tech industries 
...
Read more...
---
Solving turbo problems
Third Quarter 2021 , Electrical switching & drive systems & components
Many vehicle owners and workshops have little knowledge of turbochargers and the correct procedure in troubleshooting and identifying the problems and true causes of turbo failures, so it is advisable 
...
Read more...
---
If it doesn't exist, create it
Third Quarter 2021 , Electrical switching & drive systems & components
Hawk Pumps is dedicated to innovation, growth and problem solving. Troy Mokawem, national operations manager at Hawk Pumps, believes that innovation begins with a bit of inspiration and talks about two 
...
Read more...
---
Another efficiency boost for motor users
Third Quarter 2021, Zest WEG Group Africa , Electrical switching & drive systems & components
In the face of rapidly rising electricity costs in South Africa, Zest WEG is phasing in IE4 super premium efficiency motors in its WEG W22 range from April 2021. This will save on customers' bottom lines 
...
Read more...
---
Festo perfectly integrated Electric Automation solutions for a complete drive system
Third Quarter 2021, Festo , Electrical switching & drive systems & components
The servo drive CMMT-AS/ST and servo motor EMMT-AS are some of the products that Festo recently featured in their 'heart of absolute automation' campaign. Their campaign aims to enhance machine performance. 
...
Read more...
---
Sugar masterplan is sweet news
Third Quarter 2021 , Electrical switching & drive systems & components
The sugar masterplan being implemented by the government has seen a commitment from large users to procure at least 80% of their requirements from local growers. The result has been a significant boost 
...
Read more...
---