printer friendly version
Solving turbo problems
Third Quarter 2021
Electrical switching & drive systems & components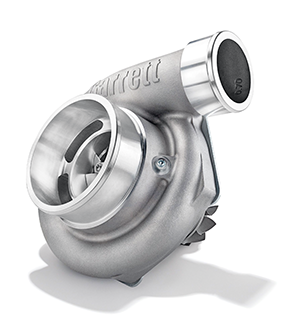 Many vehicle owners and workshops have little knowledge of turbochargers and the correct procedure in troubleshooting and identifying the problems and true causes of turbo failures, so it is advisable to get expert advice from officially trained personnel. This is invariably from the company that holds the official agency for all the brands of turbochargers installed as original equipment OE into the vehicle. The OE turbocharger fitted to your vehicle when it was displayed on the showroom floor can be replaced, at approximately 50% less than the vehicle agents charge for the identical unit. The out-of-warranty vehicle will arrive at the workshop and several things could happen:
1. The turbo is replaced at high cost, without checking what caused the turbo to fail in the first place. Without an accurate diagnosis, the turbo problem could well still exist with the replacement of the new unit, causing another expensive failure.
2. Without an accurate diagnosis of the failure, the turbo could be repaired with replacement parts, without the correct experience, knowledge and equipment. This could be a recipe for disaster, leading to another failed turbocharger and/or engine, intercooler and related sensors in its path should the turbocharger fail catastrophically.
3. The owner will find a new cheap knock-off turbo which is manufactured to incorrect tolerances and/or materials which will not last another service life, costing more money in the short term. Often these turbochargers do not include any form of warranty and where warranty claims are processed, the result is a 'report' claiming dirty oil, foreign object damage, or lack of lubrication. Never have we seen a warranty being honoured by the knock-off importers, due to their extreme lack of knowledge about turbochargers in the first place.
4. Other bad options are fitting a reconditioned/service exchange unit which has not been reassembled with genuine parts. Or the unit has been sand blasted and your old parts have been sold back to you. This is in essence what a service exchange turbocharger consists of. In the case of variable nozzle turbine (VNT) turbochargers, TurboDirect SA has direct access to genuine VNT parts direct from the manufacturer, guaranteeing you the very same part replacement as used in the first part fitted to your new vehicle. The equipment and intellectual property related to the calibration of these types of turbochargers are not published in the public domain, so no original repair parts are available for the repair of these turbos. This includes 99% of the diesel-powered passenger vehicles and bakkies on our roads today. We have invested in the most advanced electronic test benches in the world, including our own in-house manufactured test rigs, which are able to provide critical operational information about the turbocharger, which we utilise in all VNT repairs we conduct. This makes the difference between a reliable, renewed service life and another expensive turbocharger failure.
5. Some turbo repairers may use Chinese copied internal parts inside the turbocharger to repair/recon or build a service exchange turbocharger. Beware of repaired, service exchange turbochargers for passenger vehicles utilising any form of variable geometry technology.
The solution is to obtain the correct technical information from the officially appointed importers and agents for the specific turbocharger. Ensure that the diagnosis of the failure is obtained from qualified persons with the correct technical expertise and ability before proceeding any further. This diagnosis will determine the path to rectifying the problem and may involve additional work to the engine prior to repair or replacement.
"Many turbo car owners make these mistakes and it ends up costing them a fortune and their vehicle's engine may consequentially be damaged through a turbo failure," said Chris Kambouris, founder, owner and MD of TurboDirect SA. "Our company has the technical knowledge and the qualified diagnostic ability to offer all these services. We will accurately diagnose the problem and give a full report. We can do all repairs at very affordable prices and all work is supported by the manufacturer's guarantee on both product and workmanship, as we are the official agents for all the genuine turbochargers for southern Africa."
For more information contact TurboDirect SA, +27 11 392 5195, info@turbodirect.co.za, www.turbodirect.co.za
Further reading:
Light, invisible e-bike drive
Third Quarter 2021, DNH Tradeserve , Electrical switching & drive systems & components
E-bikes are conquering cities, rural areas and mountains. Many existing systems provide powerful support but are heavy and sluggish to handle. With the Bikedrive Air, maxon presents an invisible e-bike 
...
Read more...
---
PC-based control runs the stage machinery for Rigoletto
Third Quarter 2021, Beckhoff Automation , Editor's Choice, Electrical switching & drive systems & components
In the production, the court jester Rigoletto becomes a clown. Only the head, encircled by a wide collar, and the hands of the gigantic clown protrude from the lake. Eventually the clown becomes the victim 
...
Read more...
---
Festo gets to the heart of the matter with the Process and Electric Automation campaign
Third Quarter 2021, Festo South Africa , Electrical switching & drive systems & components
The company supplies customers with a comprehensive range of complete solutions from components all the way to commissioning that aid in sustaining their business. For the first time, they are offering 
...
Read more...
---
Wind turbines brakes
Third Quarter 2021 , Electrical switching & drive systems & components
A global demand for clean energy has caused the offshore wind sector to grow exponentially. Climate policy is pushing OEMs to build larger wind turbines to deliver increased power output to meet green 
...
Read more...
---
Electric motors without magnets
Third Quarter 2021 , Editor's Choice, Electrical switching & drive systems & components
Permanent magnets, though, come with their own baggage. 97% of the world's rare earth metal supply comes out of China and state control over such a crucial resource across a number of high-tech industries 
...
Read more...
---
Customised technologies to boost industrial performance
Third Quarter 2021 , Electrical switching & drive systems & components
The Maxolutionò solutions from SEW-EURODRIVE are fully integrated and customised technologies that automate, integrate, upgrade and streamline your existing production processes while still allowing for 
...
Read more...
---
If it doesn't exist, create it
Third Quarter 2021 , Electrical switching & drive systems & components
Hawk Pumps is dedicated to innovation, growth and problem solving. Troy Mokawem, national operations manager at Hawk Pumps, believes that innovation begins with a bit of inspiration and talks about two 
...
Read more...
---
Another efficiency boost for motor users
Third Quarter 2021, Zest WEG Group Africa , Electrical switching & drive systems & components
In the face of rapidly rising electricity costs in South Africa, Zest WEG is phasing in IE4 super premium efficiency motors in its WEG W22 range from April 2021. This will save on customers' bottom lines 
...
Read more...
---
Festo perfectly integrated Electric Automation solutions for a complete drive system
Third Quarter 2021, Festo , Electrical switching & drive systems & components
The servo drive CMMT-AS/ST and servo motor EMMT-AS are some of the products that Festo recently featured in their 'heart of absolute automation' campaign. Their campaign aims to enhance machine performance. 
...
Read more...
---
Sugar masterplan is sweet news
Third Quarter 2021 , Electrical switching & drive systems & components
The sugar masterplan being implemented by the government has seen a commitment from large users to procure at least 80% of their requirements from local growers. The result has been a significant boost 
...
Read more...
---