printer friendly version
Another efficiency boost for motor users
Third Quarter 2021
Electrical switching & drive systems & components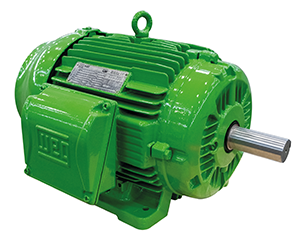 In the face of rapidly rising electricity costs in South Africa, Zest WEG is phasing in IE4 super premium efficiency motors in its WEG W22 range from April 2021. This will save on customers' bottom lines and help reduce the load on the national grid.
According to Fanie Steyn, electric motors manager at Zest WEG, 2021 will see local energy prices rising above R1/kWh for the first time. This makes it the ideal time for the introduction of WEG IE4-rated motors, which will be available in the size range between 37 kW and 375 kW.
"Unlike many countries around the world, South Africa has not regulated the use of energy efficient motors at the level of IE2 or IE3," says Steyn. "Nonetheless, we have taken the proactive step of making the IE4 level of efficiency available to customers at no premium on the IE3 units."
Some years ago, Zest WEG introduced its WEG IE3 motors to the country at little or no additional cost relative to its IE2 motors, with the same goal in mind: to make both customers and the country more energy efficient.
Specified under the International Electrotechnical Commission (IEC) 60034-30-1:2014 standard, IE1 refers to standard efficiency and IE2 to high efficiency; the IE3 and IE4 ratings are for premium efficiency and super-premium efficiency motors respectively.
"The efficiency of 96.3% on an IE4-rated 110 kW motor, when compared to 94.1% on an IE1-rated motor, can save users hundreds of thousands of rand in energy costs over a 10-year period," he says. "Not only will these IE4 motors be more cost-effective to run, but they have been designed with a number of new features that bring considerable benefits."
Steyn emphasises that WEG IE4 super-premium efficiency motors meet IEC efficiency levels when running on 50 to 100% of load; efficiency is kept constant, which saves energy and ensures minimal losses through various loading points. The innovative frame design also allows maximum heat dissipation.
"Motor frame design plays a crucial role in thermal performance, as it is responsible for the outward transfer of heat generated inside the motor," says Steyn. "Running cooler means that our motors have increased lifespans, allowing Zest WEG to offer a five-year guarantee on our WEG W22 electric motor range."
The motors' increased mechanical rigidity – achieved by integrating the front and rear feet sides – affords easier installation, higher mechanical stiffness and improved distribution of the mechanical thrust imposed by the load.
"As a first of its kind, our flexible terminal box mounting means reduced inventory and quicker modification," he adds. "The terminal box can be rotated in 90° increments to facilitate supply cable connection orientated to the front, rear, top or either side of the motor."
In addition to the benefits brought by WEG super premium efficiency motors, a substantial increase in energy savings can be reliably achieved using WEG variable speed drives (VSDs), which comply with the European Extended Product standard EN50598. This ensures the system efficiency of the motor and VSD combination. As an additional feature, WEG VSDs have energy savings settings which can be user activated, achieving an automatic saving under any reduced load conditions.
"We are excited to build on the phenomenal reputation of the existing WEG W22 electric motor range by offering an even more efficient motor that is truly 'next level' state-of-the-art in electric motors, having the same rock solid quality and reliability," Steyn concludes.
Credit(s)
Further reading:
New motors for servo drive system
Siemens South Africa Electrical switching & drive systems & components
The servo motor thus meets all hygienic conditions and can be used for mixing and stirring, dosing and filling, as well as conveying, packaging and storing a wide variety of end products.       The 
...
Read more...
---
Gear units assembled in Johannesburg
SEW-EURODRIVE Electrical switching & drive systems & components
"To cater for our growing customer base in markets across Africa, it has become necessary to increase local production capacities. Our new SEW-EURODRIVE building in Aeroton, Johannesburg, which will 
...
Read more...
---
Drive-based predictive maintenance solutions
Bearing Man Group T/A BMG Electrical switching & drive systems & components
BMG's NORD predictive maintenance solutions offer fast, efficient and comprehensive evaluation of analogue and digital data, to enhance the operational efficiency and safety of machines. The intelligent 
...
Read more...
---
The demand for higher efficiency motors
Electrical switching & drive systems & components
With electricity prices increasing rapidly, the justification for adopting more efficient motors is that much greater. To achieve this improved efficiency, such motors are designed to run cooler, which 
...
Read more...
---
Cummins rebuild centres
Electrical switching & drive systems & components
Cummins has a world-class customer service and support network to better serve its global customer base, including 21 Master Rebuild Centres (MRCs). In support of the Africa and Middle East region, the 
...
Read more...
---
Electromagnetic brakes for DC motors
Electrical switching & drive systems & components
Mini motor applications utilise DC motor technology because of compactness, low weight, and reliability. Stopping, slowing or holding the position and load of these motors is crucial for many applications, 
...
Read more...
---
Festo Process Automation solutions for all production levels
Festo South Africa Editor's Choice Electrical switching & drive systems & components
The first leg of the campaign creates an analogy between the human heart and its Process Automation solutions. The heart is at the centre of the vascular system, which is a network of blood vessels 
...
Read more...
---
Sweet success for Bosch Projects
Electrical switching & drive systems & components
Bosch Projects is a joint winner in the 2021 CESA Aon Engineering Excellence Awards, for the UCL 175 TCH Factory Expansion Project, in the category of projects valued between R50 and R250 million. Bosch 
...
Read more...
---
PC-based control for film and paper converting machines
Beckhoff Automation Electrical switching & drive systems & components
Machine builder Azco from Fairfield, New Jersey, has showed how it is possible to combine machine modules for feeding, cutting and placing flexible materials, thereby minimising engineering effort. An 
...
Read more...
---
Festo solenoid valves for everyday tasks
Festo South Africa Electrical switching & drive systems & components
In the automation industry, machine users are continually confronted with new challenges. The only way to achieve lasting success is by selecting the perfect components. Festo offers over 2200 Core Product 
...
Read more...
---