printer friendly version
Components for submerged chain conveyors
Third Quarter 2021
Shaft power components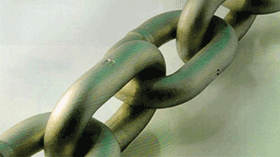 BMG's extensive power transmission range encompasses HEKO conveyor components, including round link chains which have been designed for dependable use in many harsh environments.
"High wear-resistant HEKO components for bulk material conveyors, which are manufactured in Germany to pristine quality standards, enhance BMG's extensive range of chain products," explains Carlo Beukes, business unit manager of BMG's power transmission division. "Through the supply and support of HEKO products, BMG boosts its solutions service to its broad customer-base by optimising the efficiency of bulk material conveyor systems. We recommend the use of submerged chain conveyors for our customers who work with coal, wood, refuse and scrubber sludge, to effectively collect, cool and drain bottom ash from a boiler discharge."
These conveyors, which are fitted with secure releases, are designed to handle bottom ash efficiently and safely. Submerged chain conveyors are often installed for the transportation of slag granulated material, ash made of stone and brown coal firing, as well as metallurgical process residue or waste ash. Fluid slag or hot ash from melt firing is filled in a vessel with water for cooling and then transported via a chain conveyor from the vessel to an ash bunker.
HEKO chain strands are highly wear-resistant, case hardened and manufactured with low tolerances. Chain sprockets and chain rollers, with replaceable segments of teeth, are sealed for safe use under water. HEKO's pocket teeth chain wheels, with toothed rims, are manufactured from special alloy steels and designed for extended service life. Chain contact surfaces are machined and the sides are chamfered to ensure a positive contact with the chain and a good lead into the wheel. Chain contact surfaces are hardened for long service life.
Pocket toothed chain wheels are supplied for use with special attachments – vertical shackle to DIN or TS-shackle and lift-in scraper bars. Replaceable rims have the advantage that the hub can be left in place during refurbishment, which saves maintenance time and reduces costs. Purchasing costs for replacements are also lower compared to the investment in completely new wheels.
Dimensions for existing installations are tailored to suit every specific application.
HEKO support idling wheels and snub wheels are alternative solutions to guide rails for horizontal and inclined conveyors. The use of wheels reduces friction and thus power requirements.
HEKO chain systems with attachments can be supplied pre-assembled (with the chain as endless round strands), thus eliminating the need for on-site assembly. Type SMO plug-in scraper attachments enable fast connection to endless chain strands with chain locks, making reversible conveying possible.
Also in BMG's range are round link chains, which have been developed by HEKO for bucket elevators and chain conveyors. These components are suitable for use in various sectors, including mining and quarrying, cement, chemical and incinerating plants, paper production, food and beverage, as well as artificial manure and general machine industries.
HEKO chains, known globally for high fatigue strength and close length tolerance of chain pairs, are manufactured from durable materials, including manganese, chrome-nickel and fine grain chrome-nickel alloy steels. Advanced computer-controlled heat treatment processes are employed to produce tempered or case-hardened chains. Advantages of case-hardening include a high breaking load, resulting from a tough, fine grain core and high wear resistance, from a minimum surface hardness of 800 HV. In addition to six standard hardening depths, BMG also offers HEKO products with hardening depths to suit specific requirements.
The HEKO range comprises round steel chains, bucket and scraper attachments, chain wheels, buckets and shafts, as well as complete return and tensioning units. Heat-resistant ring kiln chains for rotary kilns also form part of the range.
BMG's national branch network offers a technical advisory service on correct chain selection, which is a critical factor in power transmission systems.
For more information contact Carlo Beukes, BMG, +27 11 620 7558, carlob@bmgworld.net, www.bmgworld.net
Credit(s)
Further reading:
New B2C online shopping platform for engineering consumables
Third Quarter 2021, Bearing Man Group T/A BMG , News & events
BMG's online shopping platform now encompasses a newly launched E-commerce service, designed especially for consumers, to boost their buying experience of engineering consumables.
Read more...
---
Energy from the power of the moon
Third Quarter 2021, SKF South Africa , Editor's Choice, Shaft power components
It is intended to help reduce climate-damaging CO
2
emissions, slow down global warming and thus build a more sustainable future for generations to come. With the help of modern technology from SKF, 
...
Read more...
---
Spindle screw pumps
Third Quarter 2021, Bearing Man Group T/A BMG , Shaft power components
BMG supplies and supports the full range of SEIM spindle screw pumps, flow meters and in-line relief valves. "These robust pumps and related products – which are manufactured to stringent quality specifications 
...
Read more...
---
Complete solutions for the mining value chain
Third Quarter 2021 , Shaft power components
Bearings International (BI) has products for the entire mining value chain, from the beginning of mining operations to their end of life. This encompasses all types of mining operations, from opencast 
...
Read more...
---
Common gear problems to look out for
Third Quarter 2021 , Shaft power components
Like any mechanical element, gears are subject to wear and if this is not addressed, even failure. Callum Ford, national marketing manager at Lubrication Engineers (LE) South Africa, says that during 
...
Read more...
---
HydraForce electro-proportional valves
Second Quarter 2021, Bearing Man Group T/A BMG , Hydraulic systems & components
BMG supplies a wide range of HydraForce electro-proportional valves, which are suitable for use in many applications in agriculture, construction, materials handling, fluid conveyance, mining and quarrying. 
...
Read more...
---
The unforeseen costs of counterfeit bearings
Second Quarter 2021 , Shaft power components
Downtime, consequential damage, reduced lifespan, poor performance and safety are just some of the dangers of using counterfeit bearings, which are increasingly prevalent across South African industry, 
...
Read more...
---
Breathers and spin-on elements
Second Quarter 2021, Bearing Man Group T/A BMG , Hydraulic systems & components
BMG's fluid technology filtration solutions comprise a wide range of fluid power components and systems, which are supported by the team's broad technical capabilities to ensure fluids operate within 
...
Read more...
---
BMG contributes to YES programme
Second Quarter 2021, Bearing Man Group T/A BMG , News & events
BMG – part of the Engineering Solutions Group (ESG) of Invicta Holdings – is participating in South Africa's Youth Employment Service (YES) Programme, which is a joint initiative between the government 
...
Read more...
---
SKF bearings help Mars Rover collect rock
Second Quarter 2021, SKF South Africa , Editor's Choice, Shaft power components
Enabling the Mars Rover's core operations in the harsh environment on Mars are Kaydon RealiSlim thin-section ball bearings, designed and manufactured by SKF at the company's global thin-section bearing 
...
Read more...
---