printer friendly version
World first hydraulic solution for tracked carriers
Third Quarter 2021
News & events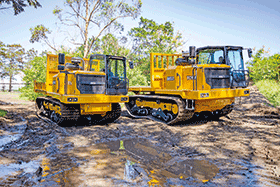 Hytec South Africa and Bosch Rexroth Germany joined forces to develop an hydraulic solution for Bell Equipment that would minimise ground compaction in tracked carriers used in mining and construction. The OEM needed to ensure that its new range of tracked carriers (TC 7 & TC 11) performed optimally in soft underfoot conditions without negatively impacting the ground. They also had to be able to operate in environmentally sensitive areas where ground compaction is unacceptable.
Bosch Rexroth Germany assisted with the required system calculations and made useful recommendations regarding component selections of the hydrostatic drive system, including the prototype tandem drive pumps, motors and planetary reduction drives. Hytec ensured that the hydraulic drive component installation by Bell Equipment engineers was in accordance with Rexroth specifications.
Data from Bosch Rexroth Germany enabled Bell Equipment's engineers to conduct installation checks and commission the hydraulic system. Subsequent to prototype completion, extensive durability and performance tests (simulated normal operating procedures) were conducted at Bell Equipment's Richards Bay factory. As the request for this specified equipment originated in America, extensive testing was also carried out on customer sites in the United States.
Bosch Rexroth products and components used in the TC range include tandem closed loop pumps for oil flow and drive pressure; variable displacement piston motors to drive the tracks; and planetary reduction drives. These drives, when placed between the piston motor and track, multiply the delivered torque.
"Fine tuning and optimisation were done by Bell Equipment engineers, in collaboration with Bosch Rexroth Germany's engineers," explains Berndt Wichmann, Hytec SA regional technical manager, KZN Region. "This teamwork helped to achieve optimal vehicle control and performance."
"Feedback from the intensive US test programme was encouraging," adds Ryan Lombard, product designer for Bell Equipment. "It surpassed our expectations, with all features designed into the machine having proved themselves in the various applications."
Demand for this type of vehicle in the construction and mining industries stems from Bell Equipment's US customers requiring a niche solution for soft underfoot conditions. This initiated extensive market research and after a stringent design process, the development of the TC 7 and TC 11 tracked carriers. Each meets the needs for short haul tasks in mining, construction, oil and gas and the pipe-laying industries for work in soft underfoot conditions.
"We are now an official production partner to the Bell TC range, offering continuous support to machine production and the aftermarket, as well as technical and future product development support," Wichmann concludes.
Hytec and Bosch Rexroth have previous experience with Bell Equipment in supplying componentry and helping develop hydraulic systems for a range of machinery used in mining, construction, agriculture and other industries.
For more information contact Berndt Wichmann, Hytec South Africa, +27 31 780 2000, berndt.wichmann@boschrexroth.co.za, www.boschrexroth.co.za
Further reading:
From the Editor's desk: Building the telescopes of tomorrow
Third Quarter 2021, Technews Publishing , News & events
There are times when the news can get us down. Sadly the Bloodhound project aimed at breaking the world landspeed record at Hakskeen Pan in the Northern Cape has stalled, but there is other magic happening 
...
Read more...
---
Siemens supports the machine tool industry
Third Quarter 2021, Siemens Digital Industries , News & events
Under the motto 'Digitalisation in machine tool manufacturing - infinite opportunities from infinite data', Siemens is demonstrating at EMO Milano and at the virtual Siemens Machine Tool Days 2021 to 
...
Read more...
---
Goodbye Mr Chips of the hydraulics industry
Third Quarter 2021, Hydrasales , News & events
Reginald Pretorius, a veteran of the hydraulics industry, recently bade farewell to Hydrasales and the industry after a long and distinguished career. Popularly known as Oom Reg, this jovial personality 
...
Read more...
---
New B2C online shopping platform for engineering consumables
Third Quarter 2021, Bearing Man Group T/A BMG , News & events
BMG's online shopping platform now encompasses a newly launched E-commerce service, designed especially for consumers, to boost their buying experience of engineering consumables.
Read more...
---
RS Components trebles its SKF bearings portfolio
Third Quarter 2021, RS Components SA , News & events
RS Components has added 4000 SKF bearings to its portfolio, increasing the offering to a total of 6000. This is the first step in RS significantly increasing its SKF range offer across bearings, power 
...
Read more...
---
TurboDirect SA launches online store
Third Quarter 2021 , News & events
TurboDirect SA is launching an all new catalogue and online store. The brands include all international OEM leaders and a wide range of after-market turbochargers, such as Garrett, Mitsubishi, Borg Warner 
...
Read more...
---
Hytec Services Africa appoints new partner
Third Quarter 2021 , News & events
Hytec Services Africa has appointed a new Zimbabwean sales and distribution partner, Pace International, to offer the entire scope of Bosch Rexroth SA Group products and services to the actively growing 
...
Read more...
---
Hytec's Smart Inspection app
Third Quarter 2021 , News & events
Hytec South Africa has developed a new app that simplifies the inspection and servicing reporting processes for its customers. The 'Smart Inspection' app, developed in collaboration with Bosch Mining, 
...
Read more...
---
Virtual commissioning of thickener drive
Third Quarter 2021 , News & events
In a first for Bosch Rexroth South Africa, Hytec Services Africa (HSA) conducted its first online-based commissioning of a 3000 kN thickener drive for a Madagascan-based mine. The power pack had been 
...
Read more...
---
Africa's economic recovery
Third Quarter 2021, SEW-EURODRIVE , News & events
The Covid-19 pandemic has had a devastating impact on many African economies, particularly those dependent on oil exports, tourism and resources. According to the African Development Bank's recently released 
...
Read more...
---