printer friendly version
Festo's life science webinar on gas handling opens up new horizons
Third Quarter 2021
News & events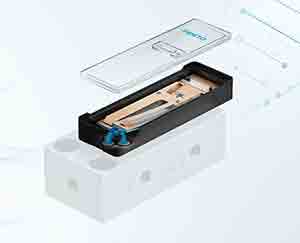 Precise, energy-saving, silent and fast – for the first time, piezo technology makes gas handling in medical technology and laboratory automation truly efficient. What are the differences compared with proportional solenoid valves? How can specialists in medical technology and laboratory automation easily integrate piezo components into their systems and devices? Festo, the automation specialists, will provide clear answers to these and many more questions in the life science webinar. The webinar will take place on Wednesday, 6 October 2021 from 15:30 to 16:30 pm CET at the following link: https://www.festo.com/gashandling-webinar.
During this webinar, engineers and designers in medical technology, laboratory automation, as well as in the production of consumables, to name a few, will receive a quick overview of the advantages of piezo technology for controlling gases. The participants will learn the principles and advantages of piezo technology and how regulating flow rate and pressure with piezo valves works.
Applications and advantages
Piezo valves use hardly any energy, do not generate heat, are small, light and silent and have a long lifespan. They are approved for air, oxygen and inert gases. Thanks to these properties, they are ideal for mobile, near-patient use in oxygen therapeutic devices or to simulate deceptively real movements in learning robots. But they are also used for dosing shielding gas, for example, filling infusion bags or fast surface-mounted laser welding.
During the last fifteen minutes of the webinar, the participants will have the opportunity to ask questions and exchange information with Thomas Kunert, LifeTech Product Manager at Festo. Kunert brings to the table over 30 years of experience in medical technology and 15 years in product management with a focus on piezo technology.
For more information on this webinar, contact [email protected] or call 011 971 5585.
Credit(s)
Further reading:
BI launches new e-commerce platform
News & events
Bearings International (BI) is entering the fast-growing realm of e-commerce by expanding its current website to provide more detailed information. "The aim is to create a 24/7 access experience for 
...
Read more...
---
TUKS campus taken over by robots!
RS Components SA News & events
Several teams of third-year engineering students took to the track for the ultimate robot showdown as the highly anticipated annual TUKS Robot Race Day took place at the campus recently. Now in its 
...
Read more...
---
From the editor's desk: Killer science and alternative energy
Technews Publishing News & events
I couldn't resist watching The World Industrial Reporter's video on Ten Scientists Killed By Their Own Experiments. Some of them would have deserved the Darwin Award for taking themselves out of the 
...
Read more...
---
Bosch Rexroth SA celebrates women in hydraulics
News & events
Bosch Rexroth South Africa is committed to social investment and the advancement of all its employees, breaking down barriers to create a diverse and dynamic workplace. This upcoming Women's Day presents 
...
Read more...
---
ABB's lifeline to unemployed graduate
News & events
When a kind stranger took a photograph of Momelezi Sifumba standing at a busy roadside with a cardboard sign stating: 'Help Me to Find a Job' and posted it on LinkedIn, little did the unemployed graduate 
...
Read more...
---
Port and rail upgrades essential for SA
News & events
Bearings International (BI) has welcomed the assertion by President Cyril Ramaphosa in his State of the Nation address on 10 February that the economy cannot grow without efficient ports and railways. 
...
Read more...
---
From the editor's desk: Making sense of the metaverse
Technews Publishing News & events
It wasn't so long ago that nobody had heard of IIoT. Then the hype began and now it's an integral part of the manufacturing environment. Recently I've been hearing more and more about the metaverse 
...
Read more...
---
Innovation for sustainable agriculture
News & events
Panasonic Industry has announced the Gold sponsorship of ETH Zurich's Robotic Weeding System (Rowesys) project and will assist the student team with engineering know-how, as well as components and products 
...
Read more...
---
New head office and warehouse for Fuchs Lubricants
News & events
The new head office and warehouse for Fuchs Lubricants South Africa is on track to be completed this month. The company is investing over R250 million in the expansion at its existing location in Isando, 
...
Read more...
---
Bosch Rexroth Africa Development appoints Tanzanian distributor
News & events
Bosch Rexroth Africa Development has appointed a Tanzanian company as its in-country distributor. Transec is a general mining equipment supplier with an established countrywide presence. In line with 
...
Read more...
---