printer friendly version
Bearing solution for demanding applications
Fourth Quarter 2021
Shaft power components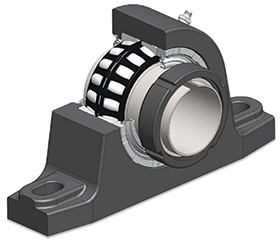 The latest bearing solution for arduous and demanding industries has been launched by Bearings International (BI). The new Rexnord RN series of metric bearings offers cutting edge design with unmatched ease-of-use, performance and durability. As a drop-in replacement for existing SN500 bearings, major benefits are efficiency and productivity, reduced downtime and a lower total cost of ownership.
The RN series has an industry-leading misalignment capability of a full 5 cm, a two-piece outer race and higher radial and axial load capability due to a larger roller design and seals for improved bearing life, ease of fitment and removal from the shaft thanks to a Shurlok adapter mounting. Another major benefit is no shaft damage from seal wear or the grub screw locking onto the shaft.
BI product manager, Lingesh Naidoo, explains that the new RN series comes with access to backup from BI's technical department in conjunction with Rexnord South Africa. "The new RN series takes the guesswork out of mounting and dismounting spherical roller bearings. Unlike the conventional plumber block assembly with multiple components, the RN series unitised plumber block unit has no loose components. This reduces installation time by up to 80%," he adds.
Industries include cement, fertiliser, power generation, steel, aggregates, mining and mineral processing. Applications range from elevators to screw conveyors, feeder breakers, roll crushers, conveyor pulleys and fans. "The RN series covers any scenario where a high load is combined with high contamination," concludes Naidoo.
For more information contact Bearings International, +27 11 899 0000, info@bearings.co.za, www.bearings.co.za
Further reading:
Power transmission components
Bearing Man Group T/A BMG Shaft power components
BMG's comprehensive range of Tsubaki encompasses pin gear drive units that replace conventional gear rack systems. Tsubaki standard series (steel) and the S series (stainless steel) pin gear drive units 
...
Read more...
---
Spherical roller bearings for continuous casting
Shaft power components
The bearings used in continuous casting machines have to endure arduous operating conditions that include high temperatures, heavy loads, ultra-low speeds, water/water vapour and scale. As a result, bearing 
...
Read more...
---
Energy from the power of the moon
SKF South Africa Editor's Choice Shaft power components
It is intended to help reduce climate-damaging CO
2
emissions, slow down global warming and thus build a more sustainable future for generations to come. With the help of modern technology from SKF, 
...
Read more...
---
Spindle screw pumps
Bearing Man Group T/A BMG Shaft power components
BMG supplies and supports the full range of SEIM spindle screw pumps, flow meters and in-line relief valves. "These robust pumps and related products – which are manufactured to stringent quality specifications 
...
Read more...
---
Complete solutions for the mining value chain
Shaft power components
Bearings International (BI) has products for the entire mining value chain, from the beginning of mining operations to their end of life. This encompasses all types of mining operations, from opencast 
...
Read more...
---
Common gear problems to look out for
Shaft power components
Like any mechanical element, gears are subject to wear and if this is not addressed, even failure. Callum Ford, national marketing manager at Lubrication Engineers (LE) South Africa, says that during 
...
Read more...
---
Components for submerged chain conveyors
Bearing Man Group T/A BMG Shaft power components
BMG's extensive power transmission range encompasses HEKO conveyor components, including round link chains which have been designed for dependable use in many harsh environments. "High wear-resistant 
...
Read more...
---
The unforeseen costs of counterfeit bearings
Shaft power components
Downtime, consequential damage, reduced lifespan, poor performance and safety are just some of the dangers of using counterfeit bearings, which are increasingly prevalent across South African industry, 
...
Read more...
---
SKF bearings help Mars Rover collect rock
SKF South Africa Editor's Choice Shaft power components
Enabling the Mars Rover's core operations in the harsh environment on Mars are Kaydon RealiSlim thin-section ball bearings, designed and manufactured by SKF at the company's global thin-section bearing 
...
Read more...
---
Lubrication-free roller chain
Bearing Man Group T/A BMG Shaft power components
BMG's extensive range of Tsubaki chain products encompasses the Lambda lubrication-free roller chain series, which has been designed for industries where clean working environments are required and where 
...
Read more...
---