printer friendly version
Mobile robots transport medical vials
Second Quarter 2022
Robotics & Mechatronics
Established in 1937, Madrid-based company, Normon, has been manufacturing high quality medicines for over 80 years, serving customers in the pharmaceutical and healthcare sectors throughout Europe and in the US. The company prides itself on its advanced technology and innovation and its ability to produce affordable medicines in a sustainable way.
A solution for clean room environments
Normon was using automated guide vehicles (AVGs) within the production process. However, following a change in the environment in which the robots needed to be deployed, the company discovered that the AGVs were too large to be used in certain clean rooms. Robots used in this environment must meet stringent requirements to prevent them from acting as a source of contamination. A different type of robot would be required for the clean room application, as without robots highly trained and qualified operators would have to transport the products within the clean rooms instead of focusing on their own tasks.
Normon's head engineer, Jose María Urdillo, comments: "We were looking at the different solutions in the market and were particularly interested in autonomous mobile robots (AMRs), but these were not able to meet our criteria. However, we then came across an impressive AMR produced by Omron that was suitable for work in clean rooms.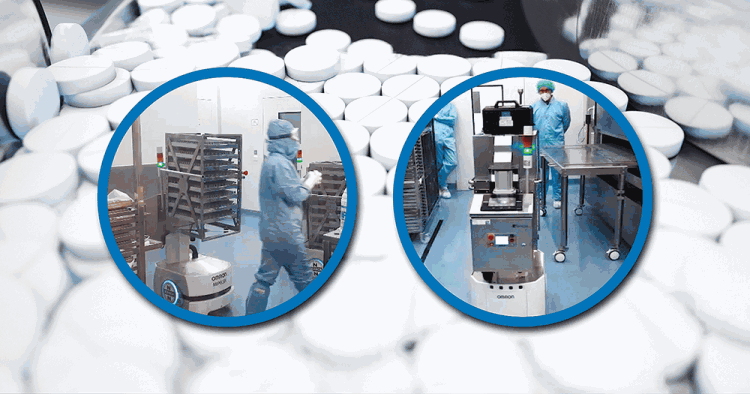 The Omron LD mobile robot could be personalised to meet Normon's specific needs and was very easy to install in the plant. The whole implementation process took just three days and was carried out by Mipelsa, an integrator that specialises in the implementation and maintenance of electronic products, including those involved in industrial automation. Omron worked closely with the system integrator throughout the whole process.
The installation and startup in the Normon factory was extremely fast, having previously been tested in the Mipelsa laboratory after building a similar work area and it was here where a fine tuning to fulfill all the performance and safety requirements was done. This highlighted that it was very easy from the Normon point of view to complete the commissioning in just one week, working in production mode.
Normon was pleased with the help and advice provided by both Omron and Mipelsa, including a redesign of a tray holder to include a slight bend in one of the tubes holding the structure, which resulted in a more robust construction, this being the most relevant in the application to reduce the presence of humans in an A class working area as specified by the FDA in their requirements. No modifications in the environment were needed when integrating the robots, which were ready for trials within a week.
Improved productivity
Omron's project manager, Miguel Ángel Esteban, says: "Since the first implementation of Omron mobile robots in 2018 and 2019, Normon now operates one of the first and largest mobile robot fleets in Europe, with 18 mobile robots in service. According to Normon, the project was a huge success and the robots have demonstratively boosted production after one month in operation."
This proved to be the case − productivity improved significantly, as 111 000 vials could be transported in 40% less time than previously, reducing the length of stay in the plant's A class area. This means that the production process that previously took one and a half shifts can now be completed in less than a shift. The FDA regulations require no people to be present in an A class area and this has been made possible thanks to Omron's mobile robots.
Following the introduction of the robots, employees can perform more specialised tasks and functions within the clean room, adding more value to their work and ultimately the company. What is noteworthy about this specific project is that not one employee has been redeployed or made redundant by the introduction of the Cobots in the A Class area of Normon.
As the Omron robots have exceeded Normon's expectations, additional future implementations are being planned. Miguel Ángel Esteban concludes: "Intralogistics solutions such as this are key to meeting the needs of our pharmaceutical customers, especially in clean room environments. With the newest additions to our mobile robot fleet, including mobile robots capable of transporting heavy loads, we can offer solutions in a wide range of applications."
Credit(s)
Further reading:
The advantages of robotics and simulation for your business
Editor's Choice Robotics & Mechatronics
The more complex your business is, the more room there is for innovation. At the same time, innovation cannot come at the cost of efficiency, quality and output levels. According to Von Fintel, this is 
...
Read more...
---
Cobot boosts production by 15%
Omron Electronics Editor's Choice Robotics & Mechatronics
Topcustom is situated in central Italy and bases its success on the entrepreneurial tradition of the Le Marche region. Topcustom International was formed in 2018, in partnership with Nicos International 
...
Read more...
---
Insect-sized flying robots with flapping wings
Editor's Choice Robotics & Mechatronics
A new drive system for flapping wing autonomous robots has been developed by a University of Bristol team, using a new method of electromechanical zipping that does away with the need for conventional 
...
Read more...
---
Professional help for personal care
Omron Electronics Robotics & Mechatronics
When a leading global manufacturer of personal care equipment needed a production solution that combined cost reduction with quality improvement, they came to Omron, a trusted partner they had worked 
...
Read more...
---
Yaskawa steps into the future
Editor's Choice Robotics & Mechatronics
Crackett says that Yaskawa Southern Africa has installed more than 2500 Motoman robots. The company's main target market is automotive, having cut its teeth here when Terry Rosenberg first started up 
...
Read more...
---
Robotics and the potential for the lights-out factory
Omron Electronics Editor's Choice Other technologies
However the 100% automated, fully lights-out factory is not a realistic goal for a large proportion of manufacturing businesses currently operating. A key reason is that manufacturing needs people. Human 
...
Read more...
---
Bag-handling robots
Robotics & Mechatronics
With the ever expanding demands of industry, robotics has had to flex and adapt to suit new niches. One such niche is the recent trend towards bag-in-bag packaging, where products supplied in large bags 
...
Read more...
---
Food industry trends: robot-assisted workflows
Omron Electronics Robotics & Mechatronics
This has resulted in producers having to be even more agile with existing assets. These assets in the form of single or connected machines must therefore be more flexible than ever, meaning they must 
...
Read more...
---
The benefits of collaborative robots
SMC Corporation South Africa Editor's Choice Robotics & Mechatronics
While robotics led the way for the rapid growth of automation, cobots are the democratisation of robotics technology. They eliminate the cost and complex programming that robots usually require while providing much greater flexibility.
Read more...
---
Fast, safe transport on the factory floor
Omron Electronics Editor's Choice
The Philips site in Klagenfurt produces over 23 million linear cutting elements for hair and beard trimmers each year. These beard trimmers use lift-and-trim technology: the beard hair is first lifted 
...
Read more...
---