printer friendly version
The 'P' in predictive maintenance represents progress, not pain
First Quarter 2022 Editor's Choice Pneumatic systems & components
Predictive maintenance has become a buzzword in recent decades as factories drive down the total cost of ownership of capital equipment by preventing failures and downtime in a 'just-in-time' way. According to an IndustryWeek report, unplanned downtime costs industrial manufacturers an estimated $50 billion annually. Equipment failure is behind 42% of this unplanned downtime. It will be hard to challenge the need for an effective maintenance regime. It is often assumed that implementing a predictive maintenance strategy entails a complete overhaul of operations. In reality a few small steps can make a huge difference to machine uptime and overall equipment effectiveness.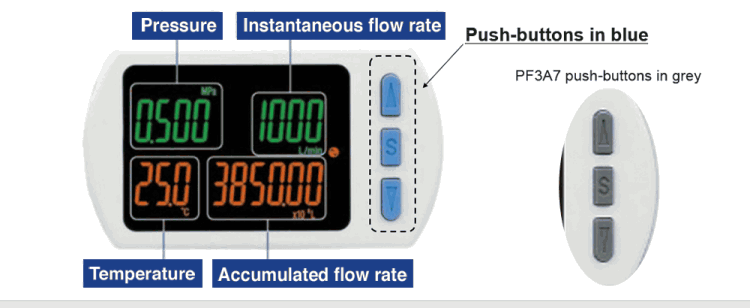 There are three main types of maintenance: reactive, preventative and predictive. But how do you make sense of these terms? Human health can provide an analogy to machine health. Take diabetes, for example. Reactive maintenance would be implemented after a doctor has confirmed a patient's diabetes. The patient focuses on measures to keep the disease under control. In contrast, preventative maintenance would treat the disease before any symptoms, through a healthy lifestyle and eating plan. Predictive maintenance would come into play when someone is pre-diabetic, but still within a safe limit. Regular monitoring of blood glucose would reveal whether the situation is stable or deteriorating and help identify whether more interventions are required.
Production engineers want to increase machine reliability by minimising the possibility of costly and disruptive downtime. There are many factors to consider, not least the cost of implementation and management in comparison with the number of downtime events. The key word is data. Implementing a predictive maintenance programme requires three basic things: data, time and analysis. Data − the modern version of a crystal ball − is an ally to increase machine reliability. Extensive knowledge is required as to why an asset is beginning to fail; and partnering with a reputable automation specialist can pay significant dividends.
Over the last year alone, SMC has performed 25 energy audits at large food and packaging and motor manufacturer sites. These audits carefully analyse the air wasted through leaks that have directly forced customers to run compressors harder or at higher pressures, costing them more in valuable electricity. The volume of air required per machine or line cycle is also analysed to determine if localised high pressure boosters could provide the same solution. This has allowed several of these factories to drop the nominal target pressure from their main line compressors. The audits provide simple suggested solutions whether they be reactive, remedial repairs or preparing the site with truly predictive data feedback devices.
A case in point is a pneumatic cylinder, the workhorse of many industrial machines. Among the common failure modes for pneumatic actuators is a leaking piston seal. These faults can be difficult to detect and lead to a loss of pressure. An operating pressure loss of just 0,1 MPa can negatively affect the theoretical force output of a cylinder with a 32 mm diameter piston by 17%. A further side-effect of this is an increase in air consumption in order to compensate for the leak.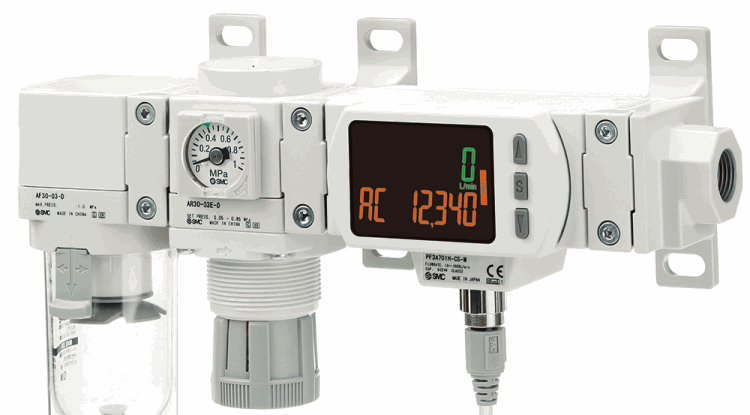 Adopting a predictive maintenance strategy entails little more than fitting a pressure sensor at key areas and monitoring pressure against time. SMC's high precision ISE20 digital pressure switch with easy setting modes and IO-Link offers a solution here. Any component changes soon become apparent due to abnormal performance curves in comparison with those 'learned' for normal operation. With machine learning and real-time analysis, it is possible to implement timely predictive maintenance before incurring any major performance losses or downtime.
Installing a network of flow sensors to continuously track the usage of compressed air and thereby any leaks or possible malfunctions over the pneumatic circuit is good practice. You can smartly automate your monitoring process with SMC's PF3A*H digital flow switch, an all-in-one solution for large flow that detects leaks and keeps air consumption in check. Another option is the ALDS Series (Automatic Leak Detection System), which allows you to determine machine leakages with exact leak location and value.
As well as pressure and sensors, proximity sensors can be used to calculate cylinder speed and help detect other possible mechanical issues. Machines can learn, predict and prevent, but they still require human input to define suitable variables to monitor and set acceptable/unacceptable limits. In addition, humans must select which machine components to fit with sensors, as not all will be critical to uptime and productivity. Budgets, time and staff availability also come into the equation.
Another potential factor here involves reliability-based maintenance. Designing from origin means identifying reductions in unnecessary maintenance costs based on failure mode effects analysis. In essence, this approach focuses on the different failures that could occur and their potential consequences. SMC makes this task easy by hosting configurator tools on its website for pneumatic airlines, valve manifolds and cylinders, helping to optimise product selection and performance for the application in hand.
With these thoughts in mind, partnering with a proven technology specialist is a prudent strategy. For instance, pooling SMC's knowledge of automation components with the individual machine knowledge of a customer makes for a powerful and resourceful combination.
For more information contact SMC Corporation South Africa, +27 10 900 1233, [email protected], www.smcza.co.za
Further reading:
The best of hydraulics meets the advantages of electric
Parker Hannifin - Sales Company South Africa Editor's Choice Hydraulic systems & components
Electrification is not new. The difference is the convergence of three powerful forces: stricter governmental regulations; ESG initiatives by the top companies in the world; and TCO. As adoption 
...
Read more...
---
The world's lightest electric mountain bike
DNH Tradeserve Editor's Choice Electrical switching & drive systems & components
The barely noticeable additional weight of the maxon drive of only 3,5 kg, in combination with superior carbon technology from Thömus, delivers a ride that feels as natural on the trail as on the 
...
Read more...
---
The strength of your machine is defined by its pivot joints
Bearing Man Group T/A BMG Editor's Choice Shaft power components
"Through Nord-Lock's advanced Expander System, which consists of a comprehensive range of components, BMG specialists are able to supply the correct pivot to prevent the problems that lug wear causes 
...
Read more...
---
Common myths about machine safety
Omron Electronics Editor's Choice Other technologies
The consequences of inadequate machine safety practices can be severe, and there are many misunderstandings that put facilities and their employees at risk. Omron assesses and evaluates over 3000 machines 
...
Read more...
---
Hägglunds Fusion: the power of one
Editor's Choice Electrical switching & drive systems & components
Hägglunds Fusion provides unbeatable torque from zero speed and includes built-in torque limitation. This enables the machine to start, stop and reverse as often as needed to serve low-power applications, 
...
Read more...
---
Expanding the market for Dura-Bar
Axiom Hydraulics Editor's Choice Hydraulic systems & components
Dura-Bar is the largest producer of 5 to 66 cm diameter iron bar in the world. The company is unique in the industry in creating the iron bar stock in a horizontal, continuous casting process without 
...
Read more...
---
Saving energy and protecting the impact on the environment
Editor's Choice Pneumatic systems & components
In the first quarter of 2022, short-term gas prices on the largest European exchange were five times higher than the 2021 average, and future markets are pricing European gas at up to three times its 2021 levels 
...
Read more...
---
Ultra-compact robot-based cake production with PC control
Beckhoff Automation Editor's Choice
"Baking Baumkuchen requires advanced skills and experience from the confectioner," says Mr Matsumoto, managing director of Juchheim's central plant. "However, if the oven's parameters can be captured 
...
Read more...
---
The advantages of robotics and simulation for your business
Editor's Choice Robotics & Mechatronics
The more complex your business is, the more room there is for innovation. At the same time, innovation cannot come at the cost of efficiency, quality and output levels. According to Von Fintel, this is 
...
Read more...
---
Ball screws with nut cooling
Editor's Choice Shaft power components
The machine tool industry uses ball screws to convert the rotary motion of an electric motor into linear motion. Very often, the positioning accuracy, as well as the travel speed and acceleration, have 
...
Read more...
---