printer friendly version
Bosch Ulwazi's new accredited training programmes
First Quarter 2022
News & events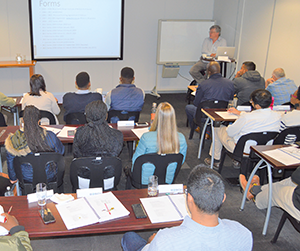 Bosch Ulwazi has been endorsed by ECSA as its first Certified Training Academy. "This ECSA initiative was a direct response to stakeholders' concerns, to rectify the lack of support regarding development of engineering practitioners, extending from the graduate stage to full professional registration," explains Balan Govender, managing director of Bosch Ulwazi, part of the Bosch Holdings group of multi-disciplinary consulting engineering companies. "Bosch Ulwazi's Engineer-in-Training (EIT) programme was developed 12 years ago to provide opportunities for candidates to enhance their practical engineering competency to meet ECSA's requirements for professional registration.
"The company's EIT programme, which runs over a three year period from graduation, provides graduates with relevant and applicable work experience, together with mentorship, for them to meet the requirements for registration and to achieve their professional status with ECSA. Although the curriculum focuses on the development of graduate engineers and project managers, the course content can be remodelled for graduates in other disciplines, including human resources, quantity surveyors and financial graduates.
The EIT programme currently covers six phases – orientation, site exposure, design, project management, knowledge of other disciplines and applicable legislation. Bosch Ulwazi has had 14 EIT's register as professionals with the ECSA and has assisted 10 senior engineers within the Group to complete their registrations with ECSA for professional status, as mature applicants. All training programmes can be run at Bosch Ulwazi's regional offices, clients' offices, conference facilities, as well as online via Microsoft Teams.
For more information contact Balan Govender, Bosch Ulwazi, +27 31 535 6000, [email protected], www.boschulwazi.co.za
Further reading:
Port and rail upgrades essential for SA
News & events
Bearings International (BI) has welcomed the assertion by President Cyril Ramaphosa in his State of the Nation address on 10 February that the economy cannot grow without efficient ports and railways. 
...
Read more...
---
From the editor's desk: Making sense of the metaverse
Technews Publishing News & events
It wasn't so long ago that nobody had heard of IIoT. Then the hype began and now it's an integral part of the manufacturing environment. Recently I've been hearing more and more about the metaverse 
...
Read more...
---
Innovation for sustainable agriculture
News & events
Panasonic Industry has announced the Gold sponsorship of ETH Zurich's Robotic Weeding System (Rowesys) project and will assist the student team with engineering know-how, as well as components and products 
...
Read more...
---
New head office and warehouse for Fuchs Lubricants
News & events
The new head office and warehouse for Fuchs Lubricants South Africa is on track to be completed this month. The company is investing over R250 million in the expansion at its existing location in Isando, 
...
Read more...
---
Bosch Rexroth Africa Development appoints Tanzanian distributor
News & events
Bosch Rexroth Africa Development has appointed a Tanzanian company as its in-country distributor. Transec is a general mining equipment supplier with an established countrywide presence. In line with 
...
Read more...
---
YES to youth employment
News & events
Bosch Rexroth South Africa has participated in local government's 2021 Youth Employment Service (YES) Programme, which took place from 1 March 2021 to 28 February 2022. This experiential learning programme 
...
Read more...
---
Appointments
News & events
Read more...
---
Appointments
News & events
Read more...
---
Cummins offers a lifeline to the mining industry
News & events
With the bulk of its business in Africa driven by mining, Cummins has continued to support its major mining clients throughout the Covid-19 pandemic. From blasthole drills and front-end loaders to 360 
...
Read more...
---
WorldSkills Africa collaborates with Festo to host the 2022 competitions
News & events
WorldSkills is a global competition organisation that raises the profile of skilled individuals worldwide. This organisation also demonstrates how skills are essential in achieving economic growth. Their 
...
Read more...
---