printer friendly version
Cummins invests in lithium metal technology
First Quarter 2022
News & events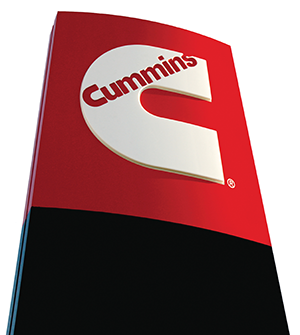 Cummins has entered into an agreement with Sion Power Corporation, a leading developer of high energy rechargeable battery technology, to design and supply battery cells based on their proprietary lithium metal technology for commercial vehicle applications. Cummins has also invested in Sion Power. The investment allows Sion Power to further develop its lithium metal technology for the commercial vehicle market and positions both companies for success in the future commercialisation of the technology. Sion Power will engage in a multi-year development program to design and supply large format lithium metal battery cells for use in Cummins battery packs. The batteries developed by Cummins will be integrated into its electric powertrains for commercial vehicles.
Sion Power's high energy battery chemistry is an important component of Cummins' roadmap to electrify the company's commercial vehicle products. Based on Sion Power's proprietary lithium metal anode technology and incorporating its patented manufacturing process, the cell provides a robust, long-lasting rechargeable battery for Cummins' demanding applications.
"Sion Power's Licerion is an enabling technology for Cummins' future electric commercial vehicle offerings," said Tracy Kelley, chief executive officer at Sion Power. "Cummins is an ideal partner for Sion Power to enable this next generation of electric mobility and significantly support the decarbonisation of the transportation industry. Together this strategic relationship sets us on a path to deliver the future of batteries."
For more information contact Sbu Gule, Cummins Africa Middle East, +27 11 451 3400, sbu.gule@cummins.com, www.cummins.com
Further reading:
From the editor's desk: Making sense of the metaverse
Technews Publishing News & events
It wasn't so long ago that nobody had heard of IIoT. Then the hype began and now it's an integral part of the manufacturing environment. Recently I've been hearing more and more about the metaverse 
...
Read more...
---
Innovation for sustainable agriculture
News & events
Panasonic Industry has announced the Gold sponsorship of ETH Zurich's Robotic Weeding System (Rowesys) project and will assist the student team with engineering know-how, as well as components and products 
...
Read more...
---
New head office and warehouse for Fuchs Lubricants
News & events
The new head office and warehouse for Fuchs Lubricants South Africa is on track to be completed this month. The company is investing over R250 million in the expansion at its existing location in Isando, 
...
Read more...
---
Bosch Rexroth Africa Development appoints Tanzanian distributor
News & events
Bosch Rexroth Africa Development has appointed a Tanzanian company as its in-country distributor. Transec is a general mining equipment supplier with an established countrywide presence. In line with 
...
Read more...
---
YES to youth employment
News & events
Bosch Rexroth South Africa has participated in local government's 2021 Youth Employment Service (YES) Programme, which took place from 1 March 2021 to 28 February 2022. This experiential learning programme 
...
Read more...
---
Appointments
News & events
Read more...
---
Appointments
News & events
Read more...
---
Cummins offers a lifeline to the mining industry
News & events
With the bulk of its business in Africa driven by mining, Cummins has continued to support its major mining clients throughout the Covid-19 pandemic. From blasthole drills and front-end loaders to 360 
...
Read more...
---
WorldSkills Africa collaborates with Festo to host the 2022 competitions
News & events
WorldSkills is a global competition organisation that raises the profile of skilled individuals worldwide. This organisation also demonstrates how skills are essential in achieving economic growth. Their 
...
Read more...
---
Bosch Ulwazi's new accredited training programmes
News & events
Bosch Ulwazi has been endorsed by ECSA as its first Certified Training Academy. "This ECSA initiative was a direct response to stakeholders' concerns, to rectify the lack of support regarding development 
...
Read more...
---